What Has Chandler Riggs Been Doing Since Leaving The Walking Dead?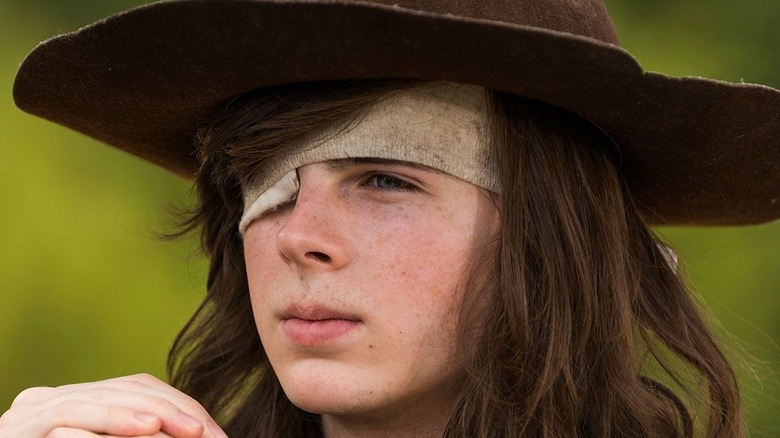 AMC
"The Walking Dead" gained a reputation early on for killing off characters unexpectedly, but even so, there still seemed to be a few cast members viewers felt were off limits. Rick (Andrew Lincoln), Carl (Chandler Riggs), and Daryl (Norman Reedus) topped that list for many fans on Reddit. For eight seasons, Riggs played Carl Grimes, allowing fans to watch him grow up alongside his character, who was approximately 11 when the zombie apocalypse started. Then, in Season 8, Carl got bitten, and the then-teenage son of Rick shot himself to prevent becoming one of the walking dead. 
Although viewers were surprised and outraged by the twist, former showrunner Scott M. Gimple said Carl's death was necessary to give Rick motivation not to kill Negan, even though it gave viewers reason to stop watching the show altogether. By all accounts, even Riggs himself was shocked by his character's death, telling The Hollywood Reporter, "It was devastating for me and my family because the show has been such a huge part of my life for so long. For a few days, we didn't know what to do; I just bought a house in Senoia [near where the show films in Georgia]. That was a big deal that I wouldn't be on anymore. I decided that I wanted to not go to college for at least a year and move to L.A. and focus on acting and music."
That was in 2018. So, what has Riggs been up to since he left the show?
He's become a regular on the convention circuit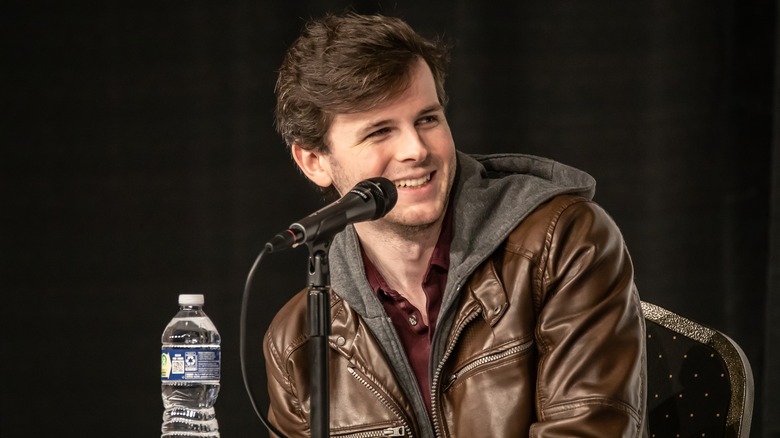 Brandon Nagy/Shutterstock
"The Walking Dead" holds the distinction of being one of the most watched shows in cable television history, and it has spawned its own Walker Stalker conventions outside of San Diego Comic-Con and other pop culture conventions. Chandler Riggs has long been a fan favorite for his portrayal of Carl, so naturally, he's become a regular guest at conventions across the world. When he's not posing with fans for pictures or signing autographs, he can often be found on Twitch or YouTube, where he hosts his own channels and often plays video games to raise funds for charity while answering questions from fans. 
In March 2022, Riggs tweeted, "Over the last few months we've raised 20k+ for charities like NKH, RAINN and AWI *just* through twitch!?! I'm [very] proud to have such an incredible community." Not long after, he also retweeted Sarah Wayne Callies, who played his television mom, Lori, when she posted an image of herself with Riggs and Cailey Fleming (Judith Grimes) with the caption, "the kids are all right." 
He's appeared in other projects, too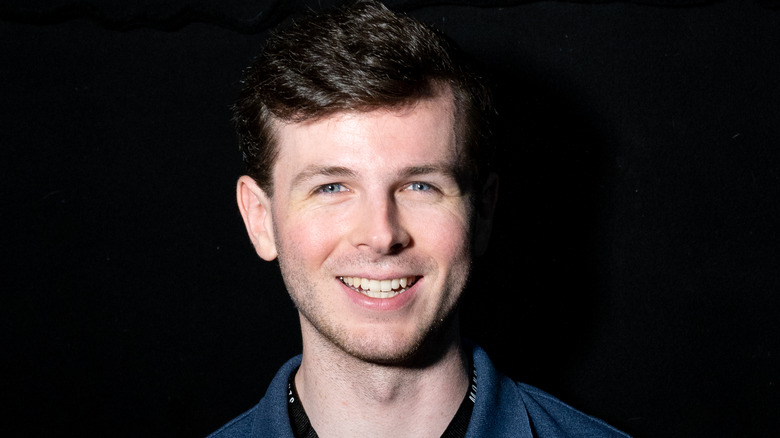 Shirlaine Forrest/Getty Images
In 2019, Chandler Riggs made the leap to another television show when he joined the cast of ABC's "A Million Little Things," which follows a close group of adults struggling to overcome the unexpected death of a friend. As P.J., Riggs played a normal teenager trying to discover the truth about his birth father. He told New York Post, "The interesting part about being on 'A Million Little Things' is, now that I'm 20, the cast and crew don't see me as 'the kid on the set.' When I was on 'The Walking Dead,' I was always seen as the kid, and everyone else was in their 30s and couldn't just hang out with a 14-year-old. That would've been kind of weird."
Riggs, who also works as a part-time DJ, also starred in the movie "Inherit the Viper" opposite Josh Hartnett and Margarita Levieva, who play siblings caught up in the opioid crisis. In an interview with Geek Tyrant, Riggs said he hopes to someday land a role in a sci-fi project. As he said, "Nothing new coming out at the moment, but I'm working every day on it."