Jumanji: Welcome To The Jungle Tops Weekend Box Office Again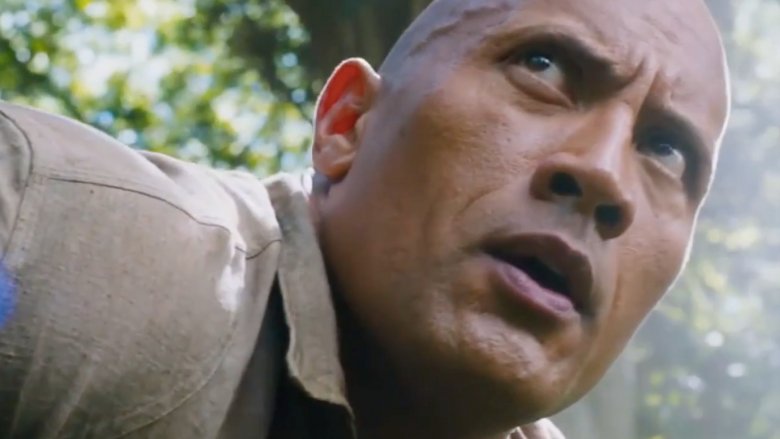 Can Jumanji: Welcome to the Jungle ever be stopped? The Dwayne Johnson-starring action comedy topped the box office for the third weekend in a row, beating out new releases 12 Strong and Den of Thieves with an impressive $20 million haul.
Jumanji: Welcome to the Jungle, which also stars Kevin Hart, Karen Gillan, Jack Black, and Nick Jonas, has been in theaters five weeks but continues to pop up at the top of box office results lists thanks to positive reviews and word of mouth. The movie currently sits just under $317 million domestic and $768 million worldwide.
Second place for the weekend went to Chris Hemsworth's 12 Strong. The movie features the Thor: Ragnarok star as Captain Mitch Nelson, a man who, following the 9/11 attacks, has to lead his team on a dangerous mission in Afghanistan to try to convince the general of the Northern Alliance (Navid Negahban) to join forces with them to fight the Taliban. 
12 Strong, which also stars Michael Shannon, Michael Pena, and Trevante Rhodes, performed slightly above $13 million expectations with a solid $16.5 million debut. It has moderate reviews from critics and currently sits at a 54 percent on Rotten Tomatoes.
Third place went to the action flick Den of Thieves, which features Gerard Butler as a dirty cop who tries to stop a gang of robbers from targeting the Federal Reserve Bank in downtown Los Angeles. The movie, which also stars Curtis "50 Cent" Jackson, Pablo Schreiber, and O'Shea Jackson Jr., outperformed $6 million expectations despite mostly negative reviews, bringing in $15.3 million.
Steven Spielberg's The Post nabbed fourth place, while Hugh Jackman's The Greatest Showman took fifth. Sixth place went to the kids' flick Paddington 2, which was able to capitalize on being named Rotten Tomatoes' best reviewed movie ever to fall only 25.1 percent in its second week. This weekend's other new release, the romantic drama Forever My Girl, outperformed $2 to $3 million initial expectations with $4.7 million, good for tenth place.
You can view this weekend's full box office results (via Box Office Mojo) below. 
Top 10 Weekend Box Office Gross
1. Jumanji: Welcome to the Jungle: $20,040,000 (-28.7 percent), $316,985,148 Total Domestic Gross   
2. 12 Strong: $16,500,000 (– percent), $16,500,000 Total Domestic Gross  
3. Den of Thieves: $15,320,000 (– percent), $15,320,000 Total Domestic Gross   
4. The Post: $12,150,000 (-37.2 percent), $45,191,402 Total Domestic Gross 
5. The Greatest Showman: $11,000,000 (-11.8 percent), $113,480,607 Total Domestic Gross
6. Paddington 2: $8,240,000 (-25.1 percent), $25,041,233 Total Domestic Gross   
7. The Commuter: $6,685,000 (-51.2 percent), $25,708,529 Total Domestic Gross   
8. Star Wars: The Last Jedi: $6,566,000 (-44.6 percent), $604,284,476 Total Domestic Gross   
9. Insidious: The Last Key: $5,945,000 (-52.1 percent), $58,728,265  Total Domestic Gross   
10. Forever My Girl: $4,703,070 (– percent), $4,703,070 Total Domestic Gross