The Original Concept For Terrifier's Art The Clown Was Outright Horrifying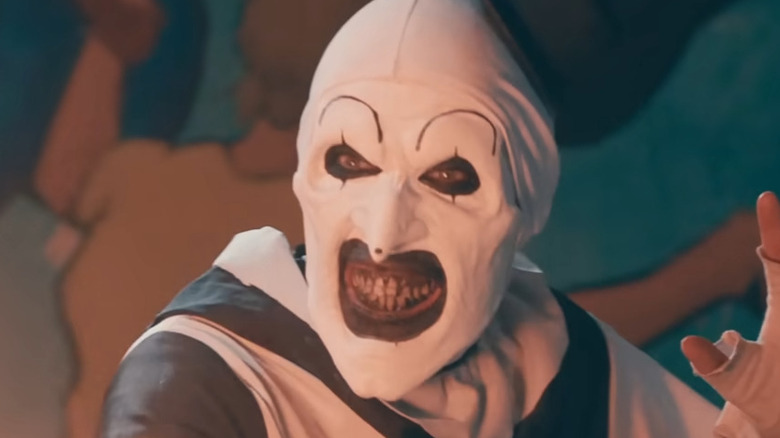 Bloody Disgusting/YouTube
Damien Leone's highly anticipated sequel, "Terrifier 2," has proven to be a hit with fans. The critically acclaimed feature has attained impressive ratings on Rotten Tomatoes and brought in more than $2 million at the box office (via Box Office Mojo). The "Terrifier" follow-up features the death-dealing demonic killer Art the Clown (David Howard Thornton), who has come a long way since the horror visionary first came up with the haunting persona.
There are a lot of terrifying clown movies many may not know about, and it's pretty safe to state that one of the best out there is most certainly "Terrifier." The 2016 gore-filled slasher motion picture was followed by "Terrifier 2" in October 2022, which earned the character significant acclaim from critics, with Starburst Magazine praising Leone's death-dealing circus freak, writing, "Art is a truly enigmatic and memorable villain. He frequently veers into the territory of being genuinely unpleasant to watch, which makes him feel somewhat separate from the stable of horror icons such as Freddy Krueger and Chucky."
Mike Gianelli first played the acclaimed horror personality before being taken over by David Howard Thornton for the "Terrifier" franchise. Thornton's performance in the first film was well-received, with The Farsighted saying Art "makes Pennywise look like Krusty." And his performance in "Terrifier 2" has even caused moviegoers to vomit and pass out at the sight of the character's horrifying antics (via Entertainment Weekly). There is no denying Art the Clown is a menacing presence onscreen, and the only thing more haunting than what he has become is how he got started.
Art the Clown came from a dark and twisted place
While viewers have witnessed Art the Clown's cringeworthy facial gestures and homicidal tendencies throughout several horror titles such as "All Hallow's Eve," "Terrifier," and "Terrifier 2," director Damien Leone had a truly haunting vision that led to the character's creation.
Leone told Entertainment Weekly that Art the Clown came about over ten years ago, saying, "I had this idea of a clown terrorizing a woman on a city bus. She's all alone, coming home from work or whatever, in the middle of the night, and then this clown gets on, and sits across from her, and starts staring at her and toying with her. It's awkward and uncomfortable, and maybe even funny, but then it gets progressively more intimidating and aggressive. I thought that was just an interesting, weird idea." 
After the dreadful clown concoction came into play, Leone turned the unnerving concept into a reality in his short film "The 9th Circle." Despite having many nightmares on-hand, Art the Clown eclipsed the competition as a terrifying standout. "He was the character that people kept saying, 'yeah that's all cool, but that clown, you've really got something there ... you should do more with that," the filmmaker told Dread Central. "So eventually, I listened to those people and I kept taking him further."
Leone has taken the character to great lengths so far with no intention of slowing down, with the filmmaker confirming that a third "Terrifier" film is all but certain, with Art the Clown set to return to continue his blood-soaked cinematic legacy (via Slash Film).
Entertainment icons influenced Thornton's Art the Clown performance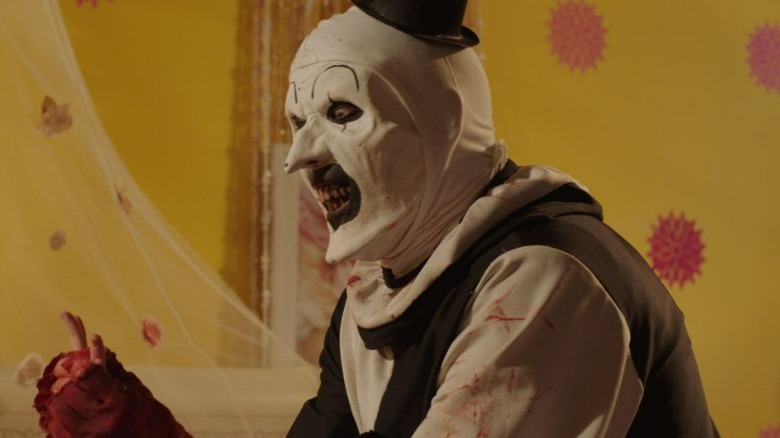 Bloody Disgusting
With Damien Leone's terrifying framework in mind, actor David Howard Thornton took the role of Art the Clown and ran with it. The result was an unsettling, fear-inducing horror icon in the making. However, to make Art a frightening reality, it would take Thornton more than "The 9th Circle" and Leone's directing to make the character truly unforgettable. In his own interview with Dread Central on YouTube, the actor revealed that he looked to several entertainment icons to get the nuances of his Art performance just right.
"I just basically tapped into my data bank that's in my head, from, like, all the way from [Charlie] Chaplin to, you know, Rowan Atkinson — Mr. Bean — and also my good friend Stefán Karl [Stefánsson], who was Robbie Rotten on the show 'LazyTown,'" Thornton told interviewer Mary Beth McAndrews. These big and small screen legends influenced the comedic side of Art, but what about the horror one? Thornton reveals that names like Robert Englund and Kane Hodder, who played Freddy Krueger and Jason Voorhees, respectively, as well as numerous Michael Myers actors, were huge inspirations for him.
A lot of time, attention, and effort clearly went into Art the Clown. Thankfully, as evidenced by the amount of buzz he's generated, especially since "Terrifier 2" premiered, the work of Damien Leone, David Howard Thornton, and the rest of the team behind the character wasn't in vain.