A Christmas Story Fans Don't Seem To Have A Lot Of Hope For HBO Max's Sequel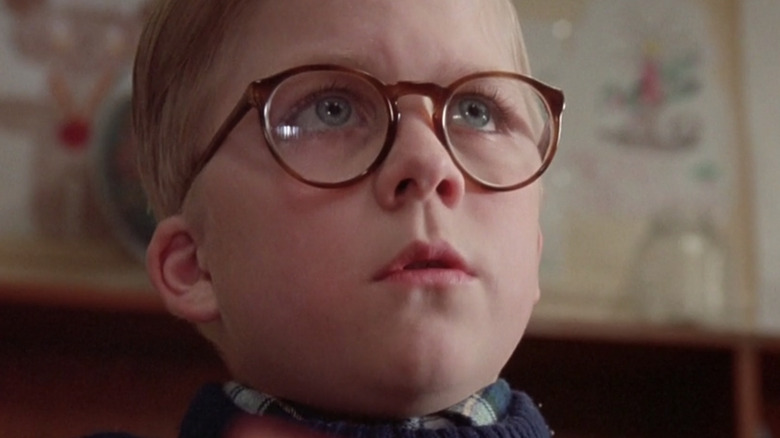 Metro-Goldwyn-Mayer
Picking the right Christmas movie can really set the tone around the holiday season. For some, December is synonymous with the dark and heartwarming "It's A Wonderful Life." For others, the season hasn't really begun until they hear the twinkling jazz piano of the "Charlie Brown Christmas" soundtrack. For those with a more acerbic Christmastime sensibility, only "A Christmas Story" will do. Released in 1983, "A Christmas Story" is a nostalgic, dryly funny anecdote to the pantheon of cloying classics. Based on the semi-fictional remembrances of humorist Jean Shepherd, "A Christmas Story" has retained its popularity over the years and is routinely broadcast for 24 hours straight every Christmas across multiple networks.
Now, the Parker family is returning for more Christmas hijinks. Starring Peter Billingsley in his return as Ralphie, HBO Max's upcoming "A Christmas Story Christmas" will follow Ralphie as an adult in the 1970s. Ian Petrella, Zack Ward, Scott Schwartz, and R.D. Robb are also reprising their roles, and Julie Hagerty is playing Mrs. Parker (via Deadline). But despite the original cast members' involvement, fans are wary of the upcoming sequel.
Some fans think A Christmas Story doesn't need yet another sequel
The new teaser for "A Christmas Story Christmas" is as warmly nostalgic as the film it's based on, with quotes from the original movie playing over panoramic shots of the Parkers' house on Cleveland Street. That warm and fuzzy feeling, however, does not entirely extend to the video's comments section. Many fans have taken to YouTube to voice their discontent. "Why? The movie is legendary and a sequel isn't needed," remarked thaneros. A protective fan, Ian Lewis, added, "Ya'll better have not screwed this up!!!!" One Redditor, u/InvisibleEar, has a more drastic solution: "Maybe we need to take a break from making movies."
To be fair, most fans' hesitancy comes from previous disastrous attempts at a "Christmas Story" sequel. A 1994 sequel titled "My Summer Story" didn't feature any original cast members, and the 2012 straight-to-video effort "A Christmas Story 2" was roundly panned. As such, some fans are cautiously optimistic, owing in part to Peter Billingsley's involvement. "Didn't A Christmas Story already have two sequels?" asked Ultra Rare on YouTube. "Still, looking forward to this one considering Billingsley is back." 
"A Christmas Story Christmas" hits HBO Max on November 17.