What Terrifier 2's Art The Clown Really Looks Like Out Of Costume
Pennywise isn't the only terrifying circus performer killing it in the horror genre these days. His title of scariest movie clown is arguably being contested by another haunting persona that, according to reports, is literally causing audiences to faint and vomit (via Evening Standard). Art the Clown has made his triumphant return in the critically acclaimed "Terrifier 2" (via Rotten Tomatoes), directed by renowned horror auteur Damien Leone.
Leone's "Terrifier" franchise was unleashed upon audiences in 2016, and the end result was an 86-minute gore-filled bloodbath of terror featuring a nightmare-inducing menace in the form of Art the Clown. The low-budget feature may not have all the bells and whistles of most big-name horror flicks, but Leone somehow manages to max out the mayhem magnificently in every frame, thanks in part to his well-crafted monster. The creepy clown killer has received significant acclaim since his debut, with one outlet saying he makes "Pennywise look like Krusty" (via Farsighted). From the frightening clown character's unsettling demeanor to his petrifying smile, There is no denying that it would be a harrowing situation to be on the run from the spine-chilling jester.
The actor behind the black and white makeup deserves a lot of credit for helping Leone realize his goal to outdo his first film with the sequel, and after fans watched the ending of "Terrifier 2," they may have been curious to know what Art the Clown looks like out of costume.
Meet David Howard Thornton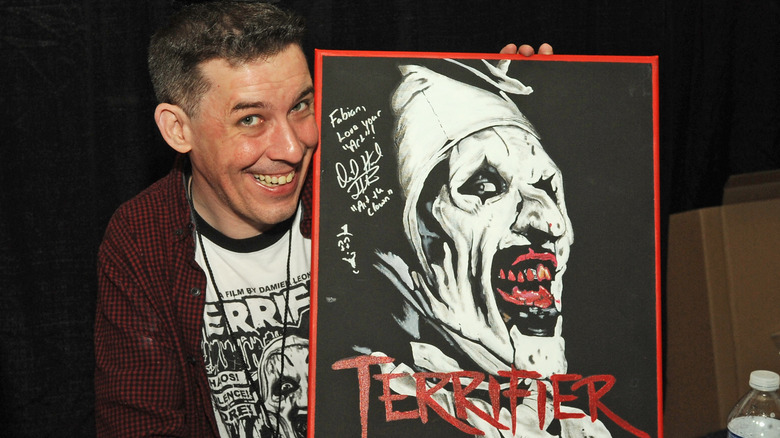 Bobby Bank/Getty Images
Actor David Howard Thronton plays Art the Clown in "Terrifier" and "Terrifier 2." Thornton's career is made up of an assortment of credits that don't just involve homicidal clowning around like theater and voice-over work as well. He has appeared in the Fox DC drama series "Gotham," and the actor has done voice-over work for the Hulu animated series "The Bravest Knight" (via IMDb). But after perusing his resume, it becomes abundantly clear that his most notorious claim to fame is, without a doubt, Art the Clown.
While it's been established that the "Terrifier" films received a robust amount of praise, it should be noted that Art and the man who plays him have also been revered for the hideous onscreen actions of the vile face-painted death dealer. Starburst Magazine commended the frightful clown, writing, "Art is a truly enigmatic and memorable villain. He frequently veers into the territory of being genuinely unpleasant to watch, which makes him feel somewhat separate from the stable of horror icons such as Freddy Krueger and Chucky." But Art can't take all the credit, and the publication rightfully praised David Howard Thornton's brilliant turn writing, "Special acknowledgment should be given to David Howard Thornton for a truly wonderful performance and one that easily stands toe-to-toe with the likes of Curry and Skarsgård."
After frightening fans in two tremendous "Terrifier" flicks, it will certainly be fascinating to see what David Thornton Howard does next and what the future holds for one of his most hauntingly beloved roles Art the Clown.
David Howard Thornton drew on his experience as a children's entertainer to play Art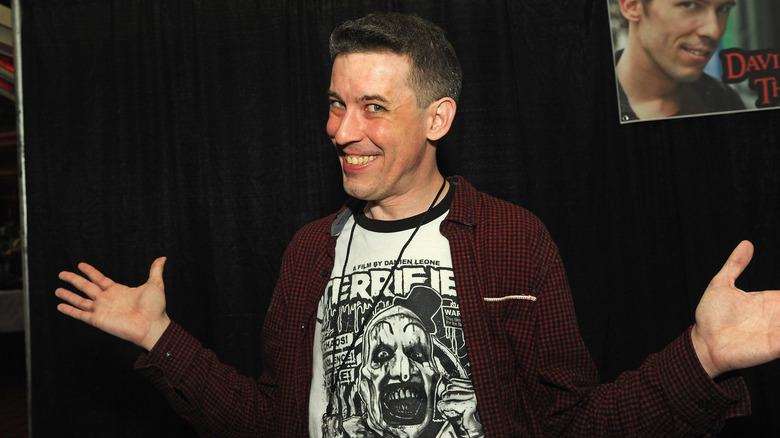 Bobby Bank/Getty Images
It might seem like a terrifying clown murderer is the farthest thing from kid-friendly entertainment, but for Thornton, his past work as a performer for children came in handy. As Thornton explained to Dread Central, he got the role by auditioning on Actor's Access. The role called for tall and skinny performers with clowning or physical comedy experience. While Thornton was new to clowning, physical comedy was in his wheelhouse. His years doing children's theater made him stand out to the casting director. He previously studied at the Fantasy Playhouse Children's Theater in Huntsville, Alabama (per Backstage).
Given that Art the Clown doesn't have any lines, Thornton's physical comedy training came in handy. In addition to his children's theater experience, he also drew inspiration from other great physical comedians, everyone from Charlie Chaplin to Rowan Atkinson, aka Mr. Bean. Of course, Thornton also based his performance on some of the great horror actors of all time, like Robert Englund and Kane Hodder, who played Freddy Krueger and Jason Voorhees, respectively. All of these influences came together to create a killer clown worthy of Pennywise's legacy.