Here's Why Daemon Targaryen Is Trending On Twitter After House Of The Dragon Episode 9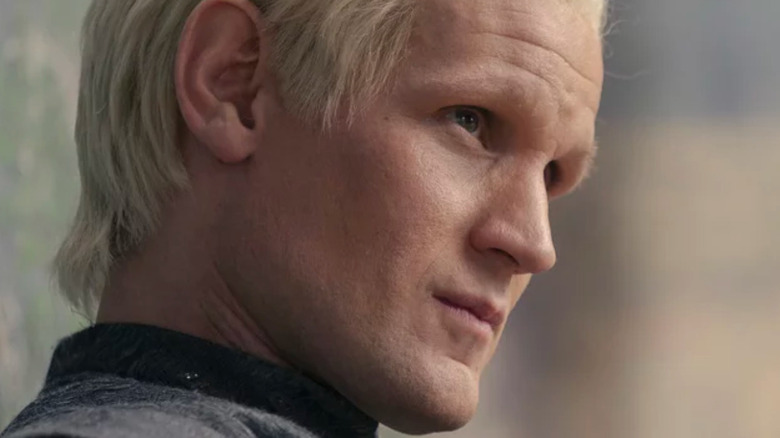 HBO
It was a case of kings in the making and dragons escaping this week in Westeros as chaos ensued following the passing of Viserys I (Paddy Considine). In the penultimate episode of "House of the Dragon," Queen Alicent (Olivia Cooke) and the Greens began their plot to take over regardless of the new widow's skewed understanding of the message before her husband's death. Now comes the time for picking sides and weighing up the literal firepower on either side. However, one pair of wings that won't be fighting for the current royal family is Rhaenys Targaryen (Eve Best).
After crashing the crowning of Aegon II (Tom Glynn-Carney), The Queen Who Never Was left with her ride to head back to Rhaenyra and Daemon (Emma D'Arcy and Matt Smith, respectively). Nevertheless, all three of their dragons may not be a match for Aemond's sky-tearing giant, Vhagar, who is considerably larger. The oldest daughter of the late king will need to pull something extra special out of her pocket to hold off her opposition, and thanks to an eagle-eyed fan, a preview of this season's final episode may well have just teased what it'll be, and that Daemon is going to be vital in getting hold of it.
Next week's preview teases Daemon's personal dance with a dragon
With the dawn of a new war approaching, preparations are put into action on both sides, and Daemon seems to know just what to do judging by this new preview. As highlighted by @fortargaryen, which now has over 30,000 likes, the preview shows "Daemon literally risking his life by going to wake up and claim a dragon named Vermithor who belonged to King Jahaerys's just to help defend Rhaenyra," with two shots of the snippet in question on show.
Vermithor, if you recall, was mentioned by Viserys in the show's debut episode and went into hiding following the passing of its rider, King Jaehaerys Targaryen. Not even Viserys himself could tame the beast, but here Daemon looks to plan on singing Old Velaryon and giving it a go himself. As brief as it is, the preview was enough to get those excited for next week even more so, with @FerfeLaBat retweeting saying, "He is the entire show. All of it." @La_Catrina7 added, "Daemon is hubby material right there." Sure, if you like them as homicidal maniacs that murdered their previous wife, maybe? All that's left is whether Daemon's daring mission will pay off. Tune into the "House of the Dragon" season finale next week to find out.