12 Best Movies Like The Grapes Of Wrath To Watch Next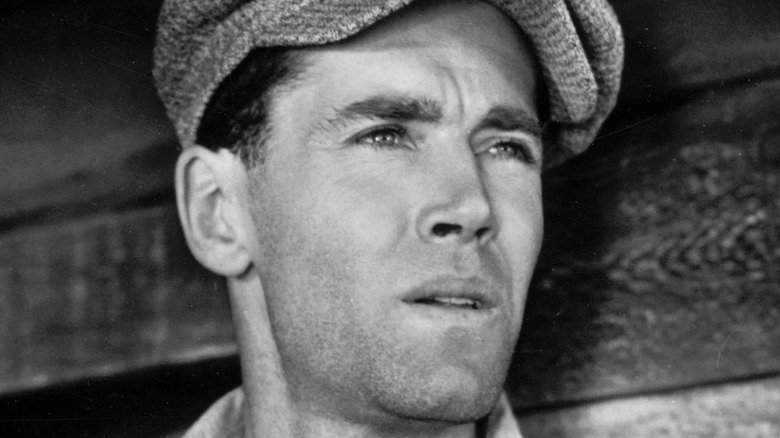 20th Century Fox
Many adults today were forced to read John Steinbeck's "The Grapes of Wrath" in high school. The epic tome was long and probably a bit dull for the average teenager. But if you were willing to cut corners, you might instead have chosen to pop in the 1940 John Ford version of the film instead. Much like the novel, the lengthy black-and-white film tells the story of the Joad family who struggle to survive during the Great Depression. The Joads travel from Oklahoma to California to find work, as many other farmers and sharecroppers fled the Dust Bowl. Henry Fonda stars as Tom Joad, the adult son of the Joad family, who has just been released from prison. Along the way he stumbles across former preacher Jim Casy (John Carradine), who joins their caravan. 
We won't spoil more of the plot here, but let's just say the journey is arduous, there are a number of deaths, and yet the drama ends with an uplifting message and an inspiring moment. But if you have already seen "The Grapes of Wrath" and are looking for more stories of survival and the triumph of the human spirit through hardship, check out these 12 movies below. 
A Good Earth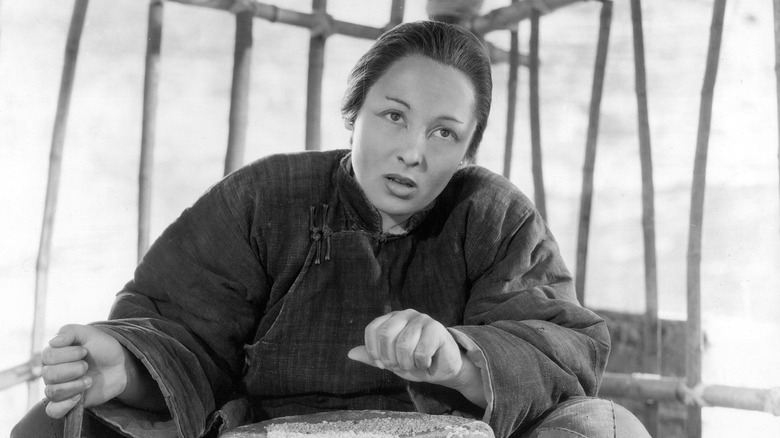 MGM
Based on the Pulitzer Prize-winning novel of the same name by Pearl S. Buck, MGM's "A Good Earth" was released in 1937. The story unfolds over the course of a few decades and follows a poor family in rural China in the years immediately prior to and following World War I. Wan Lung (Paul Muni) is a humble farm worker who marries O-Lan (Luise Rainer), a slave in The Great House belonging to the farm's wealthy landowners. Wan Lung and O-Lan have two sons, but The Great House falls from power. Wan Lung and O-Lan are driven into extreme poverty and must travel to steal, work, and fight to survive. This one is a hard watch, just like "The Grapes of Wrath," since it seems like terrible things just keep happening over and over again to this family. Eventually, prosperity returns to Wan Lung and O-Lan, but not without consequences.
Like many films of its time, "A Good Earth" unfortunately features the common, racist Hollywood practice of casting white actors in Asian roles. Rainer won the Academy Award for best actress for playing the tortured O-Lan, but Chinese silent screen star Anna May Wong was originally considered for the part. She was instead offered the role of the concubine, which she turned down. Unfortunate casting aside, the performances are moving, and like "Grapes of Wrath," the film is a moving look at poverty and survival.
How Green Was My Valley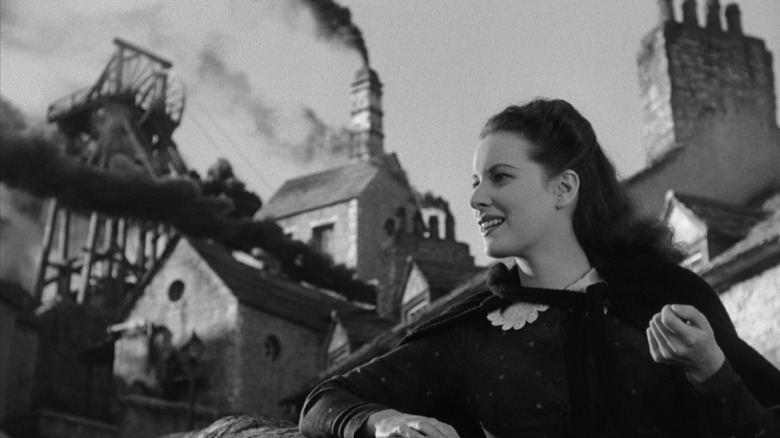 20th Century Fox
After tackling "The Grapes of Wrath," director John Ford turned to Richard Llewellyn's "How Green Was My Valley" for his next film. The novel was new at the time, and had just won the National Book Award. Controversy erupted years later, however, when it was discovered that Llewellyn's supposed personal story of growing up in a mining community in Wales was completely fabricated. But that wasn't discovered until after his death, and Ford's film escapes these issues by simply being a faithful adaptation, even if it is of a falsified story.
The plot follows the Morgan family who, as mentioned, are Welsh miners. The film is centered on the perspective of eldest son Huw, who details that, as their small town becomes a mining community to keep up with the demands of the Industrial Revolution, their idyllic, green valley transforms into a smokey, dirty, and unhealthy place. Some families seek new lives elsewhere, while others stay. Characters grow up, marry, and have kids of their own. And the climax comes with a disastrous accident within the mine. 
"How Green Was My Valley" won five Academy Awards, including for Ford for best director, and famously beat out "Citizen Kane" for best picture. 
The Southerner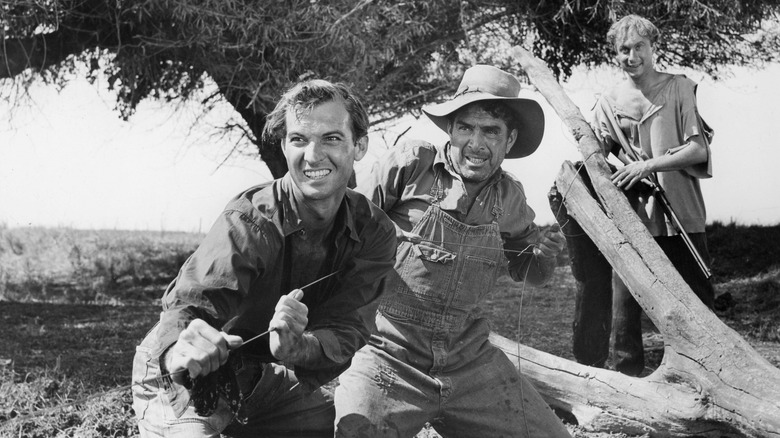 United Artists
If there were a lot of novels and films released in the 1940s that tackled how the Depression affected farming and the agricultural economy, there's a reason for that. Families were still in a period of recovery in the 1940s, and with economic prosperity only returning as the result of a devastating world war, the art of the time reflected the stark realities of the world. 
"The Southerner" is a pretty similar story to 'The Grapes of Wrath." Based on the novel "Hold Autumn in Your Hand" by George Sessions Perry, it focuses on Texas sharecropper Sam Tucker (Zachary Scott), who decides to upend his entire family, including his wife, children, and grandmother, leaving the migrant fields so that they can work their own farm. Naturally, since this is agriculture in 1930s America, it doesn't go as planned. The Tuckers nearly starve their first winter, one of their sons nearly dies of sickness in the spring, and a battle with neighboring farmers over water fuels a bitter feud. 
But though they tell similar tales, " The Grapes of Wrath" didn't face the same critical controversy that "The Southerner" did. Some saw the film as an insult to southern farmers, saying that the film depicted them as "white trash," and some cities in the South even banned the film, according to AFI.
Little Women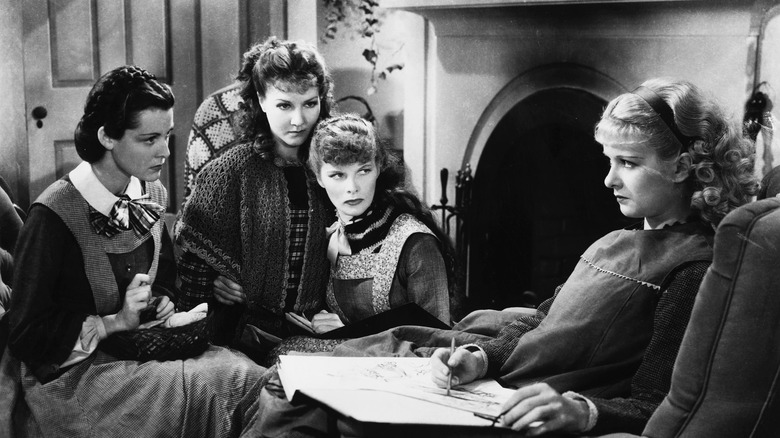 RKO
There have been a number of adaptations of Louisa May Alcott's "Little Women" over the years. The 1994 film starring Winona Ryder, Kirsten Dunst, Trini Alvarado, and Claire Danes is a hit with Millennials, and the 2019 version with Saoirse Ronan, Florence Pugh, Emma Watson, and Eliza Scanlen was nominated for a handful of Academy Awards, including best picture. 
But for this list, we're going back to 1933 for director George Cukor's version of the tale, which shows the March sisters as they try to survive the harsh realities of the American Civil War. Katharine Hepburn stars as the iconic Jo March here: The stubborn budding feminist of the family, she rejects the normal standards expected of young women and longs to be a writer.  Young artist Amy (Joan Bennett) adheres more to the idea of a respectable young woman of the time, which is reflected in her world travels and eventual beneficial marriage. Eldest daughter Meg (Frances Dee) is the one who longs for a simpler life of home and motherhood, while the sickly, introverted Beth (Jean Parker) is content to play the piano as she struggles to remain healthy.
Cukor's version of "Little Women" was the first full sound adaptation of the novel, and the film won best adaptation (a since retired category) at the Academy Awards that year. But it's really Hepburn's fiery performance as Jo that is the highlight of this version.
East of Eden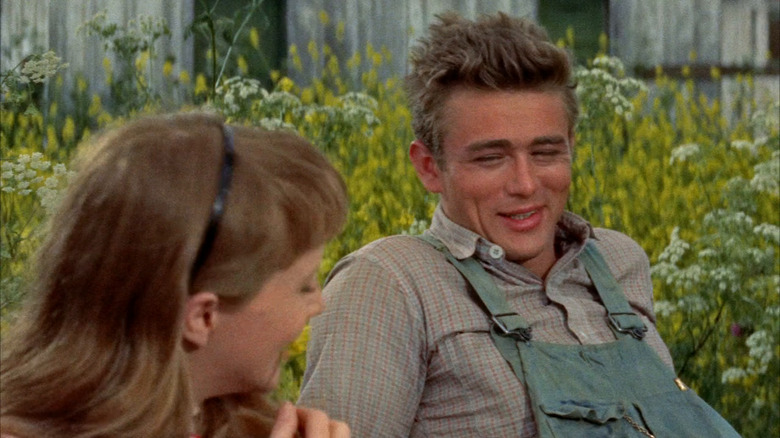 Warner Bros.
Like "The Grapes of Wrath," "East of Eden" is adapted from a novel by John Steinbeck. But while "The Grapes of Wrath" tackles pretty much all of Steinbeck's book, Elia Kazan's 1955 film version of "East of Eden" only captures the last fourth of the massive novel. It focuses on the lives of two brothers, Cal and Aron, who are loosely based on the biblical brothers of Cane and Abel. Their father, Adam, is a farmer and a deeply religious man whose heavy-handed raising of his boys leads to some natural head-butting.
Although Kazan's 1955 adaptation doesn't even attempt to cover all that "East of Eden" has to offer, the film is nonetheless widely considered captivating, with strongly positive reviews from critics. "East of Eden" also happens to be James Dean's first major film role, one of only three before his untimely death. The film was released in spring 1955, while Dean had a fatal car crash that September. He was posthumously nominated for the Academy Award for best actor and given a special achievement award at the Golden Globes.
Tobacco Road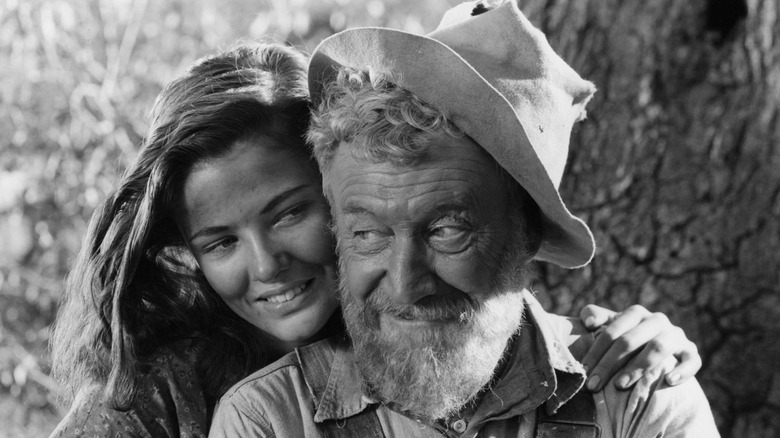 20th Century Fox
1941's "Tobacco Road" is another John Ford movie on this list, though this one was altered so heavily from the source material that whether or not it's a great adaptation is debatable. Still, it's a good movie. The story stems from the novel "Tobacco Road," by Erskine Caldwell. At the time that the film came out, a play adaptation written by Jack Kirkland had been running since 1933, and was one of the most successful plays on Broadway. The story is set in rural Georgia during the height of the Great Depression, and it follows the Lester family as they try to survive being made redundant in the farming community and work through the continued industrialization that threatens their livelihood. 
But Ford's direction, perhaps after the earnestness of  "Grapes of Wrath," and "How Green Was My Valley," steered the story into comedic territory, and that didn't jive with people who were familiar with the original text. But for those who come to the film with fresh eyes, it's an interesting companion piece and departure from the ambiance of "Grapes of Wrath."
Sommersby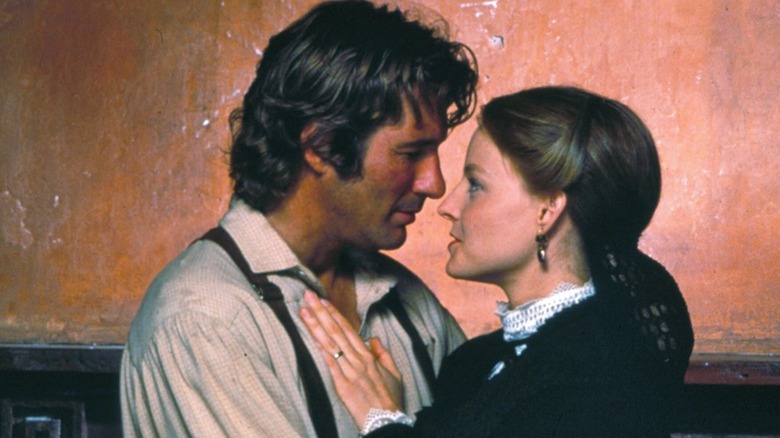 Warner Bros.
Like many films on this list, "Sommersby" is somewhat based on a true story. The French story of 16th-century peasant Martin Guerre features a man who arrives home to his wife and children after being away for years, but he's actually an impostor who plots to convince them that he is their lost patriarch. The story has been adapted for centuries now, with the 1993 romantic drama "Sommersby" being more directly influenced by the 1982 French film " The Return of Martin Guerre," starring Gerard Depardieu.
The film stars Jodie Foster as Laurel Sommersby and Richard Gere as her alleged long-lost husband Jack. Set after the American Civil War, Sommersby arrives in his hometown in Tennessee and convinces the townsfolk to invest in tobacco crops to revive their economy. Laurel knows Jack to be an abusive man, so this new, tender, smart Jack is obviously an imposter to her. As sparks flies, Laurel makes the best of a bizarre situation and embraces her new husband. But Jack's past, and the real identity of the man she now claims as her husband, come back to haunt them.  
Of Mice and Men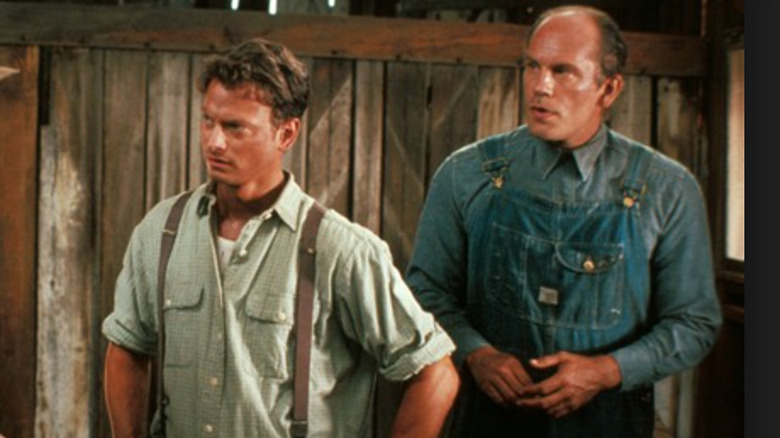 MGM
Yet another Steinbeck adaptation on this list, 1992's "Of Mice and Men" is definitely one of the best. The film, directed and produced by Gary Sinise, stars Sinise as George Milton, with John Malkovich costarring Lenny Small. The two farm workers travel from job to job, with George caring for the intellectually disabled Lenny and trying to keep him safe. The irony of Lenny's last name is that he's actually a large, imposing man, and his strength is often what gets him into trouble.
The film premiered at the 1992 Cannes Film Festival where Sinise was nominated for the fest's top prize, the Palme D'or, given to the director of the best film in competition. Sinise didn't win there, and it was the only nomination the film received, despite being one of the most expertly acted Steinbeck adaptations in recent years. Sinise and Malkovich both shine here, showing off their theater experience and training to bring to life two beloved characters. 
Far and Away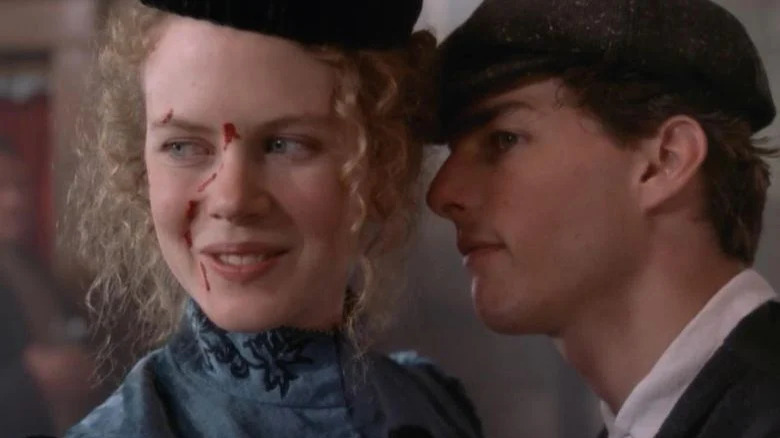 Universal pictures
Terrible Irish accent from Tom Cruise aside, "Far and Away" is great fun. The 1992 film stars Cruise as Joseph Donnelly, a humble farmer from rural Ireland in 1882. When the wealthy landlord has his henchmen burn down Donnelly's cottage over late rent, Joseph tries to kill him, but ends up injuring himself instead. Joseph gets nursed back to health by the landlord's daughter Shannon, played by Nicole Kidman. But Shannon has an ulterior motive. She convinces Joseph to accompany her to America, where the Land Run of 1893 is set to take place. The two cross the sea, but getting from Boston to Oklahoma after Shannon is robbed makes for a difficult journey.
"Far and Away" isn't going to go down as one of the greatest films in all of cinematic history: It didn't win any awards, and as previously mentioned, Cruise's Irish accent is pretty awful. But there's no denying the romantic chemistry between him and Kidman, and their dynamic throughout their misbegotten efforts to make a life in America is utterly charming. Not to mention the fact that the scenery in the first act is breathtakingly beautiful, with an underrated John Williams score that incorporates traditional Irish music.
Cold Mountain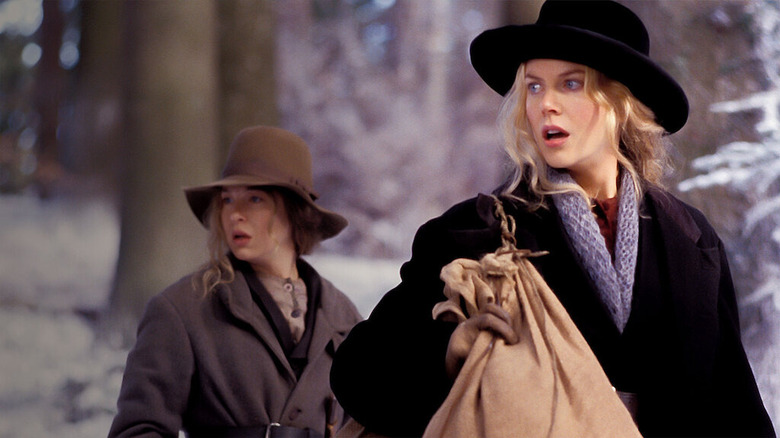 Miramax
Speaking of Nicole Kidman, in the 2003 Civil War drama "Cold Mountain," she plays preacher's daughter Ada Monroe who falls in love with W.P. Inman (Jude Law) just as he's conscripted for the Confederate Army and sent away to war. As Ada tries to keep up a large home and land with no help, she's eventually joined by a young woman named Ruby Thewes (Renee Zellweger), whose sassy, no-nonsense attitude is a bright counterpart to Ada's melancholy. The story of the film, which is based on the 1997 novel by Charles Frazier, unfolds over several years as Inman deserts the war and tries to make his way back to Ada's home of Black Cove, North Carolina. Philip Seymour Hoffman, Brendan Gleeson, Natalie Portman, and musician Jack White all feature in the film's large ensemble cast.
The addition of Jack White (of The White Stripes) gives "Cold Mountain" an excellent musical score and soundtrack. Produced by T Bone Burnett, the "Cold Mountain" soundtrack features a bluegrass and Americana score and traditional songs woven throughout the film, giving it a somber atmosphere at some points and a raucous instrumental inspiration at others. "Cold Mountain" was nominated for a number of Academy Awards, with Zellweger winning best supporting actress.
Nomadland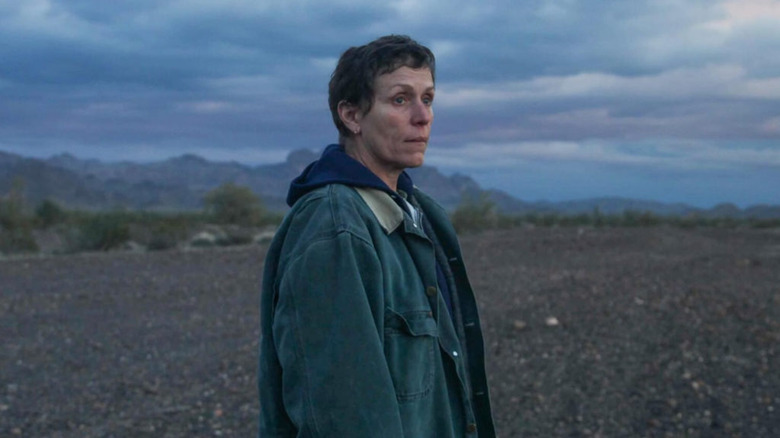 Searchlight pictures
If we thought the hardships of migrant workers were something America left behind after the Great Depression, we were clearly mistaken. 2020's "Nomadland," based on the 2010 nonfiction book of the same name, stars Francis McDormand as Fern, a widow who loses her job at a U.S. factory. With little to stick around for, she sells all of her belongings and her home, traveling the country in her van working from job to job. Along the way, she befriends other nomads and migrants, stays put in some places longer than others, and learns just how difficult it is for someone on the edge of poverty to survive day by day.
Written, produced, directed, and edited by Chloé Zhao, "Nomadland" was praised for its beautiful cinematography, with stunning landscapes of the American West, as well as its inclusion of real-life nomads in its cast. The film won best picture at the 2021 Academy Awards, as well as best actress for McDormand and best director for Zhao, who became the first woman of color and only the second woman ever to win the award. 
Minari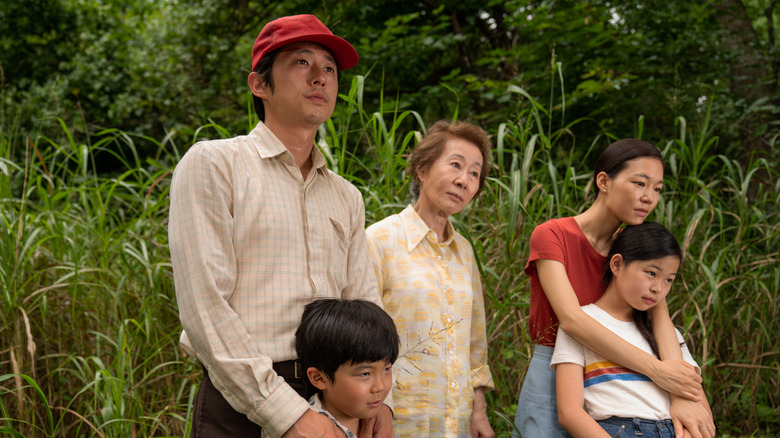 24
For another best picture nominee, check out 2020's "Minari," written and directed by Lee Isaac Chung. Set in 1983, the Korean immigrant Yi family decides to move from California to rural Arkansas to start their own farm. Patriarch Jacob (Steven Yeun) struggles to find a source of water for their new farm, while his wife Monica (Han Ye-ri) and kids try to adjust to their new life. 
Eventually, Monica's mother, Soon-ja (Youn Yuh-jung), joins them from South Korea to help out with the kids: David (Alan Kim), who has a heart condition, and his older sister Anne (Noel Kate Cho). The relationship between the grandmother and her grandkids is truly touching, as Soon-ja tries to entertain the duo and teach them about "minari," water celery, and other agricultural knowledge. Meanwhile, Jacob's stubbornness causes a few hurdles for the farm. Soon-Ja's health takes a turn as well, and the family faces disaster before they can thrive once again.
"Minari," which is primarily in Korean, was nominated for a number of Academy Awards, including best picture, best director, best actor, best screenplay, and best score. Youn Yuh-jung took home the statue for best supporting actress.