Anne Hathaway Crushes Any Hope For A Devil Wears Prada Sequel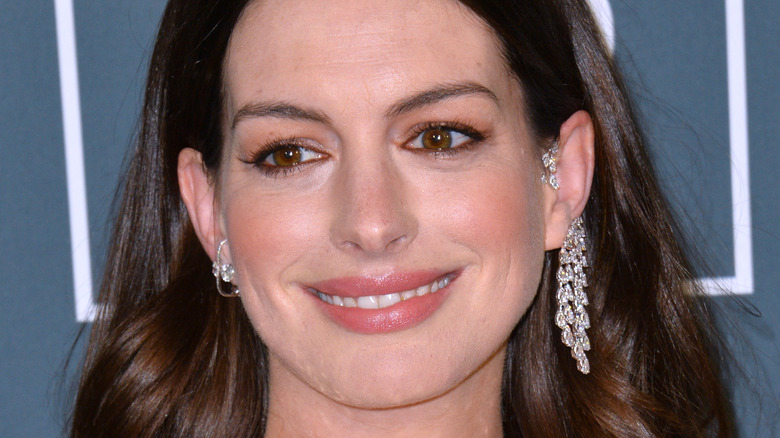 Featureflash Photo Agency/Shutterstock
In June 2006, the fashion industry hit the spotlight when "The Devil Wears Prada," starring Meryl Streep and Anne Hathaway, hit theaters and found success.  
Based on the book of the same name written by Lauren Weisberger, the movie follows Andrea "Andy" Sachs (Hathaway), a recent college graduate who aspires to be a journalist. Despite her disdain for the fashion industry, to get her foot in the door and kickstart her career, she applies to be a junior assistant to Runway magazine editor-in-chief, Miranda Priestly (Streep). Despite all odds, she lands the job and vows to keep it for a year, in hopes that her experience working under a well-respected name will easily nab her a job anywhere she wants. Unfortunately, she comes to learn that Priestly is one of the most fastidious people, demanding perfection from both her and her first assistant Emily (Emily Blunt).
Upon release, the movie was met with critical acclaim, earning a spot on the American Film Institute's (AFI) list for Movies of the Year, with a particular focus on Streep's performance, receiving an Oscar nod and a Golden Globe win. It was also a commercial success, earning over $326 million worldwide against a budget of $35 million (via Box Office Mojo).
With the film earning so much love, it makes sense that fans would still be asking for a sequel. Unfortunately, Hathaway stopped all "Devil Wears Prada" sequel discussions.
Anne Hathaway didn't mince words about a Devil Wears Prada sequel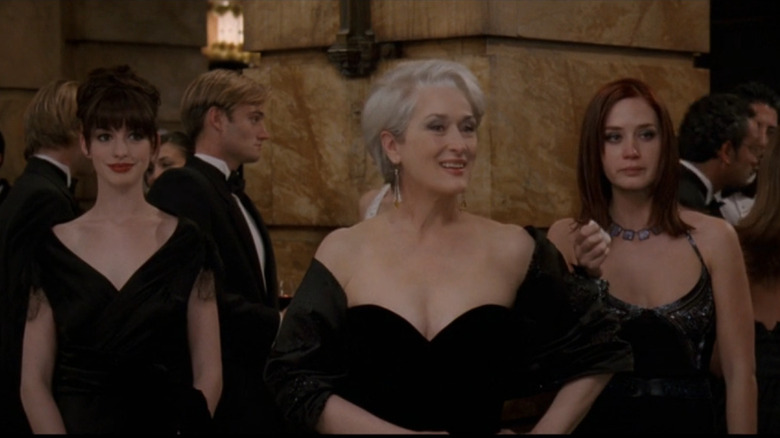 20th Century Fox
Though we never heard of any official talks for a sequel, there was a discussion. The film's director David Frankel confirmed in an Entertainment Weekly interview in June 2021 that although the studio didn't request a follow-up, Frankel and screenwriter Aline Brosh McKenna had gathered to confer about a sequel. Weisberger did eventually write a sequel to her book entitled "Revenge Wears Prada: The Devil Returns," but they ultimately decided that revisiting the characters simply wouldn't be enough for another movie.
However, it seems that the stars of the film aren't interested in Part Two. In 2016, Variety spoke with Streep, Hathaway, and Blunt. It was reported that Streep had privately expressed disinterest in a sequel, while Hathaway wasn't as straightforward, explaining, "I'm not sure if could is the right question. Should there be? I'd love to make a movie with all the people again that's something totally different. But I think that one might have just hit the right note. It's good to leave it as it is."
In September 2022, during New York Fashion Week, Hathaway spurred discussion when she appeared sporting an outfit reminiscent of her character, Andy Sachs. Furthermore, Hathaway sat next to Anna Wintour, Vogue's editor-in-chief, speculated to be the inspiration for Priestly since Weisberger was Wintour's personal assistant before penning the book (via Salon).
Hathaway would later admit that her look was purely coincidental, but didn't mince words when Entertainment Tonight directly inquired about a sequel, to which she succinctly denied, saying, "There's not going to be a sequel. It's not gonna happen. It's just like, we can't do it. It's not gonna happen. It exists. There are other films. There will be other films. We can just watch that one [The Devil Wears Prada] again."