The First Reviews For Guillermo Del Toro's Pinocchio Are Calling It A Delightfully Strange Spin On The Classic Story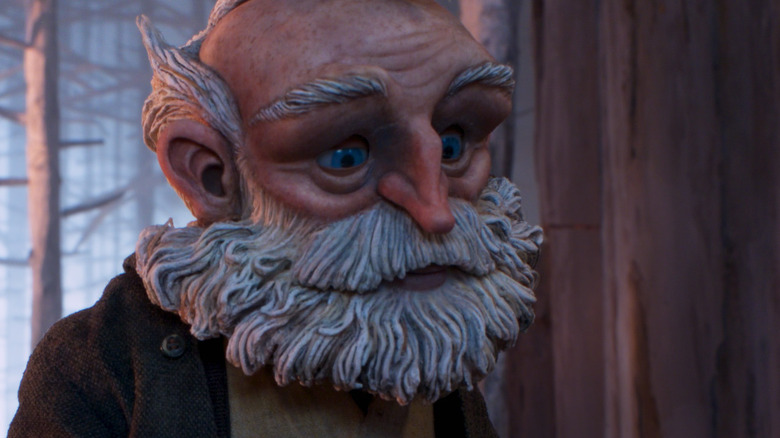 Netflix
Two movies with the same premise releasing around the same time is a phenomenon that is certainly not unheard of in Hollywood. "White House Down" saw Channing Tatum battling terrorists who have taken over the White House the same year Gerard Butler followed suit in "Olympus Has Fallen." "Armageddon" and "Deep Impact" both revolved around the Earth being threatened by an asteroid, and "Dante's Peak" and "Volcano" told stories of people fleeing lava and ash.
2022's version of this phenomenon sees the story of Pinocchio being told in two very different films. Disney developed one as a live-action remake of their 1940 animated classic "Pinocchio." The other version is a stop-motion production following the wooden puppet on a quest to become a real boy as told by the legendary directorial talent Guillermo del Toro. With del Toro's past works, one expects that his version of the tale will differ greatly from Disney's live-action update.
Of course, audiences are now made up of people who grew up on the Disney version of the story, and deviating from the family-friendly tone could be a risk. But now that "Guillermo del Toro's Pinocchio" has been screened at the London Film Festival, early critics' reviews are in, and they are saying the same thing. While fans will have to wait until December 9 to see the movie on Netflix, these early reviews give us a sense of what kind of magic del Toro has cooked up for audiences this time.
According to the first reviews, Guillermo del Toro's Pinocchio is a dazzling stop-motion triumph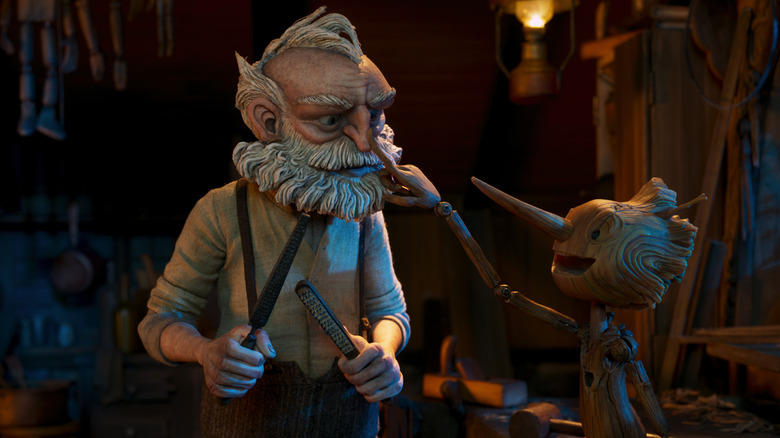 Netflix
Guillermo del Toro is known for his sumptuous and fantastical explorations into the darker side of humanity. From the scope of the unique storytelling in "The Shape of Water" to the world-building in "Pan's Labyrinth," he is never afraid to take on the unconventional or macabre. Rafael Motamayor of Indie Wire referenced del Toro's unique vision in his review when he likened del Toro's latest to "Frankenstein." Motamayor wrote, "Like Victor Frankenstein, he [Geppetto] tempers with powers he should leave alone, and his creation is unnatural, so this version of Pinocchio has more in common with Frankenstein's cobbled-together look than the uniform, cute look from the Disney version."
Guy Lodge of Variety addressed del Toro's use of stop-motion as an inspired choice that lends a level of gravitas to a story that has been told repeatedly, giving it a new life and originality that is often missing. "This notably peculiar, frightening animation feels more in line with Collodi's imagination than most previous iterations," Lodge wrote. "As you might expect from the man behind 'Pan's Labyrinth' and 'The Devil's Backbone,' there's a dark, violent sense of consequence to this one, a healthy sense of grotesquerie, that makes its happy ending — yes, that's still on the cards, but not exactly as you'd expect — feel hard-earned."
Leslie Felperin of The Hollywood Reporter praised del Toro for his changes and additions to the story. While it doesn't stay any more faithful to the original source material than the 1940s Disney version, changing it to Northern Italy post-WWI and putting it in the shadow of Mussolini's fascist regime adds a layer of depth. While she criticized the pacing, there don't seem to be a lot of strongly negative takes on the film thus far.