Robbie Coltrane's First U.S. Film Role Was A Bit Part In The Cult Sci-Fi Classic Flash Gordon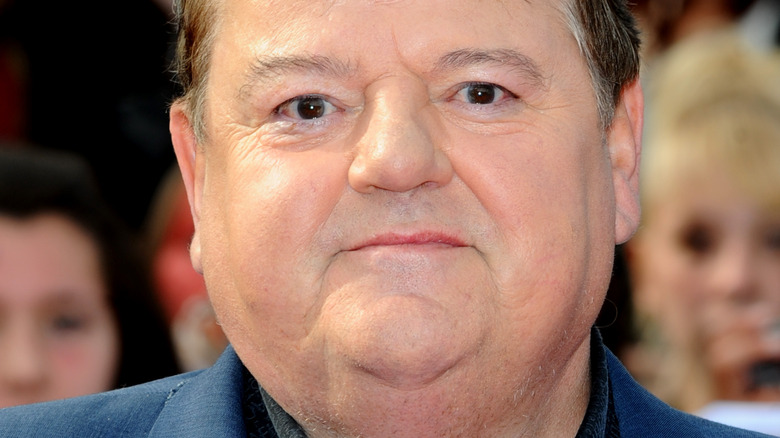 Anthony Harvey/Getty Images
"The ones who love us never really leave us," says fan-favorite "Harry Potter" character Sirius Black (Gary Oldman) to his godson. "You can always find them in here." This moving quote is something that Harry (Daniel Radcliffe) has to take to heart because of how many people he has lost in the most heartbreaking moments of the franchise. But this moving sentiment also comes to mind when saying goodbye to actors who have portrayed our favorite characters for so long.
Harry Potter fans were rocked by the recent news of Robbie Coltrane's devastating death. The actor who played Harry's friend and confidante, Rubeus Hagrid, was a beloved figure who played the character for eight films. The half-giant, half-human gamekeeper was a kind soul with a sense of purpose that came from caring for creatures others thought to be monstrous. Nostalgic fans hold him close to their hearts as a character who definitively believed love was more than skin-deep. As we say goodbye to the iconic actor, we remember all the roles he contributed to, including his first-ever American role in the sci-fi classic "Flash Gordon."
Blink and you might miss him in Flash Gordon
Space epics and rollicking adventures may seem like common fare now, but the history of "Flash Gordon" stretches back almost a century. The intergalactic character first appeared on the pages of a comic strip in 1934 (per Britannica). Created by Alex Raymond and Don Moore, Flash would go on to find success in the film serials of the time. Cue 1980: "Flash Gordon" hits the big screen in color, backed up by a rocking Queen soundtrack. And if you look closely enough, you'll see the first U.S. appearance of Robbie Coltrane.
Credited as Man at Airfield, Coltrane has no lines to speak of but gets about one second of screentime (per BBC). While Flash (Sam J. Jones) and his girlfriend, Dale Arden (Melody Anderson), avoid a hailstorm and quickly board a small aircraft, the Man at Airfield quickly hands them their belongings and shuts the door behind them. Flash and Dale jet off, and that's a wrap on Coltrane. But while "Flash Gordon" is remembered as a campy cult classic, Coltrane certainly won out in the end. The accomplished actor obtained more than 100 credits to his name and appeared in franchise works such as "GoldenEye" and "Ocean's Twelve" (via IMDb). But most importantly, he has endeared himself to a generation of children and adults in an immersive fantasy world that no one is likely to forget.