Why Naomi Watts Accepted A Role For The Watcher Before Reading The Script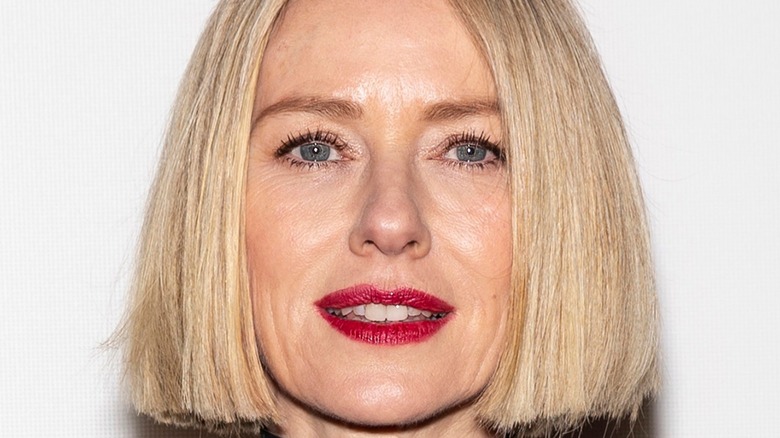 Ovidiu Hrubaru/Shutterstock
Naomi Watts has had an acting career defined by bold and courageous performances. Since her 2001 breakthrough role as the optimistic new Hollywood ingenue turned tortured soul Betty Elmes/Diane Selwyn in David Lynch's "Mulholland Drive," Watts has continued turning in one bravura accomplishment after the next. In addition to prestige dramas, the actor has also tested her skills in comedy, action, and even horror genres. Her turn as Rachel Keller in 2002's "The Ring" brought her career into the mainstream of Hollywood and cemented her status as a performer not afraid to venture into dark territory.
It comes as no surprise that her performance in Ryan Murphy's "The Watcher" is being hailed as "strong" according to Variety. In the limited series, she plays Nora Brannock, loosely based on her real-life counterpart Maria Broaddus, who along with her husband and children, were terrorized by an unknown stalker in the suburbs of New Jersey in 2014. With critical praise coming her way, Watts has revealed that she immediately accepted the role before even taking a look at the script.
Naomi Watts says the chance to work with Ryan Murphy was a no-brainer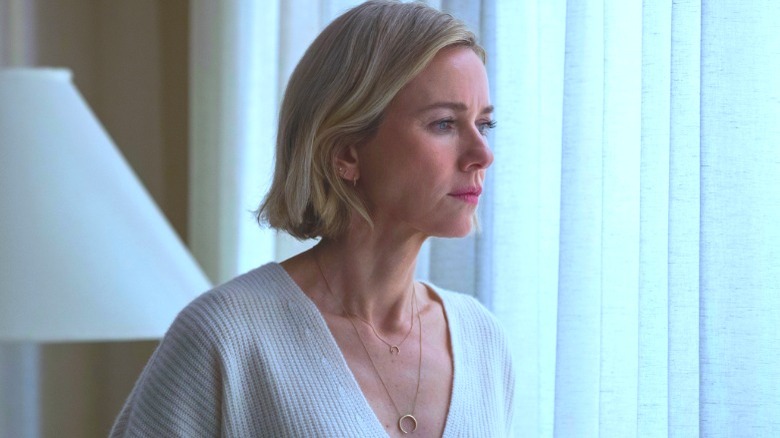 Eric Liebowitz/Netflix
Working within the Ryan Murphy universe of TV programs provides actors a chance to explore everything from horror to comedy to historical drama, as well as the chance to bring to life both victims and perpetrators in major true crime cases. In this way, "The Watcher" is stylistically similar to both the "American Horror Story" and "American Crime Story" franchises. Since the creator and showrunner's work is heavily-rooted in ensemble acting, this provides for a wide range of character types. Speaking to Christobel Hastings from Stylist, Naomi Watts revealed, "I pretty much said yes, right away, without having read any scripts," Watts tells me [Hastings] when we speak over Zoom. Having been tuned into Ryan Murphy's work for a long time, accepting the project was a no-brainer."
The actor would go on to highlight her experience within the genres of mystery and horror by adding, "Definitely Ryan being on the end of that call that first time was a good reason to say yes," she says. But the genre too was a big draw. "I've played in this genre at other times in my career, you know? I'm always drawn to mystery and fear and thrills and even horror sometimes, so it felt like a good combination of things." Perhaps this is why it is so easy to identify with Naomi Watts' Nora Brannock, because the viewer is in the grip of a true master performer at work.