What It's Really Like To Sit At The Reagan Family Dinner Table, According To Blue Bloods' Steve Schirripa – Exclusive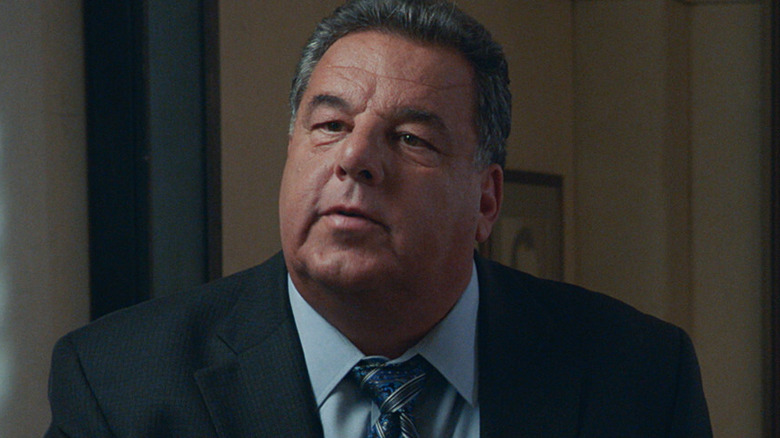 CBS
For 13 seasons, Sunday dinners have been at the core of "Blue Bloods," the police procedural drama that airs Friday nights on CBS. Each week, the Reagan family sits down at the table for food, fun, and sometimes feuds to help sum up the episode.
The main cast is always featured, including Tom Selleck as New York Police Commissioner Frank Reagan, Donnie Wahlberg as Detective Danny Reagan, and Bridget Moynahan as ADA Erin Reagan, along with grandkids and significant others. Sometimes, a rogue cast member makes it to the table, like in the Season 12 finale, when fan favorite Anthony Abetemarco, played by Steve Schirripa ("The Sopranos"), wound up breaking bread with the Reagans.
It was the first time Erin's onscreen confidante, who assists with her cases, was invited to dinner, which is "kind of a big deal," according to Schirripa.
During an exclusive interview with Looper, Schirripa recounted what it's really like to sit at the iconic Reagan family dinner table on the set of "Blue Bloods."
There are duplicates of food that everyone eats in between takes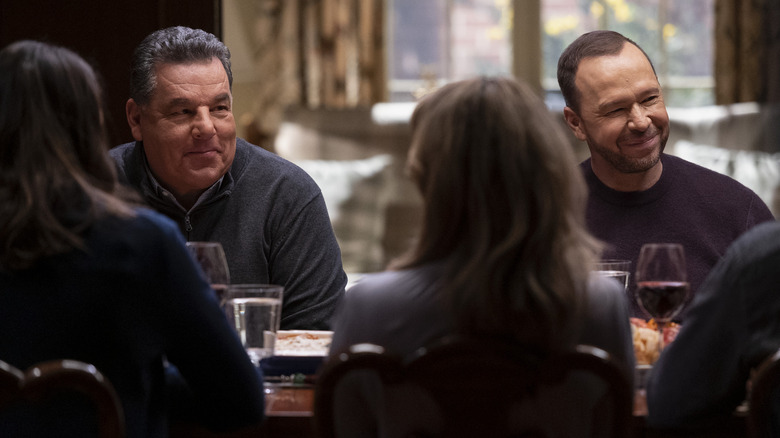 John Paul Filo/CBS
The list of non-Reagans who have joined the family at Sunday dinner is a very small one, but now Schirripa can truly call himself one of the "Blue Bloods" brood. It took seven seasons, but he finally made it.
"Honestly, I never thought it would happen," says Schirripa. "How are they going to fit that in? I said, 'Hey, maybe Anthony's in the neighborhood. He's going to bring some cannolis over.' Then when I found out that it was going to happen, I was very flattered."
Surprisingly, it was only Schirripa's second scene ever with Selleck, the first happening closer to when he initially joined the show. But that only made the shoot that much more memorable for him — that, and all the delicious food that was placed in front of him.
"They're used to [sitting at the dinner table], but I thought it was fun," he says. "You had all that Italian food. We didn't eat in the scene, but in the back, they had duplicates of everything. The food came from the Bronx up at Little Italy on Arthur Avenue, where there's all kinds of great Italian restaurants and delis. [We had] meatballs, braciole, soup and salad, provolone, and the whole platter. It was back in the kitchen, so in between takes, everyone got up and was eating that. I know I was."
As for whether the feat will ever happen again, Schirripa isn't sure. But one thing he does know is that he "had a ball."
"I would love to go back," he says. "I don't know if that'll ever happen, but I liked it. Like I said, I was very flattered to be asked to the dinner table. Not many people besides the Reagans have made it there."
Season 13 of "Blue Bloods" airs Fridays at 10 p.m. ET/PT on CBS.