Fans Make It Clear That SyFy's Chucky Blows The 2019 Reboot Out Of The Water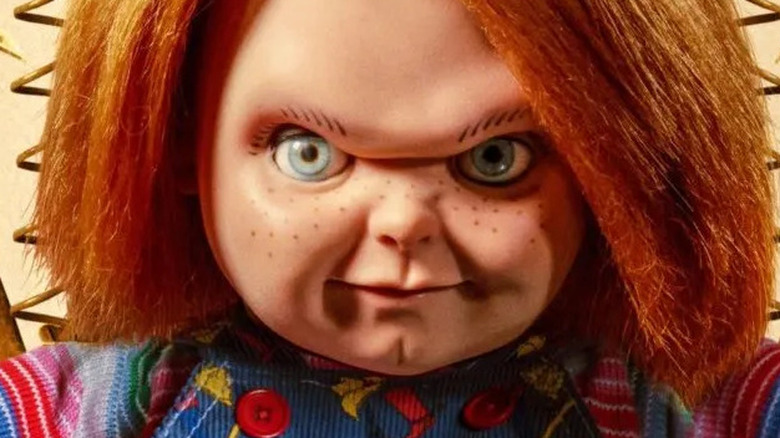 SyFy
The second season of SyFy's "Chucky" is well underway, luring fans new and old into the bloody world of horror's most iconic doll (which, in this genre, is a surprisingly tough crown to hold). The series (which boasts an impressive 95% on online review aggregator Rotten Tomatoes) is something of a family reunion for the "Child's Play" franchise. Brad Dourif is back to voice serial killer Charles "Chucky" Lee Ray, while the series is helmed by "Chucky" creator Don Mancini. Mancini has been involved in almost every iteration of the long-running horror series since its debut with 1988's "Child's Play" — though he was notably absent from its 2019 remake.
In an attempt to reboot the franchise just two years after Mancini's "Cult of Chucky," 2019's "Child's Play" starred "Star Wars'" Mark Hamill — a prolific voice actor with experience playing whimsical psychopaths. Yet when the film was released, critics and audiences were largely unimpressed by the digital reinvention of the character (per Rolling Stone). Luckily, fans have been far more enthusiastic about the murderous doll's return to form on the small screen.
Chucky is definitely back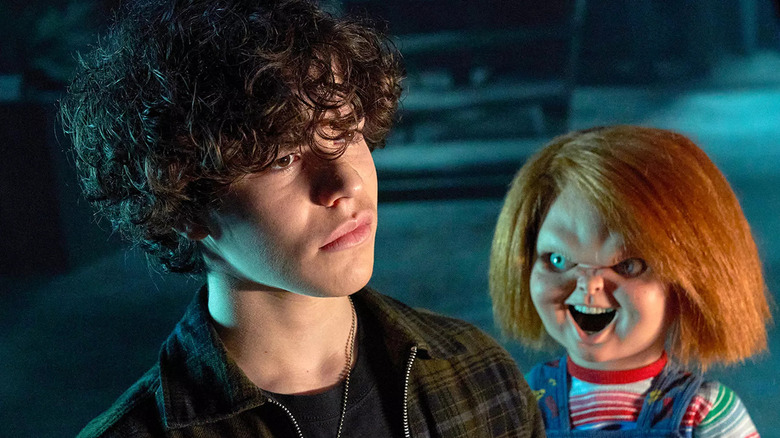 SyFy
On the r/horror subreddit, u/Theirachacu asked if anyone else was enjoying the series, writing, "I think this new series they're doing is an actual good addition to the chucky world, I see this series as a good modern horror series wich [sic] sends us a hidden message about bullying..." The user's assessment was shared by a writer at Vulture, who felt the new "coming of rage" series returned to Chucky's roots by making him the personification of a child's anger — making said anger righteous complicates the drama of the series in compelling ways. It also allows "Chucky" to embrace its LGBTQ+ DNA.
u/james_randolph wrote, "I love it and I really love it cause it's got Brad Dourif back in, that remake they tried to do was trash but now they got the OGs back in place. I love Chucky and I'm glad this is back!" Meanwhile, u/PhantomShadow6 responded "I love the series the remake movie made me so angry I'm so happy to watch this series and see the good ol Chucky back..." and u/TheGelatoWarrior stated "100x better than that god forsaken child's play remake."
Clearly, fans are relieved that Chucky's good name has been restored, and that the original team is back together to tell a more twisted tale than ever before.
"Chucky" airs Wednesdays at 9 PM EST on SyFy.