A New Naked Gun Movie Lands At Paramount
It's a great day for "Naked Gun" fans as reported plans for an untitled fourth film have finally come to fruition at Paramount, with one of Hollywood's biggest action stars taking up Leslie Nielsen's legendary slapstick mantle as Detective Frank Drebin's son.
For those who aren't fortunate enough to have experienced Nielsen's comedic genius in the "Naked Gun" movies, here's a quick summary of the first installment, "The Naked Gun: From the Files of Police Squad!," from Paramount: "Leslie Nielsen stars as Police Squad's own granite-jawed, rock-brained cop Frank Drebin, who bumbles across a mind-control scheme to assassinate Queen Elizabeth. Priscilla Presley, O.J. Simpson, a stuffed beaver, two baseball teams and an odd assortment of others join the wacko goings-on and blow the laugh-o-meter to smithereens." 
In total, three "Naked Gun" movies wound up getting made, with them each being inspired by Nielsen's 1982 crime comedy spoof "Police Squad," which aired on ABC. The sequels — "The Naked Gun 2½: The Smell of Fear" and "Naked Gun 33+1⁄3: The Final Insult" — were released in 1991 and 1994, respectively. 
"They do not make this type of film anymore," said Twitter user @BigRedVikin9. But Paramount is reportedly ready to put that claim to rest, and it's enlisted a surprising acting heavyweight to help bring "Naked Gun" into the future.
Liam Neeson to lead the way in Naked Gun reboot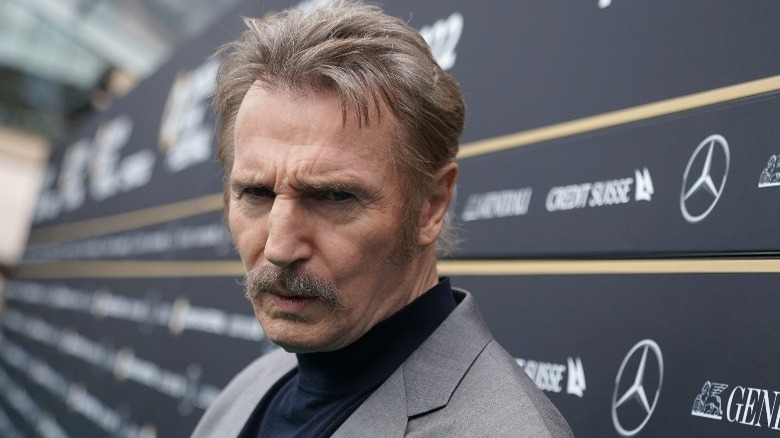 Thomas Niedermueller/Getty Images
According to reports, acclaimed actor and action star Liam Neeson will be attempting to fill Leslie Nielsen's spoof-loving shoes in the "Naked Gun" revival, with him slated to possibly portray Frank Drebin's son (via Deadline). Other details about the movie and its plot are reportedly under wraps, though it's been revealed that Seth MacFarlane will be producing, and Lonely Island member Akiva Schaffer has been pegged to direct. Writers Dan Gregor and Doug Mand both worked on the screenplay, along with "Family Guy" scribe Mark Hentemann and "Ted" writer Alec Sulkin. 
While it's ultimately unclear what sort of tone Paramount's new "Naked Gun" flick will have, many fans are afraid that Neeson isn't going to be a good fit for the pun-soaked film project, while others think the "Taken" star could take to it like a duck to water. 
"Liam Neeson can be super funny, but the original trilogy is so perfect and iconic," said Twitter user @MikaEn2305. "I'm having a hard time seeing how this could even get close to that," they tweeted. User @adancastillo84 said, "It'll be great. Neeson's performance will be similar to Nielsen's performance in Airplane where the humor is his deadpan delivery. Think Neeson's appearance on Ted and Life's Too Short." 
According to Deadline, talks of a "Naked Gun" reboot first began after Nielsen's death in 2010. They reportedly fizzled out for a while, though, but gained new life following the success of another '80s franchise reboot, "Top Gun: Maverick." No official greenlight has been given, per Deadline, but it appears that everything is now in place for the revival to move forward.