Marvel Fans Can't Stop Talking About A World War Hulk Movie After The She-Hulk Finale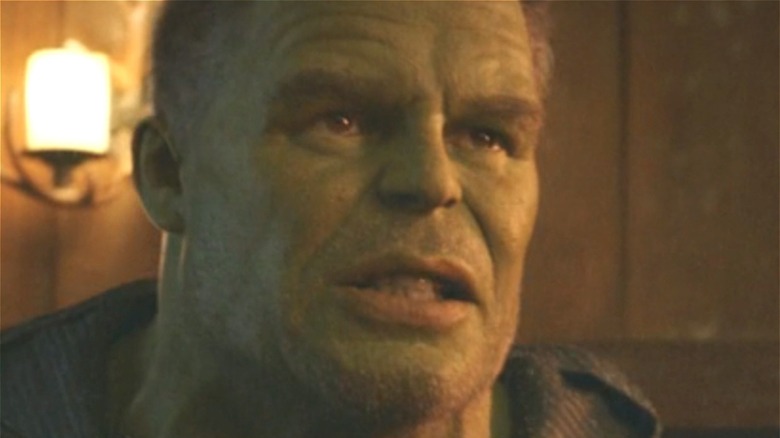 Disney+/Marvel
The finale for "She-Hulk: Attorney at Law" certainly tosses out many of the standard Marvel Cinematic Universe conventions. The episode starts off with a feint that shows a multi-pronged finale battle that would have seen a transformed Todd (Jon Bass), Abomination (Tim Roth), Hulk (Mark Ruffalo), and She-Hulk (Tatiana Maslany) engaged in an epic fight, but She-Hulk decides she isn't a big fan of this culmination of events and she breaks the fourth wall. Moving through real-world production studios, She-Hulk demands to talk to Kevin, which is a reference to MCU ringleader Kevin Feige. Finding out that Kevin is actually an acronym for an advanced AI robot, She-Hulk convinces the machine to alter the finale.
The "She-Hulk" finale ends with a family picnic that not only sees Daredevil (Charlie Cox) show up (at Jen's behest) but Hulk as well. However, Hulk isn't alone, and he actually has a son that he introduces as Skaar (Wil Deusner), which helps explain what Hulk was doing through the course of "She-Hulk." Although freshly introduced into the MCU, Skaar is originally from the comics, which has caused many fans to speculate about a big-screen adaptation of "World War Hulk," but why?
Fans think that the introduction of Skaar sets up a World War Hulk movie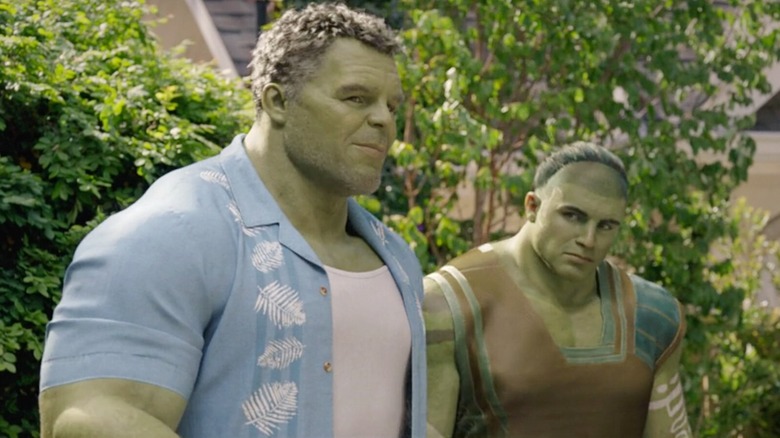 Disney+/Marvel
Over on Reddit, u/HerniatedHernia asked, "Are we getting a World War Hulk movie? God that would be glorious." This caused u/Amirax to respond, and they said that they truly hope that if we are going to get a "World War Hulk" movie, then Nicolas Cage must return as Ghost Rider. On Twitter, fans of the "She-Hulk" finale had similar thoughts, with @BlazeofBones posting a collection of images from the finale that features She-Hulk telling Hulk to save it for the movie and Hulk introducing his son. They added that, in all capital letters, that they really need a "World War Hulk" movie right now.
@SanvidVaidya couldn't contain their excitement, and stated, "WE ARE GETTING A SHE-HULK SEASON 2 AND A WORLD WAR/SON OF HULK MOVIE,THE HULK DROUGHT HAS ENDED WE WON." @marvel_fanx1 posted a short clip of She-Hulk talking with K.E.V.I.N., and questioned if we are indeed getting a "World War Hulk" movie, while @Still_Xzav placed many eye emojis and said, "We're getting World War Hulk." @arsce was also surprised at the turn of events in the "She-Hulk" finale, and wondered if "World War Hulk" is truly confirmed. In other words, many viewers took the same thing from the ending of "She-Hulk," and that is the groundwork being laid for "World War Hulk."
The son of Hulk plot was teased in August 2022, and it helps fill in what Hulk was up to before Thor: Ragnarok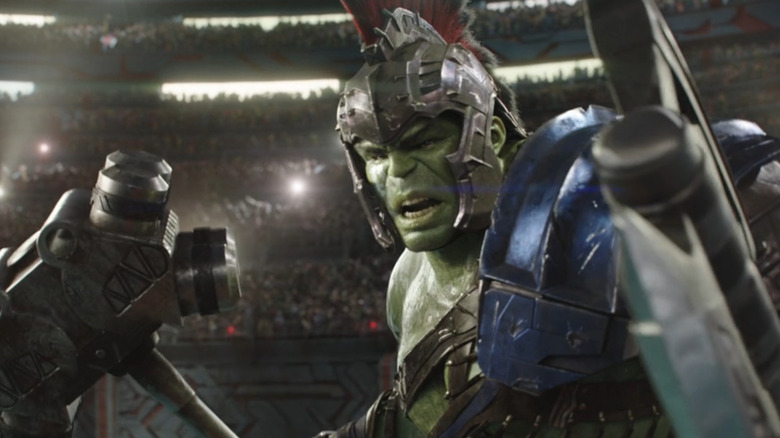 Marvel Studios
It is important to note that this plot, which many have now assumed will lead to a "World War Hulk" movie, was originally teased at the end of August 2022. Speaking with The Direct, "She-Hulk" producer Jessica Gao said, "Well, all I'll say is, you know, he spent a lot of time off-planet as we saw in 'Thor: Ragnarok.' And, we only got to see a little tiny bit of what his life was like when he was on that planet." Gao added, "I mean, God knows what Hulk got up to in the years he was there, so he's gotta go back and handle some off-world things that happened during that time."
The reason why so many Hulk fans think that "She-Hulk" is setting up a "World War Hulk" story is that the introduction of Hulk's son Skaar highlights Hulk's actions during his time on the planet of Sakaar, which is the location from "Thor: Ragnarok." According to Marvel, the "World War Hulk" comics are based on Hulk finding out that his exile from Earth was orchestrated, and events happen that see Sakaar destroyed and Hulk filled with his famous rage. The character of Skaar is actually pretty instrumental in this story, and it will be interesting to see how the Marvel Cinematic Universe could adapt this popular comic book cross-over event that sees a veritable who's who of heroes step up to stop a rampaging Hulk.