Fans Are Loving The She-Hulk Finale's Retro Opening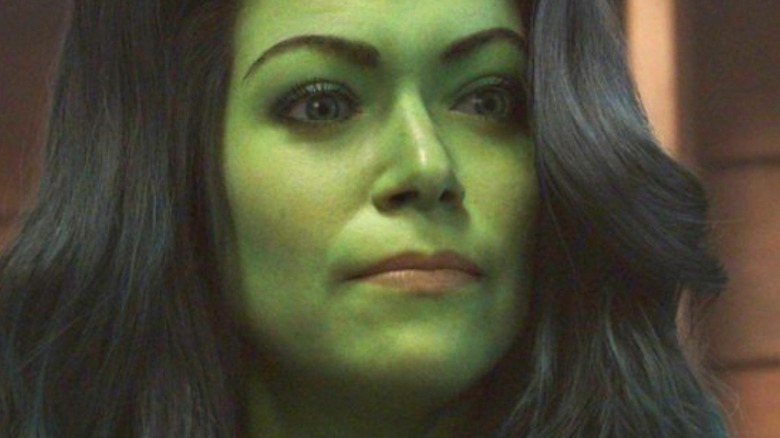 Courtesy of Marvel Studios
As Ryan Reynolds' Deadpool can attest, Marvel is certainly no stranger to irony and the meta-narrative. Fourth wall breaking has been the name of the game for quite some time and the conclusion of Disney+'s "She-Hulk" winked especially hard at the audience. In the last episode of the season, Jen Walters (Tatiana Maslany) refuses to accept a final episode that does not align with the show's concept. Instead of an epic monster battle, Jen takes down her foes through the law — and quite a bit of humor.
But perhaps one of the most enjoyable moments commenced at the very start of the episode. With the help of a grainy filter, the audience relives Jen's origins in a different light. This recap of sorts shows Jen banging away on an antiquated computer while she turns into She-Hulk in an aesthetic reminiscent of many 1970s television shows. Though revealed to be Jen's dream from the comfort of her prison cell, many fans have sounded off about their love for the sequence for a specific reason.
The opener was giving Lou Ferrigno vibes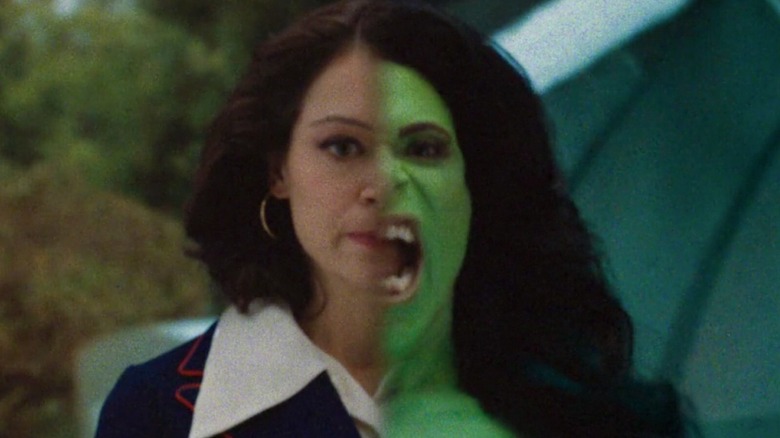 Disney+/Marvel Studios
Marvel's Hulk has seen many live-action adaptations on screen, but fans would be hard-pressed to forget the television series that started it all, "The Incredible Hulk." Premiering in 1977, the series centers around Dr. David Banner (Bill Bixby) following the events of his wife's tragic death. After she dies in a car accident, the researcher goes to find a way to harness mass amounts of strength. Though this differs slightly from the comics, it became iconic for Lou Ferrigno, who portrayed the Hulk version of the character in the series. Fans on Twitter noted that this now-classic iteration of the character was honored, from Jen and Bruce's (Mark Ruffalo) retro look to how She-Hulk was portrayed practically.
After @SestraHulk posted screenshots from the scene, many fans celebrated its inclusion. "I love these references to [Lou Ferrigno's] Hulk," noted @Lorenzo74209291 while @mbfinley69 replied simply, "Took me back to the 70's tv show. Perfect!" The opening scene perfectly encapsulates what makes "She-Hulk" so special. While reviews for "She-Hulk" just keep getting weirder, it doesn't take away from the strength of the show. The series is a comedy at heart, and demonstrating its respect and love for the interpretations that came before is part of its charm. Here's hoping the series will double down on its meta-humor should "She-Hulk" be blessed with a Season 2.