Chainsaw Man Fans Were Startled By Pochita's High-Pitched Voice In The Show's Premiere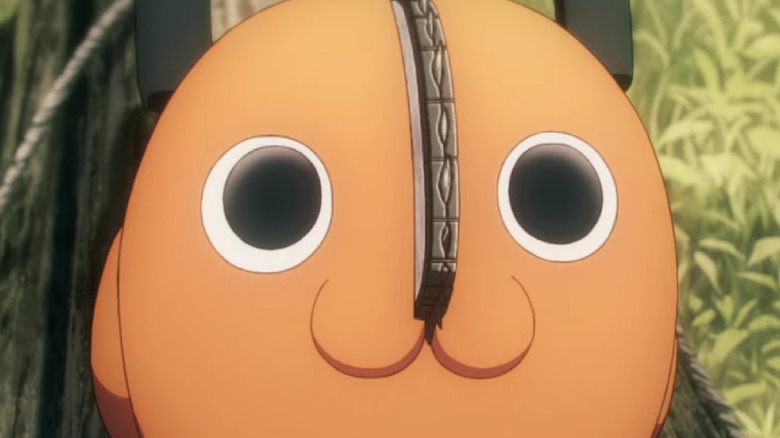 MAPPA Studios
"Chainsaw Man" has already been cutting through the competition for years with its manga, which has been published regularly in Shōnen Jump+ since 2020 after starting life as a weekly installment in Weekly Shōnen Jump in 2018. The series focuses on Denji (Ryan Colt Levy), the titular Chainsaw Man, who has been left struggling under his parent's debt to the yakuza. In desperation and through a stroke of luck, he meets Pochita (Shiori Izawa), the Chainsaw Devil, in the cemetery where they're buried. Offering up his arm for the creature to bite and draw blood from to save its life, he strikes a bargain with Pochita to keep himself alive. 
When the yakuza catch up with and kill Denji, Pochita spares his life with a deal. They merge at will whenever they so desire into a single being, thanks to their agreement, and Denji can turn himself into the Chainsaw Man by pulling a cord hidden in his chest, which gives him access to the devil's heart. This allows Pochita to run wild and turns Denji's hands and face into giant, buzzing chainsaws — a feat that soon draws great acclaim to him in his work as a devil hunter. But otherwise, Denji tries to live the life of a normal, everyday high school student.
Now fans have a whole new way to cut through a boring week with an anime version of Tatsuki Fujimoto's tale now airing on TV Tokyo and streaming an English dub through Crunchyroll. Fans feasting on this version of Denji's story have been surprised by the voice chosen for Pochita.
Fans thought Pochita's voice would be much lower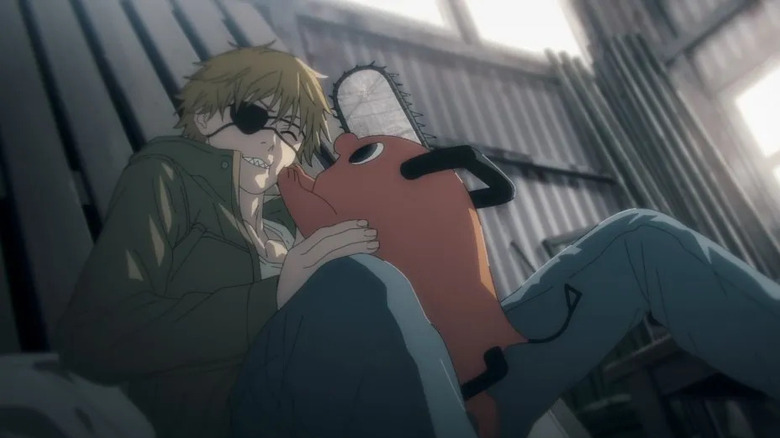 MAPPA Studios
Fans of the property apparently expected Pochita's voice to be much lower. After all, he is a representation of the devil on earth, even though he resembles an adorable orange dog with a chainsaw for a nose. Comments on the Chainsaw Man subreddit definitely have mixed views about the character's voice acting.
 "I always imagined pochita [sic] with a strangely deep voice," said u/ya_old_unclejohn_, joining a number of fans who feel that the anime is a step down in quality from the manga. Agreed u/Azraeleon, "Really happy with the VA they chose but I remember reading the dumpster scene for the first time and hearing a voice in my head closer to Junichi Suwabe (Archer from F/sn) than Nanachi from Made in Abyss." Apparently, some fans were looking for a voice that contrasts with Pochita's looks. But, as in many animes, appearances are often deceiving. 
Yet other viewers found the voice to be fitting for the character. His innocent, more bell-like tones may match his exterior appearance, but they also add a sheen of caring and sweetness to his relationship with Denji. Fans will have to keep watching to see if Pochita's voice fully fits his actions.