Where You've Seen The Cast Of The Midnight Club Before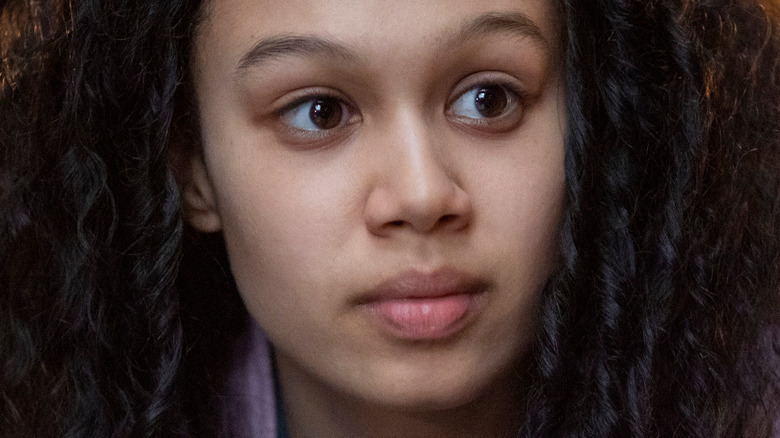 Eike Schroter/Netflix
It just wouldn't be the Halloween season without a new Mike Flanagan project. Though not his first foray into filmmaking, Flanagan first became a household name with the release of the Netflix series "The Haunting of Hill House" in 2018. He went on to direct the Stephen King adaptation "Doctor Sleep," which came out in 2019. Flanagan then released two more Netflix shows, 2020's "The Haunting of Bly Manor" and 2021's "Midnight Mass." In October 2022, he returned to Netflix with an all-new horror series: "The Midnight Club."
Based on a series of books by Christopher Pike, "The Midnight Club" follows eight young patients at a private hospice for terminally ill teens. Our young protagonists meet every night at midnight to tell scary stories, and they've also made a pact that whoever dies first will give the others a sign from the other side. It has its share of creepy moments (it actually broke a record for jump scares), but it's really an exploration of life and death, grief and loss, and the painful experiences that connect us all as human beings.
Each character in "The Midnight Club" has their own unique relationship to mortality, and we learn more about them through the stories they tell each other every night. Everyone has secrets, though some are more sinister than others. If you're a Flanagan fan, you might recognize some of the actors that make up the cast. Here's where you may have seen them before.
Iman Benson as Ilonka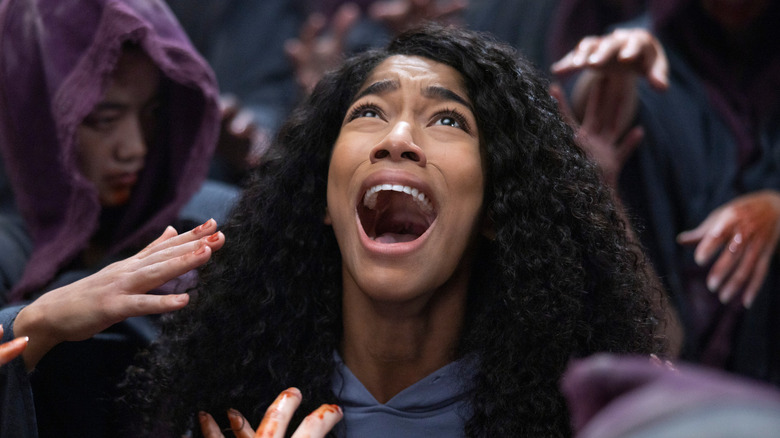 Eike Schroter/Netflix
The central character in "The Midnight Club" is Ilonka, a teenage girl who has been diagnosed with terminal thyroid cancer. Intelligent and curious, Ilonka had planned to attend Stanford prior to her diagnosis. Instead, she decides to stay at Brightcliffe, intrigued by the storied history of the old manor and the secrets it seems to hold. Ilonka is played by Iman Benson, a young actor originally from Atlanta, Georgia.
Benson told Glamour that she first decided to get into acting at age nine. She began doing theater at a young age, and then transitioned to acting on screen. "I started doing voice-over and then commercials and print, and then I did television and fell in love with it at 14," she explained. Prior to her starring role in "Midnight Mass," Benson made her acting debut on the short-lived ABC sitcom "Uncle Buck." She then appeared in an episode of "Station 19" and two episodes of the popular series "Suits."
In 2020, she starred in "#blackAF," the comedy series created by "Black-ish" creator Kenya Barris, playing the daughter of Barris and Rashida Jones' characters. "The Midnight Club" isn't the first time Benson has appeared in a show focused on a cancer patient, as she also starred in the series "Alex & Katie," which follows a teen girl going through cancer treatment while in high school. Benson also briefly stepped into the horror genre prior to "The Midnight Club," appearing in an episode of the horror anthologies series "Creepshow."
Igby Rigney as Kevin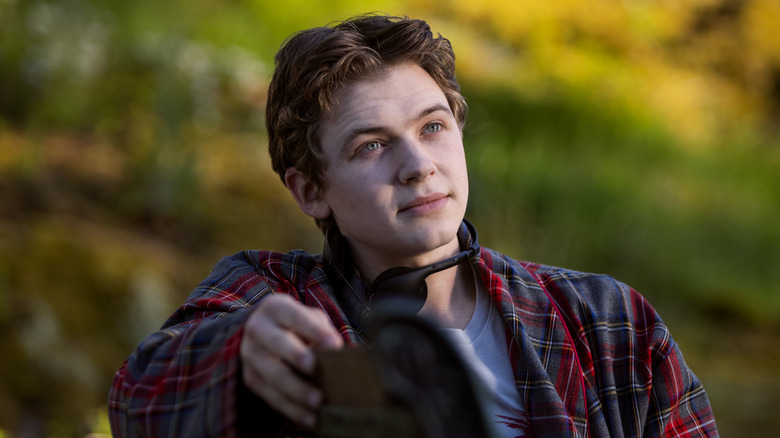 Eike Schroter/Netflix
When Ilonka arrives at Brightcliffe, the first person she meets is Kevin, and she feels an immediate connection to him. Kevin is kind, easy going, and a good friend to Ilonka and the rest of the patients. He is played by Igby Rigney, an up-and-coming actor you'll probably be seeing a lot more of soon. Mike Flanagan agrees, as he told Entertainment Weekly, "I ​​think Igby is bound for great things, and I'm grateful to have been a stop along his path." He also called him "one of the most earnest actors I've ever worked with."
Flanagan was first made aware of Rigney when he was cast in "Midnight Mass," playing a character named Warren. Flanagan was immediately struck by his natural acting ability, and he was an easy choice when casting "The Midnight Club." Prior to his work with Flanagan, Rigney made his acting debut in an episode of "Blue Bloods" before going on to appear alongside Mark Wahlberg in the 2020 film "Joe Bell."
If you're a fan of "The Fast and the Furious," you may recognize Rigney from his role in "F9: The Fast Saga," where he played a younger version of the character Jesse (played by Chad Lindberg as an adult). Rigney also has several projects on the horizon, including a new Flanagan miniseries entitled "The Fall of the House of Usher."
Ruth Codd as Anya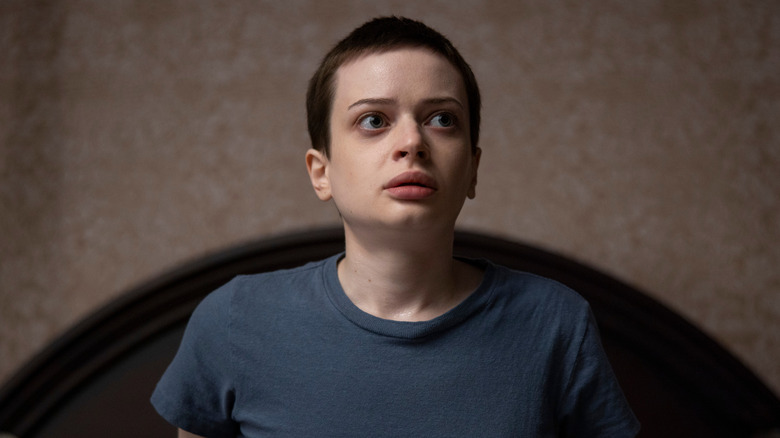 Eike Schroter/Netflix
Ilonka's roommate is Anya, a sarcastic, prickly teenager originally from Ireland. Anya is hard to get to know, but Ilonka soon learns that there's more to her than meets the eye. Anya is played by Ruth Codd, one of several first-time actors in "The Midnight Club." Though you haven't seen Codd in any of your favorite shows or movies, there's a chance you may have seen her somewhere else: Tik-Tok.
Codd was working as a barber when the pandemic hit and she was laid off, she told Teen Vogue. She then started making Tik-Tok videos discussing things like makeup and hair, amassing nearly 700,000 followers in less than a year. She's since deleted her Tik-Tok account, but the platform is where Flanagan and his casting directors first discovered her.
Flanagan told TV Line it was important to him that they cast an amputee in the role of Anya, as that's how she's described in the book. Codd had her right left amputated at the age of 23 and has often used her platform to discuss disability issues. She is brilliant in the role of Anya, so it's no wonder her first role won't be her last. She'll star in Mike Flanagan's "The Fall of the House of Usher" alongside several other Flanagan mainstays.
Annarah Cymone as Sandra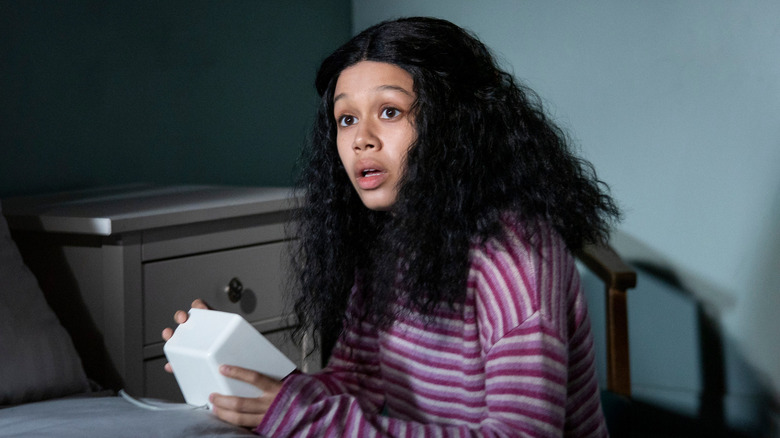 Eike Schroter/Netflix
Each member of the Midnight Club has their own way of reckoning with their terminal illness. For Sandra, who is a devout Christian, she is comforted by the idea that there is something beyond this mortal plane and that she will be welcomed into heaven once she dies. Though her beliefs are sometimes mocked by her peers, she remains entirely committed to her faith.
Sandra is played by Annarah Cymone, another newcomer to acting. Cymone's debut was in the 2021 film "Caged," though you're probably most likely to recognize her from Mike Flanagan's 2021 series "Midnight Mass." Cymone played Leeza, a devout teenager who is left paralyzed after an accident and is the recipient of a miracle one day at mass. Speaking with E! News, Cymone acknowledged that there are "surface level" similarities between Sandra and Leeza, but that the similarities don't go beyond that. "They're very different people," she explained. "Especially Sandra, in 'The Midnight Club,' we get to see her evolve so much."
William Chris Sumpter as Spencer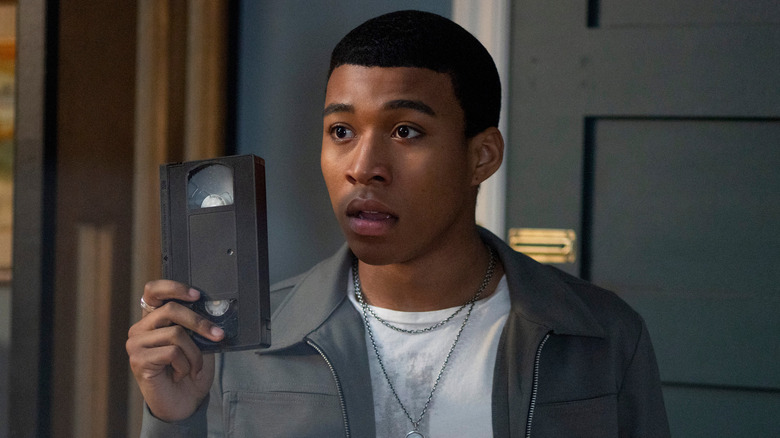 Eike Schroter/Netflix
Most of the patients at Brightcliffe have been diagnosed with terminal cancer, but Spencer, played by William Chris Sumpter, is an exception. Spencer is HIV positive, and the stigma around the disease at this time (the show is set in the 1990s) has made things difficult for Spencer, especially within his church-going community. Sumpter spoke to Teen Vogue about his character in "The Midnight Club," saying: "​I think what Spence is looking for most is a sense of family."
Sumpter is a New Yorker with a background in theater, and his first role on the stage was in the Broadway musical adaptation of "Matilda." He previously appeared in the Starz series "Power" and was featured in the movie "NYC Dreams," which is about a young dancer in New York City. Considering the success of all of Mike Flanagan's projects, and the director's penchant for reusing the same actors, we're hopeful that this won't be the last we hear of Sumpter.
Adia as Cheri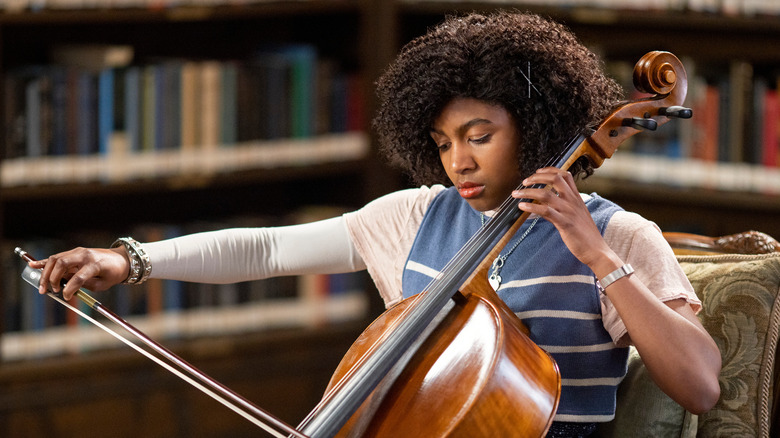 Eike Schroter/Netflix
It's hard to describe the character of Cheri, because we don't really know much about her. She seems to come from a wealthy background, but the rest of her biography is up in the air. As the residents of Brightcliffe are quick to inform Ilonka, most of the stories Cheri tells are utter fabrications, and it's almost impossible to tell if she's telling the truth or not at any given moment. Cheri is played by first-time actor Aida, and she spoke to Teen Vogue about her character. "Cheri is a loving, caring, gift giving person, but she blocks everything out with lies and she projects a lot of lies onto other people," she explained. "She just doesn't know how to receive love."
Outside of acting, Aidia is passionate about midwifery and the birthing experience. She told Just Jared Jr. that she's "very passionate about informed birth, especially outside of medical industrialized complexes." Aida is clearly a talented actor, but she has other interests as well. "If I don't go back to school for midwifery, I'll probably go for marine science as that was and still remains a very special field of study for me," she shared. We hope we'll see Aida again, whether it be as a world-renowned midwife or a successful actor.
Aya Furukawa as Natsuki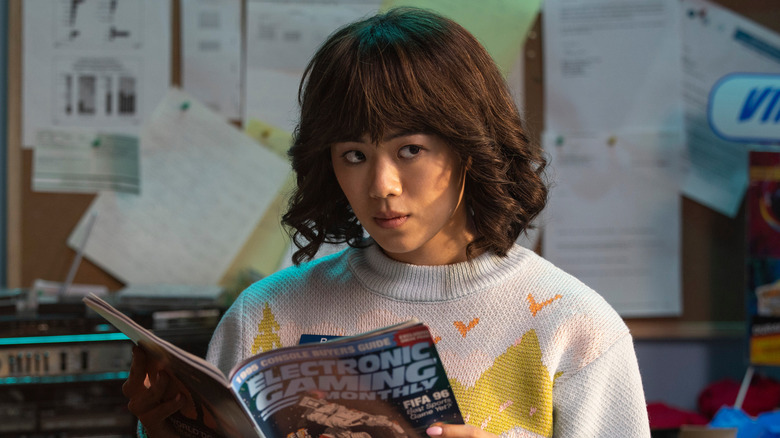 Eike Schroter/Netflix
Natsuki is a kind, creative, sensitive individual who clearly has a rich inner life. She tells Amesh that Dr. Stanton has diagnosed her with clinical depression, which is actually affirming for her because her mother always thought she was just being dramatic. Natsuki is played by Aya Furukawa, an actor originally from Vancouver, Canada. Furukawa's acting debut was a small role in the 2011 horror film "The Cabin in the Woods." She went on to act in the horror anthology series "The Terror" in 2019, playing the role of Sachiko. She told Just Jared Jr. that horror is her favorite genre, and the roles she's taken on so far reflect this preference.
You may also recognize Furukawa from her work in the miniseries "Brand New Cherry Flavor" (2020) and "The Baby-Sitters Club" (2020-2021), in which she played Claudia's sister Janine. Fans of Furukawa needn't worry — she will be back on screens again in no time. Like several of her "The Midnight Club" co-stars, the up-and-comer is also set to appear in Mike Flanagan's "The Fall of The House of Usher."
Sauriyan Sapkota as Amesh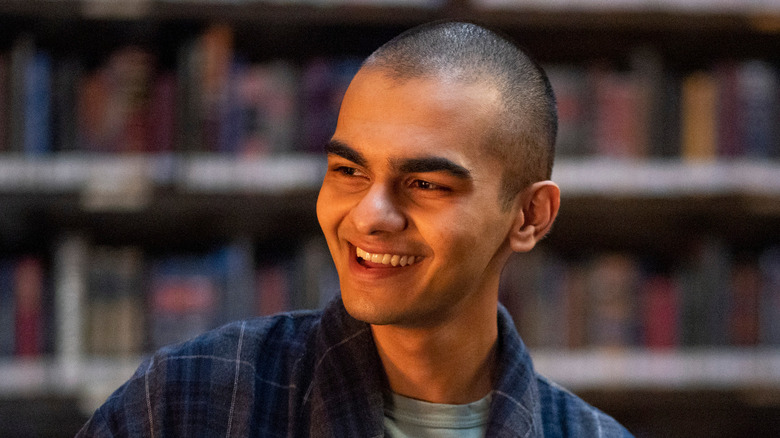 Eike Schroter/Netflix
In some ways, Amish is kind of the class clown of the Midnight Club. An avid gamer, one of the things Amesh is grieving most about his terminal illness is how many new games he's going to miss when he's gone. But Amesh does his best to keep his spirits high, hoping against all hope that he'll still have time to "get the girl and save the world," as he tells Natsuki. Amesh is played by Sauriyan Sapkota, who is a first-time actor. "I think what he ultimately wants from the world is to be remembered," Sapkota told Teen Vogue about the character.
Though "The Midnight Club" is his first role, Sapkota already has fans. Rahul Kohli, who is a guest star in one episode of the series, sang his praises on Twitter. "He is without a doubt one of the most talented young actors I've ever worked with," Kohli wrote. "You'll all be talking about this kid for years to come." Luckily, fans will get to see Sapkota again in the future, as he is one of the many Mike Flanagan mainstays — Kohli among them — who will star in the upcoming series "The Fall of the House of Usher."
Zach Gilford as Mark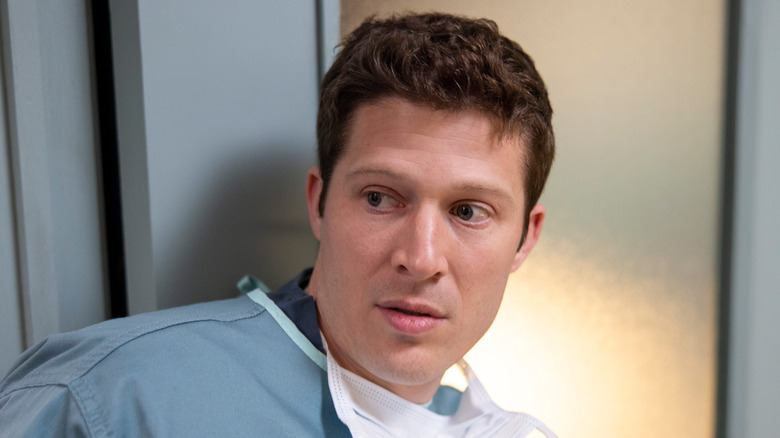 Eike Schroter/Netflix
Mark is the day nurse at Brightcliffe, and he does a great job looking after all of the young patients. He's also gay, which helps him connect with Spencer, who is really struggling with his HIV diagnoses and the ostracization it's created for him. Mark is played by Zach Gilford, who may just be the most recognizable face in the series. Gilford is probably most well-known for his breakout role on "Friday Night Lights," where he played Matt Saracen, the young quarterback for the Dillon Panthers. Entertainment Weekly once called Matt "the best boyfriend on teen TV."
Gilford's career spans nearly twenty years, and he's starred in many other projects since his stint on "Friday Night Lights." He's acted in series such as "Off The Map," "The Mob Doctor," "The Family," "L.A.'s Finest," and "Good Girls." Gilford can count one of the world's most famous pop stars as a fan, as he once appeared in Taylor Swift's music video for her song "Ours." You may also recognize him from his role as Shane in 2014's "The Purge: Anarchy." He and his wife Liz (Kiele Sanchez) get stuck outside on the 6th annual Purge.
Gilford first worked with Mike Flanagan when he starred in "Midnight Mass," playing recovering alcoholic Riley Flynn, the central character of the series. You might be able to guess what Gilford is up to next — he will also star in the new Flanagan series "The Fall of the House of Usher." Additionally, Gilford will appear in the new "Criminal Minds" reboot, "Criminal Minds: Evolution."
Heather Langenkamp as Dr. Georgina Stanton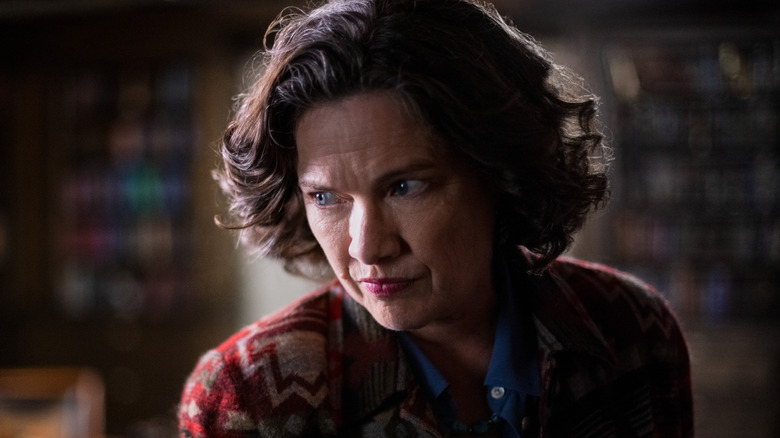 Eike Schroter/Netflix
The proprietor of Brightcliffe is Dr. Georgina Stanton, a seemingly benevolent woman who often speaks about her belief in giving terminal patients their agency back. Initially, Dr. Stanton comes off as warm and supportive, but it becomes clear that she's hiding something, and Ilonka is determined to find out what it is. Dr. Stanton is played by Heather Langenkamp, an acting veteran and a veritable horror icon, though you may not recognize her at first.
Langenkamp is best known for playing Nancy Thompson, the lead character and final girl of the 1984 Wes Craven classic "A Nightmare on Elm Street," which was her first big role. She returned to the role in 1987, starring in "A Nightmare on Elm Street 3: Dream Warriors," and then once again in 1994 for "Wes Craven's New Nightmare." Langenkamp has recently spoken about her desire to return to the franchise, noting Jamie Lee Curtis' work in the new "Halloween" movies as an inspiration. "If Nancy could fight Freddy [Krueger] one last time, I would really like that," she told Entertainment Tonight.
Langenkamp has also ventured into television, starring in the ABC sitcoms "Growing Pains" and "Just the Ten of Us" in the late 1980s. She later returned to horror, starring in films such as "The Butterfly Room," "Home," "Truth or Dare," and "Portal." Luckily for us, Langenkamp gets to show her range in "The Midnight Club," as she often shows up as different characters in the stories the patients at Brightcliffe tell.
Samantha Sloyan as Shasta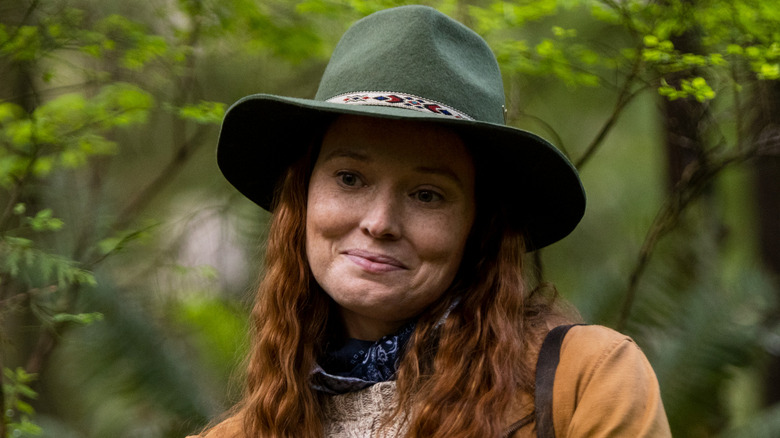 Eike Schroter/Netflix
There are a number of mysterious characters in "The Midnight Club," some of whom do not always reveal their true intentions. One such character is Shasta, a woman who lives near Brightcliffe and often wanders the forest. Shasta owns a company that sells naturopathic products, and she takes a special interest in Ilonka, who she encounters in the woods one day. Shasta is played by Samantha Sloyan, and there's a good chance you've seen her before.
If you're a fan of Shonda Rhimes, you may know Sloyan for her foray into Shondaland. She appeared in several episodes of "Scandal," and she also played Dr. Penelope Blake on "Grey's Anatomy." Dr. Blake began dating Callie Torres (Sara Ramirez) following her separation from Arizona Robbins (Jessica Capshaw), and she also happens to be the woman who was performing surgery on Derek Shepherd (Patrick Dempsey) when he died.
Sloyan first worked with Mike Flanagan in 2016 when she appeared in his film "Hush," playing the friend and neighbor of Kate Siegel's character. She also acted in "The Haunting of Hill House," playing Steven Crain's (Michiel Huisman) long-suffering wife Leigh. She then starred in "Midnight Mass," playing the role of Bev Keane, the most fearsome character on the show. The Front Row Project once called Bev "one of the truly most hateable characters in film history." Next up on the docket for Sloyan is — you guessed it — Flanagan's upcoming series "The Fall of the House of Usher."
Matt Biedel as Tim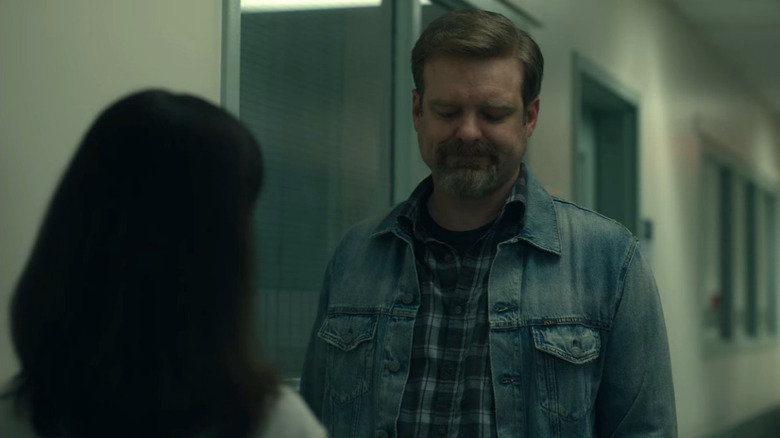 Netflix
The parental figures in "The Midnight Club" aren't seen often, as many of the patients there have complicated relationships with their families, if they even exist at all. Ilonka may not have birth parents of her own, but she does have one of the most caring guardians out of all the residents there. Tim, Ilonka's foster father, has been there for her through it all, and even supported her going to Brightcliffe even though he found the idea upsetting.
Tim is played by Matt Biedel, an actor whose career began in the 2000s when he appeared in several television series, such as "CSI: Miami," "Numb3rs," "Heroes," "Cold Case," and three different "NCIS" series. More recently, Biedel acted in a few episodes of the sci-fi series "Altered Carbon," the adaptation of Gerard Way's "The Umbrella Academy," and the companion series "Narcos: Mexico." Mike Flanagan fans might recognize Biedel as Sturge from "Midnight Mass," one of Bev Keane's main henchmen. Biedel is clearly a favorite of Flanagan, as he will also appear in the forthcoming series "The Fall of the House of Usher."