The Part Of Robin In Stranger Things Was Written Just For Maya Hawke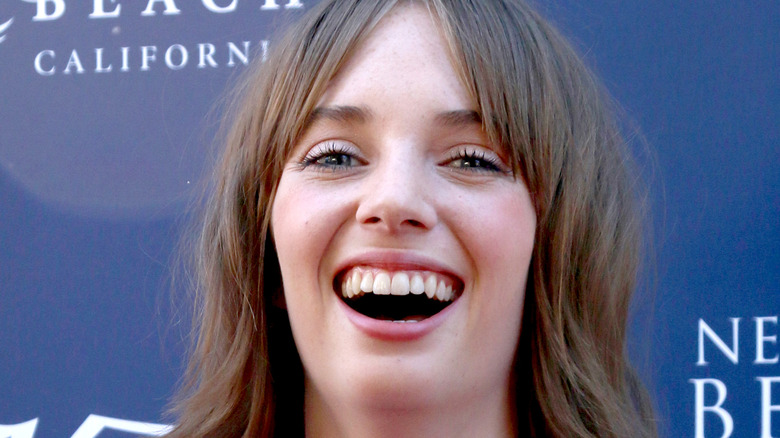 Kathy Hutchins/Shutterstock
Although Robin Buckley (Maya Hawke) did not appear in Season 1 of "Stranger Things," she became an incredibly important character in Seasons 2-4, and Maya Hawke has a shocking wish for Season 5. Robin ends up being incredibly smart, resourceful, brave, and friendly, so she is instrumental again and again in saving Hawkins from the monsters of the Upside Down. 
Because Robin's character has become so integral to the series, fans might be surprised that at first, "Stranger Things" creators, the Duffer Brothers, did not have a very detailed plan for Robin. In an interview with Variety, the Duffer Brothers said they originally pitched Robin as "A young Janeane Garofalo ... But that's about all we had. Well, that and two short scenes where Robin hands out ice cream with Steve Harrington [Joe Keery]. We just didn't really know who Robin was — what made her interesting, what made her stand out." 
Luckily for the Duffer Brothers, the "Stranger Things" casting director, Carmen Cuba, gave them the answer to Robin's character. 
Robin's character is based on Maya Hawke's real personality
Ron Adar/Shutterstock
In an interview with Variety, "Stranger Things" creators the Duffer Brothers revealed that when they first pitched Robin's character but were not sure what direction to take the character in, casting director Carmen Cuba thankfully came to their rescue with a solution: "She's Maya Hawke," Cuba told the Duffer Brothers. 
The Duffer Brothers explained to Variety why Maya Hawke ended up being not just the perfect actress to play Robin but the perfect person to base Robin's character off of. "She's much more interesting than any original character we could ever make up. She's hilarious, she's whip-smart, she's very honest and real, and she's just awesomely weird, her energy some mix between a playful, excited teenager and a wizened Hollywood actor who's seen it all. She is just so uniquely Maya, and we became obsessed with capturing her essence and putting it out into the world, because she felt like one-in-a-million."
This description of Maya Hawke as a person certainly matches the "Stranger Things" character Robin, who is likewise whip-smart, honest and real, awesomely weird, and unique. Although she is friendly and kind, Robin is honest and does not beat around the bush, especially when talking to friends. Her willingness to always tell the truth, coupled with her intelligence and her unique way of thinking, makes Robin an indispensable part of "Stranger Things."