12 Movies Like Mr. Harrigan's Phone You Should See Next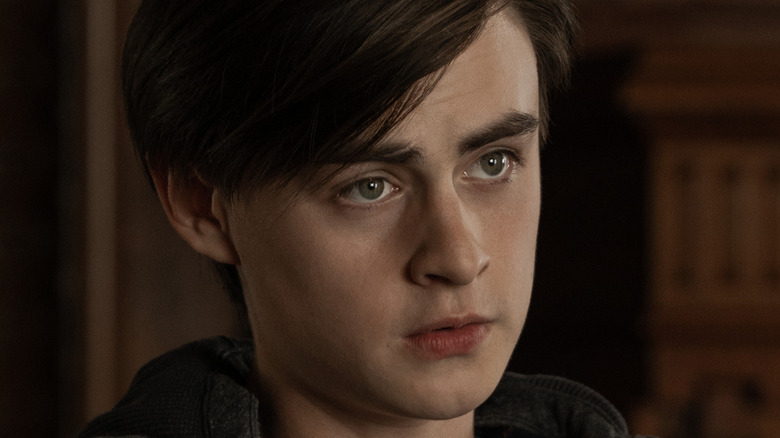 Nicole Rivelli/Netflix
This post contains minor spoilers for "Mr. Harrigan's Phone."
In recent years, Stephen King's name has popped up in the film industry as regularly as ever. Studios are obsessively mining through the master of horror's immense amount of novels, short stories, and novellas — both new and old — just to find another seed for a film or television show adaptation that could become the next big thing. They dig up third- and fourth-tier stories, hoping to discover another filmable treasure that has the chance to turn into a lucrative franchise. Though it's not an impossible task, the doomed and failed adaptations of King's work are definitely more common than a success like "It" was in 2017.
Netflix's latest try with "Mr. Harrigan's Phone" (a short story lifted from King's anthology book, "If It Bleeds") unfortunately fits more into the forgettable adaptations. It's not the kind of story destined to be told on the small screen, regardless of how many big names are attached to it. And there are a few: Jaeden Martell plays teenager Craig, who lives with his father in a small town in Maine. The teen befriends a local millionaire, Mr. Harrigan (Donald Sutherland), who hires the young boy to read for him since his sight is declining. The two develop a heartfelt friendship with each other until the old man passes away. But even from beyond the grave, Mr. Harrigan doesn't stop talking to the kid through the phone he gifted him when he was alive.
John Lee Hancock's movie is more of a coming-of-age drama with modern themes than a spooky, blood-soaked horror with well-timed scares. Here, we gathered 12 other examples that are just as good (or even better) at combining these elements.
It (2017)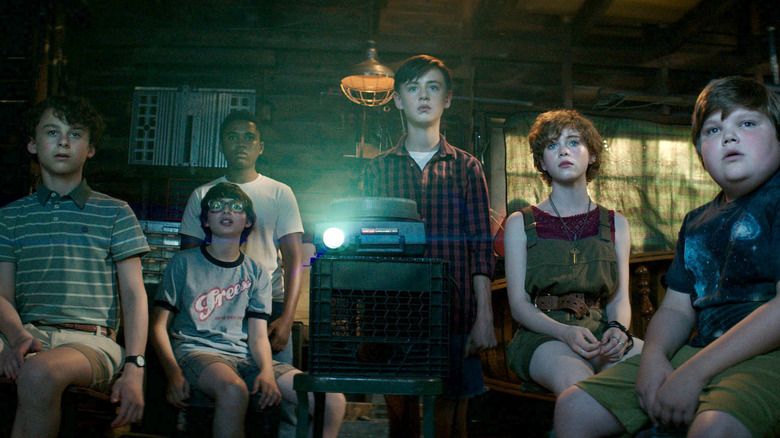 New Line Cinema
It seems right to start with the most financially successful King adaptation to date, "It (Chapter One)," which grossed an astonishing $700 million worldwide since its premiere. Similar to "Mr. Harrigan's Phone," the story takes place in Maine and stars Jaeden Martell alongside other child actors such as Finn Wolfhard, Sophia Lillis, Jeremy Ray Taylor, Chosen Jacobs, and Jack Dylan Grazer. The plot follows a group of seven outcast children who decide to investigate the disappearance of Georgie (Jackson Robert Scott), a younger brother to one of them. The clues quickly lead to an evil entity called Pennywise (Bill Skarsgard), whom they soon will encounter separately and together. The dancing clown preys on their insecurities, personal demons, and traumas they will inevitably have to face and overcome if they want to survive.
"It" is one of those rare adaptations that do justice to King's fantastic writing and highlight the many layers of his compelling characters with well-structured scares. The movie also nails to create and maintain a creepy atmosphere that crawls under your skin throughout the entire runtime. It's debatable whether fans like this version or the original TV miniseries from 1990 (with an unforgettable Tim Curry) more, but "It" might be the only King story done right on the screen on two separate occasions.
Pet Sematary (1989)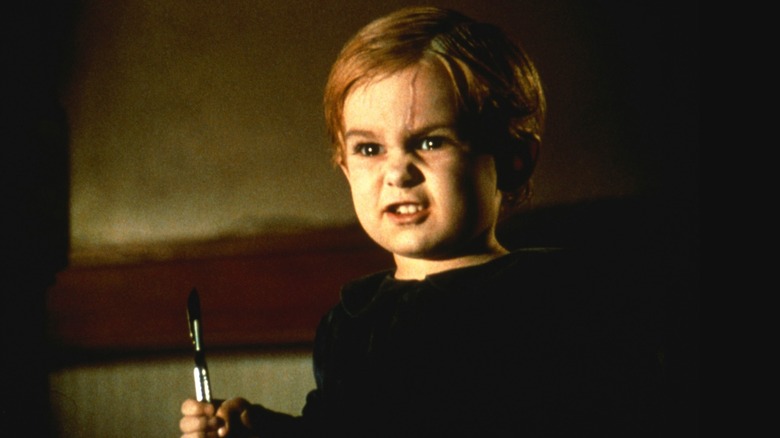 Paramount Pictures
Perhaps not as often mentioned when it comes to successful Stephen King adaptations, but Mary Lambert's 1989 "Pet Sematary" is among the better ones. It may not be as big of a classic as "The Shining" or "Carrie," but the story about an ancient burial ground that can revive the dead is right up there.
Like "Mr. Harrigan's Phone," the plot takes place in Maine, where the Creed family moves from Chicago after the patriarch, Louis (Dale Midkiff), accepts a job at the local university. Once their pet, Church, gets killed by a truck, their friendly neighbor, Jud (Fred Gwynne), takes Louis to the cursed burial ground behind their house to show him how he can bring the cat back to life. Although the "magic" works, Church is never the same as was before — it acts as if it's possessed by the devil. Later, when tragedy strikes again, the family's only son, Gage (Miko Hughes), gets killed the same way. Devastated by the loss, Louis decides to bury him in the same cemetery despite Jud's warnings. It doesn't take him long to realize what a terrible mistake he's done — for which his family will pay the price.
Although "Pet Sematary" wasn't exactly well-received by critics at the time of its release, it has become a box office success and gained a cult status among horror fans over time.
The Black Phone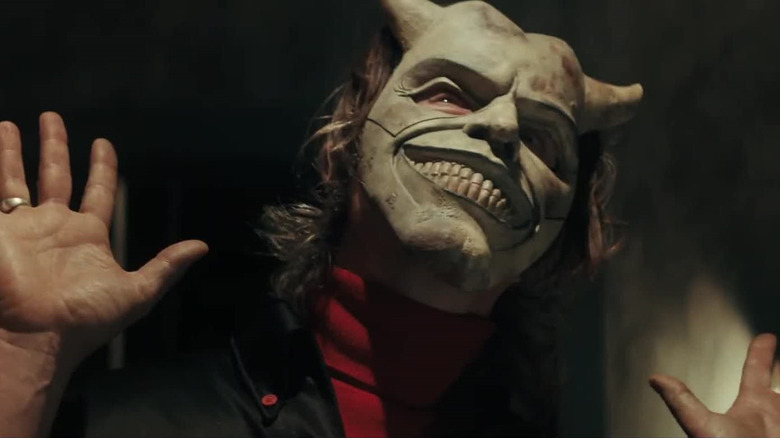 Universal Pictures
Before "Mr. Harrigan's Phone" premiered on Netflix, Scott Derrickson already delivered a film based on the idea of dead people communicating from the grave through a phone this year. Incidentally, "The Black Phone" is based on a short story from a different member of the King family — Joe Hill aka Joseph Hillstrom King, Stephen's son. In Derrickson's horror, though, the child victims of a serial killer are the ones who use a supposedly broken, old rotary phone to help the murderer's latest abductee escape.
The plot follows Finney (Mason Thames) and his family in 1978 in Denver, where a mysterious child abductor, dubbed The Grabber (Ethan Hawke), keeps the locals in perpetual terror. Before he snatches the 13-year-old protagonist, he abducts and kills Finney's closest friend Robin (Miguel Cazarez Mora), who used to protect him from the school's bullies. So, it's no surprise that once Finney is captured, Robin's voice is among the other victims who help him maintain the hope to survive. Yet it's the boy's little sister, Gwen (Madeleine McGraw), and her psychic abilities that lead the authorities to the Grabber's place, eventually.
Derrickson successfully brings the very best out of the intriguing plot by creating a menacing atmosphere filled with suspense and carefully depicting the emotions all the characters go through in such a difficult situation. No wonder the film resonated with audiences and made over $159 million while also impressing the critics.
Doctor Sleep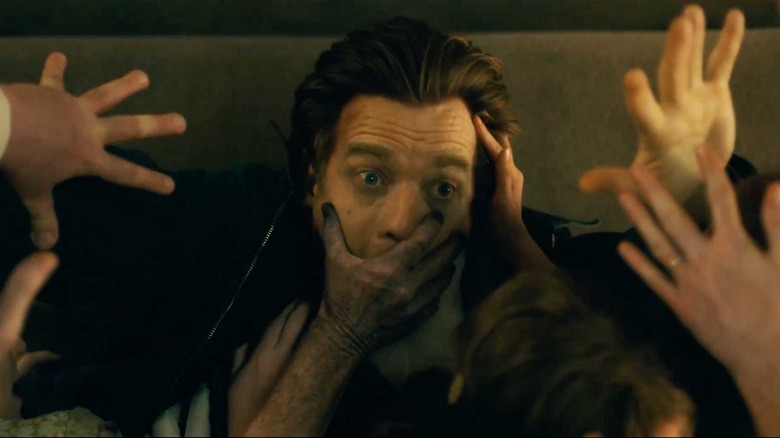 Warner Bros.
While the connection between "Doctor Sleep" and "Mr. Harrigan's Phone" might be marginal on the surface, we couldn't leave it out of this list for a reason. Mike Flanagan is among those rare filmmakers who religiously care about source materials (he's also a massive King fan), which couldn't be more evident when it comes to this horror. With "Doctor Sleep," the director had a difficult task to get the story right but lived up to the expectations amazingly — even if the movie's box office was considered a disappointment for not fulfilling a perhaps bigger potential. Yet, as far as getting the writing, tone, and characters right on the big screen, Flanagan proved again that he's the perfect director to adapt King's most iconic stories.
"Doctor Sleep" is the sequel to King's legendary 1977 novel "The Shining," and it's set several decades after the events of the Overlook Hotel, where Danny Torrance (Ewan McGregor) was only a little boy. Now, he's all grown up — although still haunted by his family's past — and has learned to suppress his gift by drinking heavily. After moving to a New Hampshire town, though, Torrance beats his addiction with the help of an Alcoholic Anonymous group and becomes a health care professional. He's helping elderly patients to face their coming death. However, soon he realizes that he'll need to make use of his power again as there's a cult of psychics (True Knot) who target people like him to extend their own lives by killing them.
Arguably, "Doctor Sleep" is one of the best Stephen King adaptations out there. If you're craving something more after watching "Mr. Harrison's Phone," you can't go wrong with it.
If you or anyone you know is struggling with addiction issues, help is available. Visit the Substance Abuse and Mental Health Services Administration website or contact SAMHSA's National Helpline at 1-800-662-HELP (4357).
The Man Without a Face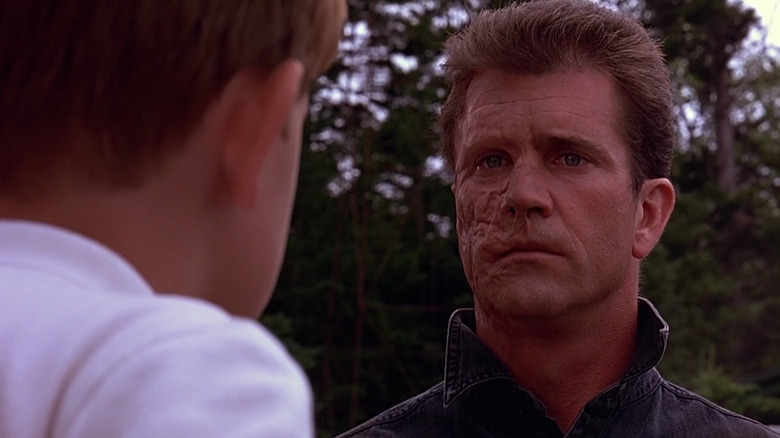 Warner Bros.
Mel Gibson's 1993 drama, "The Man Without a Face," is only loosely connected to the Netflix thriller. It tells the story of an unlikely yet wonderful friendship between a grown man and a child. In his directorial debut, Gibson plays a man named Justin McLeod in 1968, who lives a quiet and isolated life due to his disturbing appearance. Seven years ago, McLeod was involved in a car accident that left a big part of his face brutally disfigured. There's a great mystery surrounding what happened in that incident, but he prefers to keep it that way. That's until he meets Chuck (Nick Stahl), a young boy he finds charming. The two develop a close friendship as McLeod, being an ex-teacher and all, decides to tutor Chuck to prepare him for a military academy's entrance exam that the kid failed before. As they begin to trust each other more, McLeod reveals the painful secrets of his past that he refused to talk about for so long.
Thanks to the fine direction and the two central performances by Gibson and Stahl, "The Man Without a Face" is a moving and sincere melodrama that might not be perfect, but it's definitely a memorable watch for fans of the genre.
Cell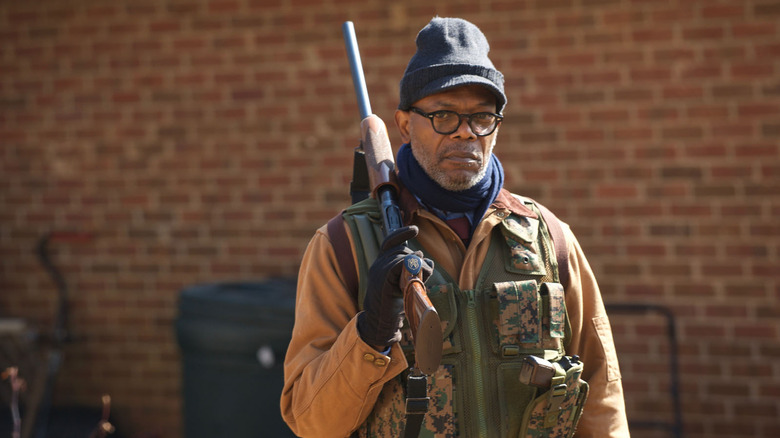 GEM Entertainment
Although Tod William's 2016 "Cell" is far from a decent Stephen King adaptation, we have to include it here for its similarities with "Mr. Harrigan's Phone." King's love for technology is evident in this horror, which follows Clay Riddell (John Cusack) and other survivors after an electronic signal (broadcast by major phone networks) turns people into zombie-like creatures. As apocalyptic chaos ensues, Riddell teams up with train conductor Tom McCourt (Samuel L. Jackson). After escaping the tunnels, the two decide to leave Boston in search of Riddell's son and ex-wife in New England.
Unfortunately, the movie is as cliché and typical as it sounds, and even the two leads couldn't save it from a total disaster. Critics hated it deeply, and audiences weren't impressed by it either. Hence we can't recommend the film to absolutely everyone, but if you're feeling brave and hungry for another cell-based story by King, give it a buzz.
Hearts in Atlantis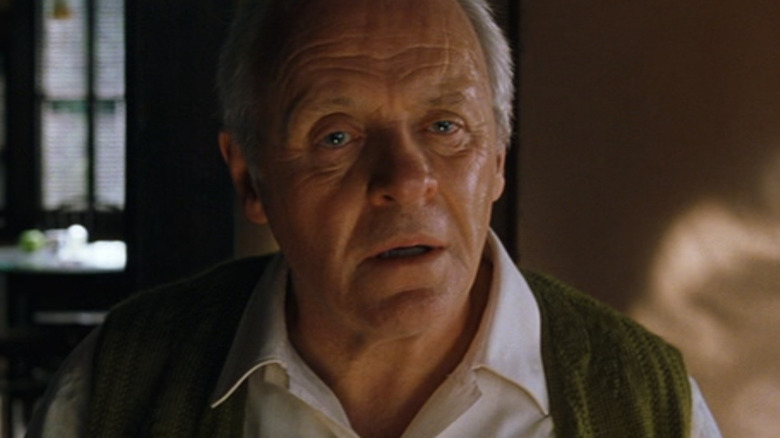 Castle Rock Entertainment
Scott Hicks' 2001 drama with a touch of mystery is the kind of movie that stays with you for its unique vibe rather than its story. "Hearts in Atlantis" is a simple film on the surface, but underneath its plot, there's a sea of emotions waiting to be discovered. Led by the excellent duo of Anthony Hopkins and a very young Anton Yelchin, the drama's star power is undeniable.
The film recounts the story — loosely adapted from a Stephen King novella — of an 11-year-old Bobby's (Yelchin) summer in the 1960s when he met a peculiar man named Ted (Hopkins). He used to live above him and his widowed mother as a boarder. Ted has a gift of special abilities for which he has to hide from some bad men who want to find and use him. Since Bobby's mother is rarely home due to her busy job, the boy quickly forms a bond with this strange and wise man who offers him a dollar a week for reading him the newspaper. The film's core is the father-son relationship the two develop, which comes to an end just as painfully as every wonderful childhood ends, eventually.
Despite a threat constantly hanging above the characters' heads, "Hearts in Atlantis" isn't horror but a heart-warming drama about the bittersweet nostalgia all adults feel when thinking back on a precious period in their childhood.
Frequency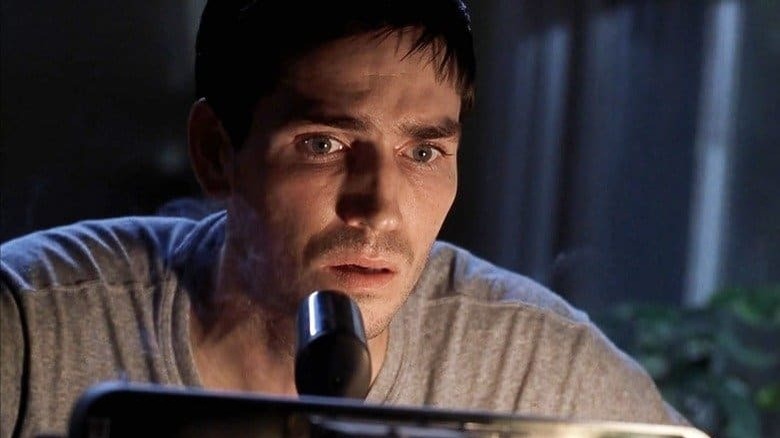 New Line Cinema
When we talk about the idea of a person making contact from the past through a device such as a phone or radio, we have to mention the film that did it perhaps the most memorably: Gregory Hoblit's 2000 sci-fi "Frequency" attempted to do the impossible and defeat time in a story that battles paradoxes, inconsistencies, and a son's desire to get to know his father, who died 30 years ago when he was only six years old.
The plot follows Frank (Dennis Quaid) and John (Jim Caviezel) Sullivan, father and son, who, with the help of an old ham radio, are able to communicate with each other while being in 1969 and 1999. Due to this magical phenomenon, the two attempt to change the past in various ways, which also means they have to deal with the consequences the changes cause in the future.
Thanks to a smartly written script by Toby Emmerich, Hoblit's drama is a rare triumph that uses time travel in a profound and emotionally satisfying way without making it feel too implausible. No surprise that "Frequency" was a critical and commercial success and became a beloved favorite for many cinephiles over the years. If you're seeking similar movies plot-wise to "Mr. Harrigan's Phone," this one simply has to be on your list.
Unfriended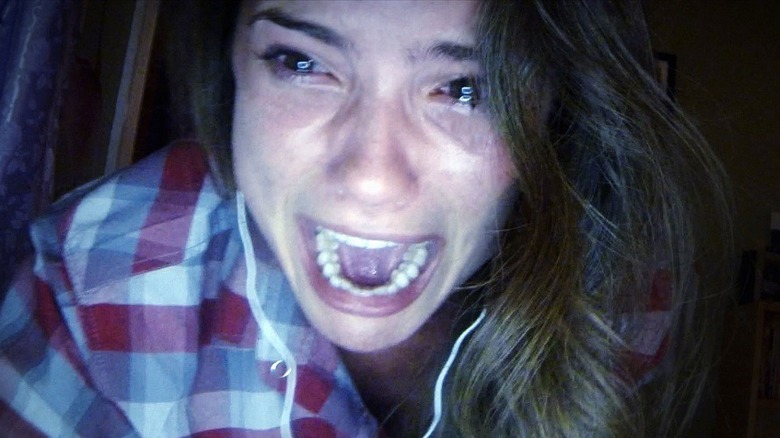 Blumhouse Productions
In the genre of found-footage horror, there's no shortage of stories involving a wronged and deceased person who's trying to make contact with the living to take revenge on them. However, it doesn't often happen that the dead in question seek connection through Skype, Messenger, and other social media platforms. In 2014, this idea was a fresh and inventive one — which paved the way for such pinnacles as "Searching" or "Host" — and Levan Gabriadze's "Unfriended" used it to its full potential.
The plot of "Unfriended" takes place entirely online, introducing us to a group of friends in a Skype chatroom. However, there's also an unknown user who mysteriously joins the conversation, and they can't seem to get rid of her. After various unsuccessful attempts to eliminate her, they soon realize that this person might be Laura Barns (Heather Sossaman), a friend who died by suicide a year ago after being bullied and made fun of by the group. Now, she's back for a reason: She seeks revenge on everybody who bullied her.
There's something dangerously entertaining about watching these young adults lose their cool when a ghost from their past re-emerges to call them out on what they did. If you want something similar yet bloodier and more vicious than "Mr. Harrigan's Phone," Gabriadze's movie might be a very satisfactory choice.
If you or anyone you know is having suicidal thoughts, please call the National Suicide Prevention Lifeline by dialing 988 or by calling 1-800-273-TALK (8255)​.
Ouija: Origin of Evil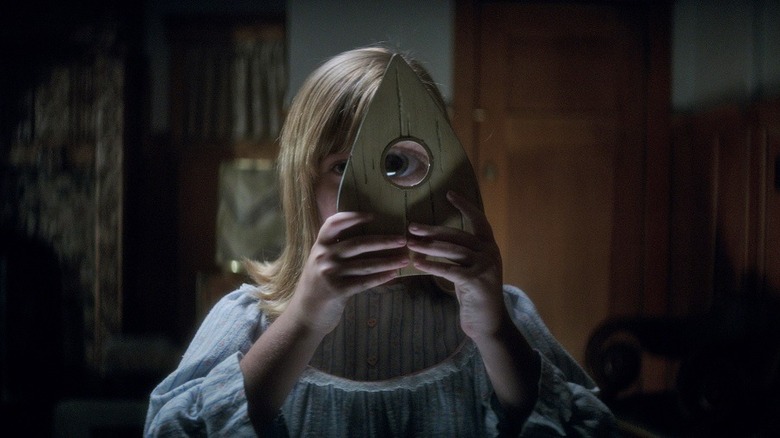 Universal Pictures
Before Mike Flanagan became the acclaimed horror director we know him today, he made some decent, if somewhat forgettable, exercises in the genre he loves so much. "Ouija: Origin of Evil" — which is a prequel to Stiles White's unremarkable 2014 "Ouija" — might not be among his best work, but if you're up for a comparable yet a lot scarier story than "Mr. Harrigan's Phone," it may be right up your alley.
The plot follows widow Alice Zander (Elizabeth Reaser) and her daughters, Lina (Annalise Basso) and Doris (Lulu Wilson), in 1967 in Los Angeles. She tries to keep a roof over their heads by operating as a scammy psychic out of their suburban home. She's trying to spike up the business by adding an Ouija board to her usual rituals. But she quickly finds herself in dangerous territory when an evil spirit answers through the board and possesses her younger daughter, Doris. Scarred and desperate, Lina turns to Father Tom (Henry Thomas), Doris's school principal, who tells her that they most likely woke a mean spirit with nothing but bad intentions who plans on acting on them through Doris.
Thanks to Flanagan's inherent talent, "Ouija: Origin of Evil" has become a box office success and received mostly positive reviews from critics after its release.
The Caller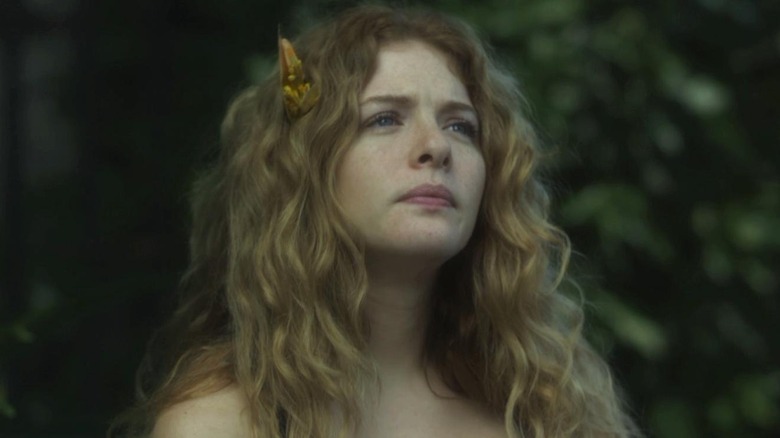 Bankside Films
Matthew Parkhill's 2011 movie, "The Caller," mixes the concepts of Mr. "Harrigan's Phone" and "Frequency" and turns them into supernatural horror. The plot follows Mary Kee (Rachelle Lefevre), who moves into a new apartment in Puerto Rico, looking for a fresh start. Her new home comes with an ancient rotary phone as part of the design, and Mary begins receiving calls from a mysterious woman called Rose (Lorna Raver). They quickly form a bond by talking about their failed romances with men. However, this sudden "friendship" turns into a nightmare for Mary when Rose claims to be calling from the past. As she gets more aggressive with every additional phone call, she really freaks out Mary by threatening to kill her in the past as a child. Then Mary cuts all contact with her and starts to look for answers in order to keep her own sanity.
As much of a typical B horror as it sounds, "The Caller" offers a rather interesting mix of familiar formulas with a competent cast, which includes Rachelle Lefevre, Stephen Moyer, and Luis Guzman in the main roles.
The Phone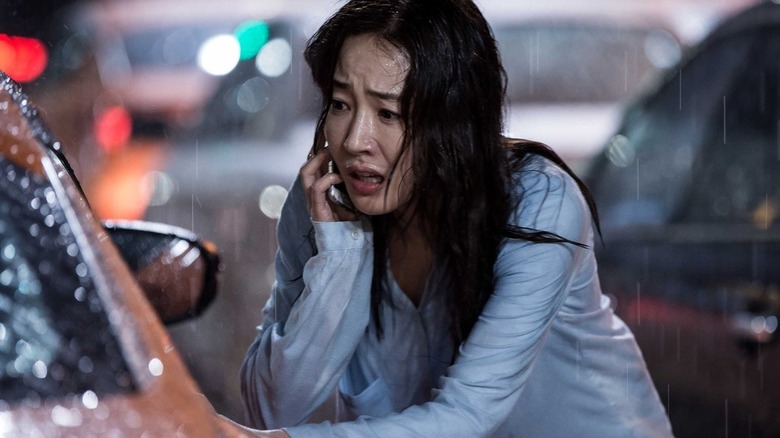 Next Entertainment World
Kim Bong-Joo's 2015 South Korean action thriller, "The Phone" approaches the central idea of "Mr. Harrigan's Phone" from a scientific and sensational perspective. The plot follows a grieving husband, Ko Dong-ho (Son Hyeon-ju), who, thanks to a magnetic field's anomaly, can talk to his wife in the past before she was murdered in an unfortunate robbery. The question is, knowing what he knows now, a year after the incident, will he be able to finally catch the man responsible for his wife's murder and prevent her from dying in only a day's time?
Although Bong-Joo's feature debut might rely a little too heavily on the viewer's suspension of disbelief, thanks to its suspenseful atmosphere and rapid pace throughout the nearly two-hour runtime, it manages to become a gripping and breathless thriller overall. The performances from an outstanding cast also help to forget some of the gaping and questionable plot holes that occasionally pop up in the story's grand mystery. If you want something more exciting and dynamic than Netflix's teen horror, "The Phone" might just be what you need.