Why The Cast Of Deadliest Catch Was Very Cautious When Agreeing To Do The Show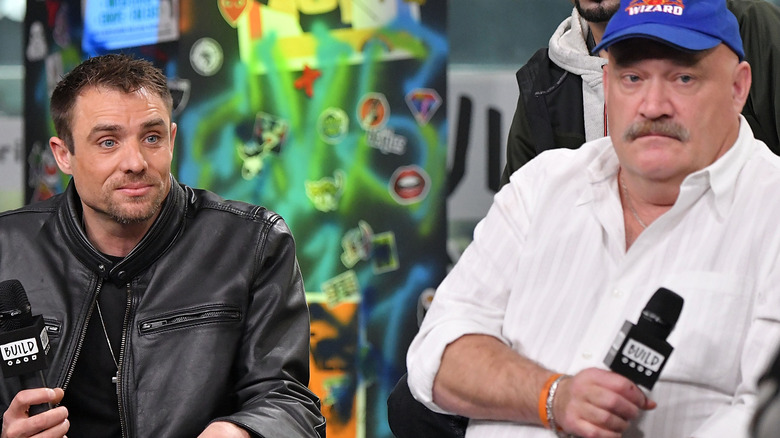 Mike Coppola/Getty Images
A vivid, rugged exploration of one of the world's most perilous industries, it's no surprise that "Deadliest Catch" was a fast hit when it premiered in 2005. The series follows real-life expeditions into the icy Bering Sea, where mariners spend months at a time seeking out the most coveted crabs on the planet. Along the way, they must contend with treacherous weather, dangerous equipment, occasional pranks from other fishing vessels, and each other.
Now in its 18th season, "Deadliest Catch" is a linchpin in Discovery's lineup. It also helped to usher in a microtrend of reality television, paving the way for series like "Ice Road Truckers," which blend quotidian details with matters of life and death. It's illuminating, then, to think back on when the series was merely a twinkle in Discovery's eye. Here's how the cast of "Deadliest Catch" felt about signing on to the series that would ultimately change their lives.
They were leery about how the industry would be portrayed
"Deadliest Catch" has seen its share of captains and deckhands come and go, either by way of tragic circumstance or simply to move on to greener pastures. Captains Sig Hansen and Andy Hillstrand were two of the earliest cast members on "Deadliest Catch" — Hansen is still a regular fixture on the show, while Hillstrand exited the series in 2020.
In an interview with Riverfront Times, the two captains described their initial reaction to Discovery's pitch. "We thought they were nuts," said Hansen. "We were very leery, very cautious ... We didn't know how it would be portrayed." The captain also admitted that there were some financial misgivings as well. "We didn't want our insurance rates to go up," he added, in reference to the show's menacing title. Truth be told, Hansen and Hillstrand weren't familiar with the extent of the crabbing industry's dangerous reputation. "To be honest, we didn't know really how the statistics were about the injuries, so we weren't fully aware."
Ultimately, a little liquid courage went a long way in securing the deal. "Well, we were supposed to meet these guys for an interview at a bar, but they were late, so by the time they got to us, we were half in the bag." Though Discovery may have been hooked by Hillstrand's own underwater camerawork, it was the duo's breezy, freewheeling banter that sealed the deal for the network. Said Hansen, "We weren't afraid of the camera."