Tom Brady Makes Self-Deprecating Joke In Hilarious New FIFA World Cup Commercial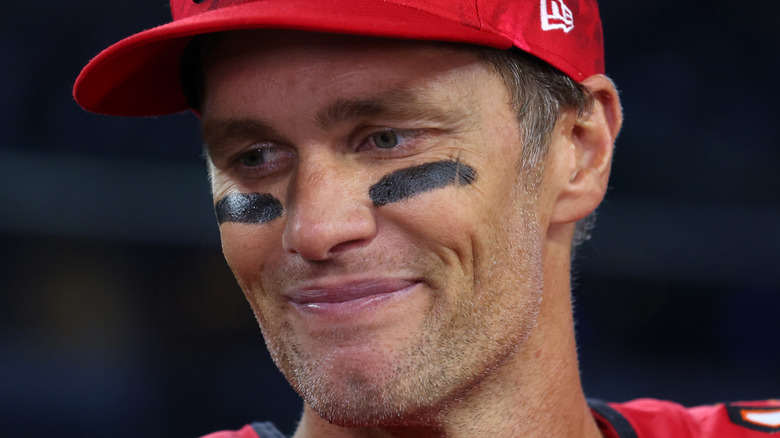 Richard Rodriguez/Getty Images
The 2022 FIFA World Cup starts in just over a month, and media outlets are gearing up for all the festivities that come with the international competition. Qatar is the host of the 2022 FIFA World Cup, and the event marks a major milestone for the country and region. It will be the first tournament held in a Middle Eastern country, bringing significant revenue and worldwide attention to the area.
However, the World Cup also has its fair share of controversies surrounding it. When Qatar won the initial bid in 2010, the country suggested pushing the tournament back to the winter months instead of the usual summer timeframe. Qatar's summer weather is consistently 100 degrees and above, but the winter months feature much more manageable temperatures around the 70s. After conducting a study, FIFA agreed to host the games during the winter (via The Sporting News). Qatar also came under fire for its exploitative treatment of migrant workers building the state-of-the-art, eco-friendly World Cup stadiums (via Amnesty International).
Since the event starts in about a month, marketing is officially underway for the 2022 FIFA World Cup, and it looks like they're really leaning into the holiday spirit. FOX Soccer recently dropped a new commercial for the event, featuring many celebrities and sporting icons, including legendary quarterback Tom Brady, who was down to poke fun at his own career.
Tom Brady is an old athlete, and he knows it
FOX Soccer/YouTube
FOX Soccer really goes all in on the holiday theme with their new 2022 FIFA World Cup commercial. After finding out Qatar will host the tournament during the holiday season, Santa Claus, played by Jon Hamm, worries that it will interfere with his time of the year before Mrs. Claus (Ellie Kemper) shows him the benefits of it. The commercial then shows clips of football icons Lionel Messi and Christiano Ronaldo to get people excited about the upcoming tournament.
Watching Ronaldo's highlights in the commercial is none other than Tom Brady — technically a fellow football icon. Brady is standing in his kitchen and comments, "He's getting kind of old, isn't he?" Ronaldo, 37, has been a superstar in the sport since he joined Manchester United when he was 18. The quarterback's comments not only poke fun at Ronaldo's longevity but his own.
Brady, 45, entered the NFL in 2000 and has since cemented himself as one of the greatest of all time. His career has spanned 22 years, winning seven Super Bowl Championships along the way. While many thought the older quarterback's performance on the field would eventually drop, he's proved the naysayers wrong. He won his seventh ring in 2021 and finished the 2021-2022 NFL season at the top of the passing chart (via NFL).
Although he's shown off his acting chops before, FOX's commercial really cements that Brady has a career in Hollywood whenever he decides to hang up the cleats.