The Story Behind The Blue Knucklehead Motorcycle On American Pickers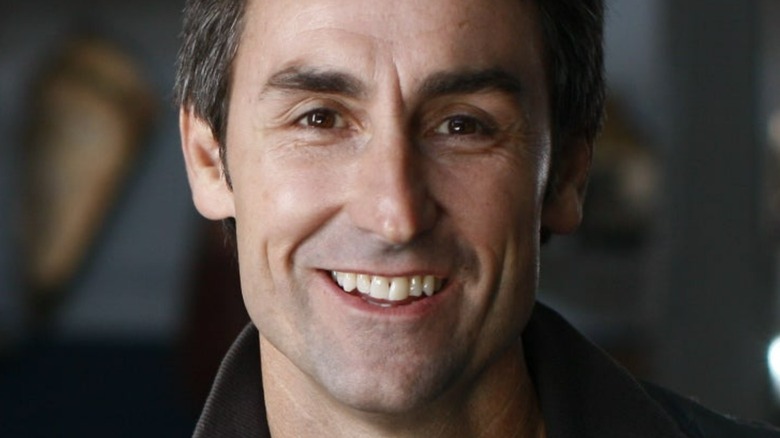 History
History's "American Pickers" is a prime example of how less can sometimes be more. It's not an overly-complicated program, seeing as it's about a crew of treasure hunters who scour much of the United States in search of rare, old, and valuable trinkets. Sometimes they find good buys in personal collections, while sometimes, they dig goodies out of sheds full of stuff. Once they decide what they want, they negotiate with sellers to find the right price before heading off to their next destination. It's a simple process, yet it's entertained viewers for over a decade.
In its many years on the air, "American Pickers" has seen the likes of Mike Wolfe, Frank Fritz, Danielle Colby, and later addition Robbie Wolfe find all kinds of interesting trinkets. However, they do have their preferences when it comes to what they spend their money on. Among the most common picks for the team are automobiles, automobile parts, and automobile memorabilia. They're guaranteed moneymakers, and when it comes to cars, you just can't beat the classics. As an extension of their motorized love, they're also ever-interested in all-things motorcycles.
The "American Pickers" crew has seen some incredible bikes come and go over time, such as the remains of a once-incredible blue Knucklehead motorcycle that has quite a fascinating story behind it. 
This custom motorcycle made it into Easy Rider magazine
In the appropriately titled episode "Knucklehead Blue" from "America Pickers" Season 23, Mike Wolfe visits the longtime home of a man known as Blue: a lover of Knucklehead motorcycles and blues music. His family invited him to check out his massive collection of odds and ends. Wolfe wastes little time checking out parts of Blue's old blue Knucklehead, which went through numerous iterations throughout the years as he updated and upgraded it. His efforts even landed the bike on the pages of Easy Rider magazine, ranking among its 300 best motorcycles. With that, Wolfe knew he had to have these incredible pieces.
Wolfe scooped up these parts for an impressive $1,200 — a great deal, considering how increasingly difficult it is to find old motorcycle parts, especially in good condition. Then again, that's not to say that this is the first and only Knucklehead-related item to feature on "American Pickers." Season 18's "Real Knuckleheads" saw Wolfe and Frank Fritz check out the collection of another Knucklehead lover. He even had a complete 1946 model that's completely free of customization and turned on with the simple turn of a key. Sadly for Wolfe and Fritz, though, the seller wasn't interested in letting this piece go for any amount of money.
Motorcycle culture is alive and well, and so long as it is, there'll be money for the "American Pickers" crew to make on bikes of all shapes, sizes, and conditions.