How Cyberpunk: Edgerunners Soared To The Top Of Netflix Anime History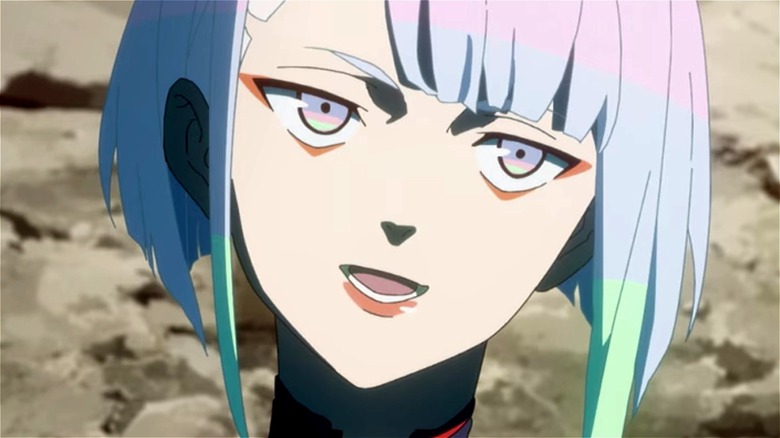 Netflix
Although video game-based films and television series have a long and tragic history of being both commercial and critical fiascos, there are still several notable exceptions which manage to achieve extreme popularity despite the genre's lack of success. One such example is Netflix's recently released "Cyberpunk: Edgerunners," a web anime series based on the infamously controversial video game "Cyberpunk 2077" — the latter of which received an enormous amount of backlash for its disastrous launch back in 2020.
Set in the futuristic dystopia of Night City and taking place around a year before the events of the video game itself, "Cyberpunk: Edgerunners" focuses primarily on a teenager named David Martinez (voiced by Kenn / Zach Aguilar) who drops out of Arasaka Academy following a drive by shooting which robs him of everything he loves. Disillusioned and impulsive, Martinez chooses to become a high-tech mercenary known in Night City's underworld as an "Edgerunner" — putting his talents for illegally modifying cyberware to good use.
Despite the fact that most video game adaptations seem destined for failure, "Cyberpunk: Edgerunners" has actually enjoyed an astounding amount of success so far –- enough in fact earn a sport at the very top Netflix anime history.
Cyberpunk Edgerunners has achieved a historic amount of success and critical praise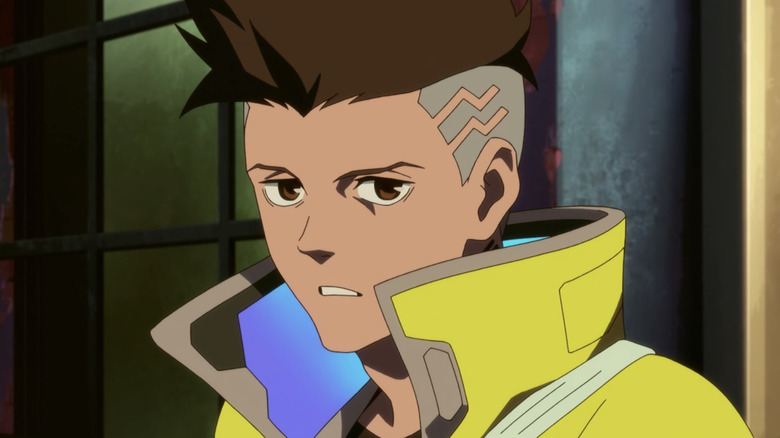 Netflix
From the moment it was first released back on September 12th, 2022, "Cyberpunk Edgerunners" enjoyed an extreme amount of success — earning 14,880,800 hours of global viewership in it's very first week, and immediately entering the global top 10 for television shows (Non-English) on Netflix (via Twitter).
As if the incredible viewership numbers for "Cyberpunk: Edgerunners" weren't already enough, the series further entrenched itself in Netflix anime history with its remarkable critical reception, earning an astounding 100% Critical Rating and an even more impressive 96% Audience Score on Rotten Tomatoes. These spectacular ratings make "Edgerunners" one of the most highly rated Netflix originals of all time, animated or otherwise, and even surpass the respective ratings for the beloved Netflix anime "Castlevania."
Not only that, but the show's meteoric rise in popularity is also repeating a surprising accomplishment made by Netflix's "The Witcher" by actually boosting sales for the video game which it is based on –- a feat made even more impressive by the fact that "Cyberpunk 2077" was universally panned upon release. The film's impressive viewership, incredible ratings, and measurable effect on video game sales make it undoubtedly one of the most successful Netflix anime series of all time, and certainly place it within the upper-echelon of animated Netflix originals.
Why is Edgerunners so popular?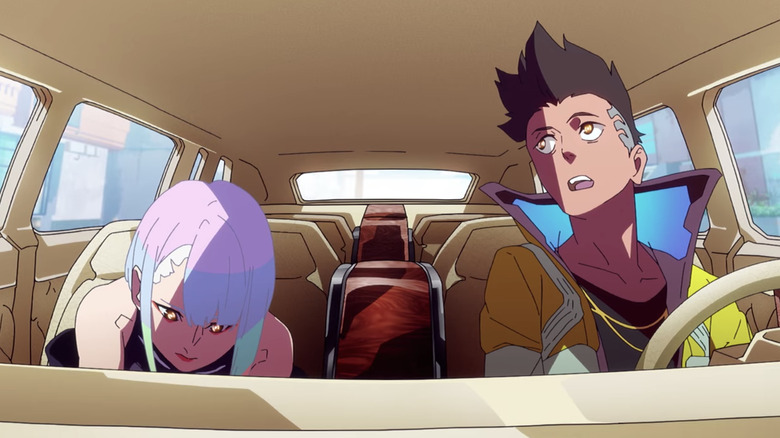 Netflix
Indeed, considering the incredibly negative backlash that "Cyberpunk 2077" received when it was first released, it seems like nothing short of a miracle that "Cyberpunk Edgerunners" has managed to become so popular — though there are likely a few key reasons for that.
First, the series itself is animated by the popular Japanese animation studio, Studio Trigger, who have worked on seval high-profile anime series such as "Kill la Kill," "Little Witch Academia," and (most-recently) "Star Wars: Visions." Studio Trigger's incredibly vibrant and expertly-crafted animation is one of the major selling points of the series, and has been lauded by critics and fans alike since the series release.
On top of that, it's important to remember the massive hype and almost cult-like following that surrounded "Cyberpunk 2077" before its release, as many critics have said that the "Cyberpunk Edgerunners" actually has the better story between the two projects. As Jonathon Wilson of Ready Steady Cut writes, "In many ways, this is the Cyberpunk story the Cyberpunk game wanted to tell and couldn't," which perfectly captures how "Edgerunners" managed to capitalize off of the immense expectations for the game itself. Regardless of where the series' popularity stems from, it's clear that there is plenty to love about "Cyberpunk Edgerunners" — enough to make it one of the most popular Netflix anime series in history.