How Netflix's Cyberpunk: Edgerunners Is Repeating The Witcher's Big Success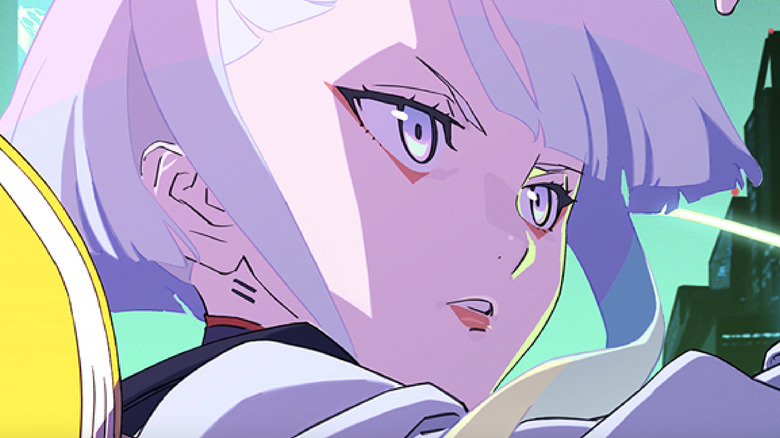 Netflix
Hollywood has been trying to profit off the success of the video game industry for decades. While many of the entertainment industry's attempts at creating projects based on popular video game properties have been critical and financial failures as well, that hasn't stopped most of Hollywood's major studios from continuing to look toward the gaming community for movie and TV show ideas. With that in mind, few studios in Hollywood have had quite as much success with their video game-inspired titles as Netflix has.
Indeed, while Netflix's "The Witcher" is more directly based on Andrzej Sapkowski's fantasy books than it is the video games that the writer's novels inspired, it's hard to imagine how the live-action, Henry Cavill-led show would have ever become as popular as it has without the support of the gamers who first fell in love with the "Witcher" games that CD Projekt Red developed. Now, it looks like "Cyberpunk: Edgerunners" has managed to bring together TV and video game fans in a similar way.
The Netflix anime series, which premiered in September, is based on CD Projekt Red's 2020 video game, "Cyberpunk 2077." However, fans of the show may be surprised to learn that its CD Projekt Red connection isn't the only thing that Netflix's "Cyberpunk: Edgerunners" has in common with "The Witcher."
Cyberpunk: Edgerunners has boosted Cyberpunk 2077's popularity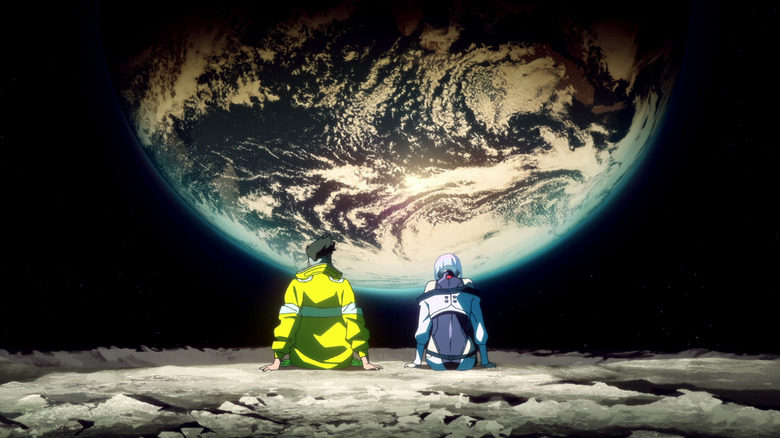 Netflix
"Cyberpunk: Edgerunners" has renewed consumers' interest in "Cyberpunk 2077," the video game that inspired it. As a matter of fact, Eurogamer even reported recently that "Cyberpunk 2077" hit a total of 37,000 concurrent players on September 16, just three days after "Cyberpunk: Edgerunners" premiered on Netflix. Its peak concurrent player count on that day resulted in "Cyberpunk 2077" topping popular games like "Elden Ring" on Steam.
Additionally, according to SteamDB, "Cyberpunk 2077" continued its success streak just a few days later when it boasted a total of 85,555 concurrent players on September 18. That's the second-highest number of concurrent players that "Cyberpunk 2077" has had since it made its divisive launch in late 2020 (via Kotaku). This is, notably, reminiscent of what happened to CD Projekt Red's "Witcher" games after Netflix's Henry Cavill-led "Witcher" TV series launched.
Indeed, shortly after "The Witcher" Season 1 premiered on Netflix in December of 2019, Polygon reported that "The Witcher 3: Wild Hunt" was pulling in more players than it ever had before. Now, it looks like "Cyberpunk: Edgerunners" has managed to do the same thing for "Cyberpunk 2077" that Netflix's "Witcher" TV series did for "The Witcher 3: Wild Hunt."
In other words, it seems safe to say that Netflix and CD Projekt Red are slowly but surely building a bit of a mutually beneficial relationship with each other, which is more than most Hollywood studios can say for the game developers they've collaborated with over the years.