What Daniel Craig Could've Looked Like In Doctor Strange 2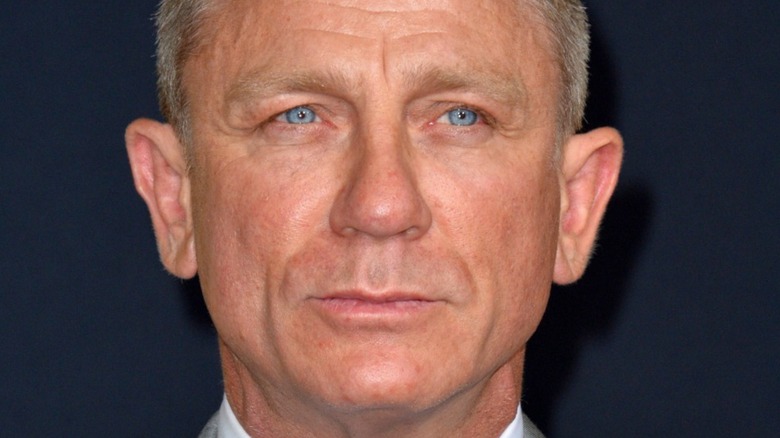 Featureflash Photo Agency/Shutterstock
"Doctor Strange in the Multiverse of Madness" was a big film in a lot of ways: It saw the introduction of major Marvel Comics character America Chavez (Xochitl Gomez), explored a bevy of alternate realities, and seemingly killed off one of the Marvel Cinematic Universe's most beloved and dangerous antiheroes. In a film full of spectacle and suspense (courtesy of horror icon director Sam Raimi), one moment in particular packed an especially powerful punch with fans.
When Doctor Stephen Strange (Benedict Cumberbatch) and America find themselves seeking refuge from the Scarlet Witch (Elizabeth Olsen) in an alternate universe, they come into contact with the Illuminati, a group of powerful superhumans who run Earth-838. Of course, fans reacted enthusiastically as John Krasinski teleported into the frame as Reed Richards, aka the long-awaited Marvel hero Mister Fantastic. The rest of the team was filled with other surprising cameos, including Patrick Stewart as Professor Charles Xavier and Anson Mount as Black Bolt. At one time, however, there was meant to be at least one other chair on the Illuminati council, filled by Britain's most famous secret agent.
New concept art revealed
According to Deadline senior film reporter Justin Kroll, Daniel Craig turned down the chance to appear as Reed Richards in "Doctor Strange in the Multiverse of Madness" over COVID safety concerns (via Twitter). The "Knives Out" actor had a toddler at home and didn't want to risk her catching the virus as a result of his traveling from London just for a cameo role. However, "Heavy Spoilers" (via Murphy's Multiverse) contradicted at least half of this claim, stating that Craig was slated to play Balder the Brave, Thor's half brother (via Marvel).
Concept artist Darrell Warner revealed his imagining of Craig as the obscure Asgardian hero on Instagram. The caption reads, "Shame this character went no further than this watercolour | Y'all know the story and if not just go and look it up online......" This may confirm that Craig declined to play this role rather than Mister Fantastic.
His initial "no" far from closes the door on his potential to portray the character at some point down the line, however. If Marvel Studios' 2022 San Diego Comic-Con panel is any indication, the multiverse is only going to become more prominent as the films go on — leaving plenty of room for Craig to don his Asgardian armor.