House Of The Dragon's Director Was Brought To Tears Over This Powerful Viserys Scene In Episode 8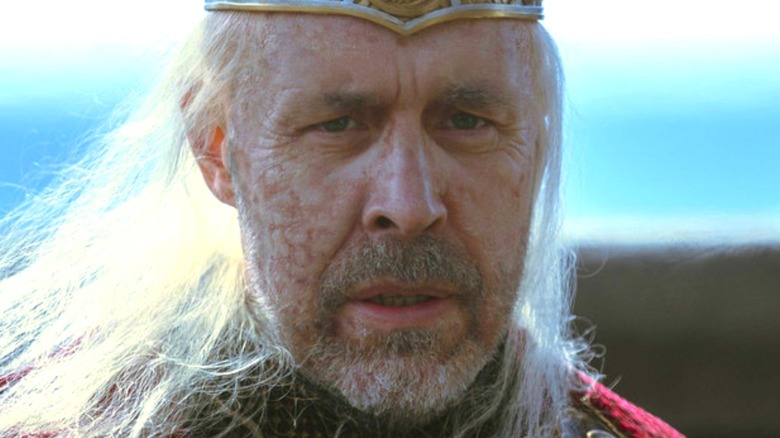 Ollie Upton/HBO
"House of the Dragon" Episode 8 was a monumental installment featuring an abundance of enthralling changes that will soon bear devastating consequences for Westeros' future. Princess Rhaenyra Targaryen (Emma D'Arcy) and Queen Alicent Hightower (Olivia Cooke) continue playing the deadly game of thrones for the coveted iron prize and ruling title. Their sharp division grows wider as their children violently squabble and vie for the Iron Throne. 
Rhaenyra's original sin — in Alicent's eyes, of having a forbidden secret affair with Ser Criston Cole (Fabien Frankel) — lays the foundation for the Targaryen princess' lack of respect for tradition. The dragon rider has always been fiercely independent, especially in her younger years, leading her father, King Viserys (Paddy Considine), to name her his heir. In a fit of rage, Alicent, who was forced into tradition, cuts Rhaenyra initiating the blood-thirsty showdown between families, as more viable and traditional candidates (Queen Alicent and King Viserys' children) become worthy successors. 
The Targaryen civil war that decimates both sides of the family, also known as the Dance of Dragons, is rapidly approaching. The One-Eyed Aemond Targaryen (now played by Ewan Mitchell) mounted the enormous dragon Vhagar bringing an impressive reinforcement to the Greens (Alicent and her children). The Blacks (Rhaenyra) will need to muster all their power to reclaim the Iron Throne with her new husband/uncle Daemon (Matt Smith) and dragons Syrax and Caraxes. 
The Dragon King is confirmed to be dead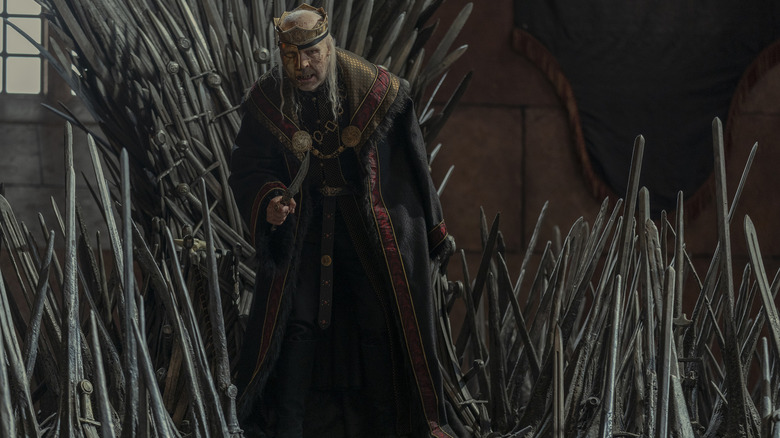 Ollie Upton/HBO
Episode 8 featured the most harrowing look at the sickly king whose health viewers witnessed rapidly declining over the years and episodes. His death was confirmed at the end by episode director Geeta Patel with Entertainment Weekly. This milestone marks the beginning of the Dance of Dragons, opening Westeros up to an unseen level of catastrophe. 
Before Viserys met his end, Paddy Considine unleashed an exceedingly powerful performance that even drove the director to tears. He arrives in the Throne room, literally masking the severity of his illness, and limps towards his precious seat in the kingdom ... or so we presumed. Patel reveals the emotional core behind the scene leading to a change in perception of Viserys' motives.
"When Ryan and Miguel and I discussed that scene, we'd always thought his eyes are towards the throne. It was gonna be shot that way. You see Viserys exerting himself and then you see he's trying to get to the throne to help the realm. While we were rehearsing, Rhaenyra just happens to be standing there in the middle. I was like, "Oh, wait a minute. He's not walking to the throne, he's walking to her." At least from my own understanding, that put tears in my eyes right there during rehearsal, 'cause I'm the daughter of a father who loves me so much and he would've walked on fire for me." This stunning revelation puts his final moments in a fitting fresh perspective.