Stranger Things Season 3 May Start Filming This Spring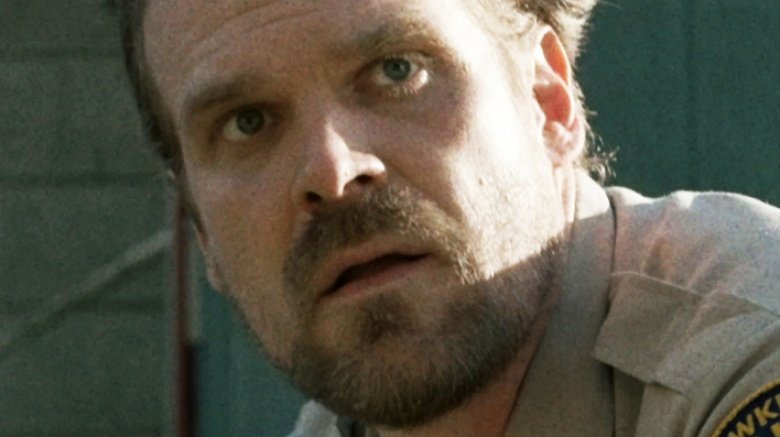 Warning: This article contains spoilers for Stranger Things season two.
The Stranger Things crew might be headed back to Hawkins sooner than you think. 
Speaking in a recent interview with Collider, David Harbour, who stars as Chief Jim Hopper in the beloved Netflix series, hinted that the upcoming third season of the show could begin filming this spring. "I've heard rumors that it's supposed to be March or April," Harbour said when asked when shooting might begin.
Stranger Things creators Matt and Ross Duffer kicked off official development for the third season shortly after season two hit the streaming site, but Netflix has been mum as to when production might begin. As such, Harbour noted that he hasn't received confirmation to the spring start date speculation. 
With Stranger Things' third turn on the brain, Harbour opened up regarding his emotions about approaching more episodes and discussed the possibility of the show continuing on for five seasons. "I've gotta say, I've talked to different people in the production and the cast, and they're a lot more nervous [about season three]. I was much more nervous for season two. Season two to me, is the big sophomore slump hurdle. I loved True Detective so much in season one, and then when the season two monstrosity came around, I was like, "What is this show?! What have you done to this show?!' For me, the big hurdle is having this lightning in a bottle moment, where the stars aligned and you created a beautiful, amazing show that people loved, and can you do it again? Once you do it a second time, it's smooth sailing from then on out. I'm not nervous. I just trust these guys," Harbour stated, adding that the "idea is to do four or five seasons," which he believes the cast and crew can do with "no sweat."
As for what Harbour's Hopper, who adopted Millie Bobby Brown's Eleven/Jane in season two, will get up to next season, the actor said that "the world is so open" for him. "The Upside Down still exists, even though we closed the gate. There's just so much story there, with the tension with Joyce, his adopting of Eleven, and his relationship with all the kids, even the teens, and then you have all of these backstories," said Harbour. 
He continued, detailing which of Hopper's many backstories would be worthy of exploration. "He went to Vietnam, and we haven't gotten into that, at all. In the '60s, he was in Vietnam, and then he went to New York and was a cop there for awhile, around the time of Frank Serpico. The tapestry is just so huge and wide and beautiful. Even the s*** with his daughter and the death of Sara, there [are] so many secrets there," the actor stated. "I felt like they had to prove that we could do it again and open up the world, but once you open up the world, it's a buffet, going forward. I see it as an open buffet, as opposed to a burden. We can feed you guys so many wonderful things. We can now feed you so much stuff 'cause we opened the world." 
Harbour previously mentioned that he wants to work more with Joe Keery, who portrays the former bad boy turned babysitter Steve Harrington, and dive into the dynamic between Hopper and Joyce Byers, played by Winona Ryder. "I've been pretty vocal about how I love the dynamic between Joyce and Hopper, which I don't feel like we got a lot of time to explore in season two. I just love that dynamic of these two lost people. I equate it to Jack Nicholson and Faye Dunaway in Chinatown or Indiana Jones and Marion in Raiders of the Lost Ark. These great, throwback, 'they hate each other but love each other' kind of tropes. It's done so sophisticatedly by the Duffers, and Winona is really game for it, too," he said, adding, "I do think the internet knows my love for Joe Keery. I would love to see a Hopper and Steve get-together, but I seriously doubt that's going to happen." 
The third season of Stranger Things doesn't yet have a release date, though it's expected to launch on Netflix in early 2019.