Stranger Things Star David Harbour Reveals His Hopes For Season 3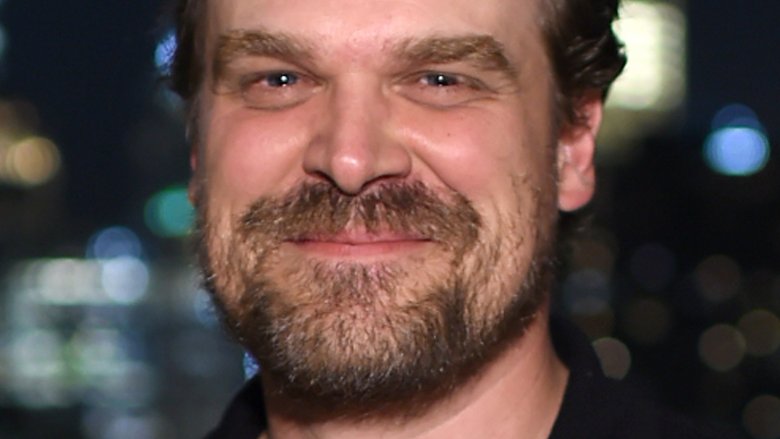 Getty Images
As it happens, David Harbour is both a Stranger Things star and a Stranger Things fan–and has quite a few hopes and dreams for the sci-fi series' upcoming third season. 
Harbour, who plays the increasingly lovable Chief Jim Hopper on the Duffer Brothers-created show, sat down for a chat with Variety, during which he discussed the pressure he felt filming the second season of Stranger Things and how the dynamic has changed as he looks toward the third. 
"We all felt a lot of pressure going in [to Stranger Things season two], at least I certainly did. You want it to be better. I'm not often proud of the work that I do, but I was so proud of season one that I was almost like, 'oh s***' going into this season. How are we going to top that?" Harbour said. "The risks that the Duffers took, they had the potential for that sort of thing.... we have such a good dynamic, it's so creative, that environment. They wrote some good scripts. Every scene and every day, we just tried to make it sing. I feel like we achieved it."
That behind-the-scenes passion and the potency of the cast and creatives' chemistry has set the Stranger Things production up for an exciting run going into season three. "We're getting more comfortable. We're getting better. And I've never felt that. The tapestry just seems so broad. A lot of people tell me when you're on a show for a while, you get bored with it, and I don't foresee that with this," stated Harbour. "The tapestry just seems to get larger and more creative. So I'm excited to see where we go next year."
Though he couldn't dish up any hints about what's in store (he laughed that he's "always the person that gets in trouble" for talking about things he isn't supposed to), Harbour spoke at length about his wishes for Stranger Things' third year on Netflix. The actor's on-screen relationship with co-star WInona Ryder, who plays the forever-frazzled Joyce Byers, is a major aspect of the show that Harbour hopes gets more attention. 
"I've been pretty vocal about how I love the dynamic between Joyce and Hopper, which I don't feel like we got a lot of time to explore in season two. I just love that dynamic of these two lost people. I equate it to Jack Nicholson and Faye Dunaway in Chinatown or Indiana Jones and Marion in Raiders of the Lost Ark. These great, throwback, 'they hate each other but love each other' kind of tropes. It's done so sophisticatedly by the Duffers, and Winona is really game for it, too," Harbour explained. "We love playing scenes with each other. I would love more stuff with her."
He mentioned that the Hopper/Joyce wish is a "feasible one," but he has a few wants that are less attainable–namely his character's potential connection Joe Keery's Steve Harrington, the bad boy of the first season whose heartwarming development in season two won fans over. "I do think the internet knows my love for Joe Keery. I would love to see a Hopper and Steve get-together, but I seriously doubt that's going to happen," said Harbour, also adding that he would really like to work more with the other stars of the show, such as Gaten Matarazzo, who plays Dustin Henderson. 
And, of course, Harbour wants to dive into Hopper's personal history in season three, especially after fans caught a peek at what was hiding beneath the floorboards of his woodsy cabin in season two. "I want to get into the backstory of Hopper more. When Eleven [Millie Bobby Brown] goes into the basement, she sees a bunch of boxes, one of which says 'Hawkins Lab,' [and] 'Dad,' 'Vietnam,' 'New York,'" he stated. "There's a lot of story we can get into around Hopper's time as a cop in New York, Hopper's time in Vietnam. I would love to see more of that, but we have a ton of great characters, so I don't know how much they'll be able to do."
From there, the actor kept a pretty tight lip on Stranger Things season three, only mentioning that his guess for the upcoming release date would be January or February of 2019 based on the timeline of past seasons' releases. "I don't know," admitted Harbour. "I would love for it to be as soon as possible. We just want to make them good, and good takes time. It all goes into shaping a really beautiful product, and that's the most important thing."