Iconic Villains Return In The Teaser For Star Trek Picard's Final Season At NYCC 2022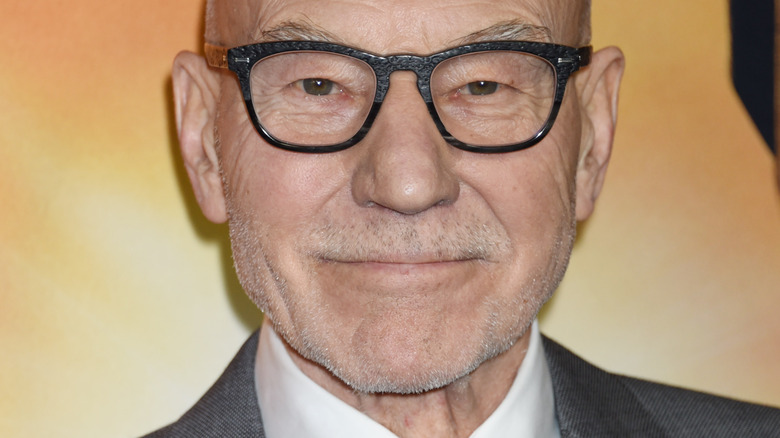 Ga Fullner/Shutterstock
The upcoming third season of the Paramount+ streaming series "Picard," chronicling the adventures of Captain Jean-Luc Picard of the Starship Enterprise (Patrick Stewart), has been a wealth of nostalgia for fans of "Star Trek: The Next Generation." The show's third season is poised to bring back more familiar faces than ever before, and two of those faces seen in the show's New York Comic-Con trailer are evil blasts from the past — and fan favorites to boot.
For what is purported to be the final season of the series, "Picard" is bringing back two iconic foes from the "Next Generation" mythos, both portrayed by their original actors. And, in a hint that might give the game away for hardcore "Trek" fans, both characters are rogue AIs who have menaced Picard in the past, and now appear to be back to match wits with the beleaguered and would-be retired starship captain once more.
The trailer re-introduces Moriarty and Lore to the Picard fold
The characters in question, both briefly featured in the above new Comic-Con teaser trailer for the third and final season of "Picard," are Moriarty (Daniel Davis) and Lore (Brent Spiner). The glimpse of the former, seen at the very end of the trailer firing an old-fashioned pistol, is the first inkling that fans have had of the "Star Trek: The Next Generation" antagonist making his presence known on "Picard."
The same goes for Spiner as Lore, Data's android "evil twin." It's been known for some time that Spiner would be coming back to the "Trek" universe for the upcoming season of "Picard," but it wasn't known whether he'd be playing his iconic role of Data or returning in some other capacity. With his appearance as Lore, that question seems to be answered. But of course, fans will have to wait until the season premieres on Paramount+ on February 16, 2023, to know the full story.
That will be an exciting occasion for fans of "The Next Generation" since it's not just Patrick Stewart, Davis, and Spiner reuniting, but LeVar Burton, Gates McFadden, Jonathan Frakes, Marina Sirtis, and Michael Dorn as well.