Exclusive Clip: Brent Spiner Shares A Hilarious Memory On Gates McFadden's InvestiGates Podcast
"Star Trek" legend Gates McFadden launched her very own podcast — "Gates McFadden InvestiGates: Who Do You Think You Are?" – on Wednesday, May 12, and in one upcoming episode, she sits down with her fellow "Trek" alum Brent Spiner to catch up, crack a few jokes, and dive into deep and meaningful conversations. 
Ahead of the installment's release, Looper can share an exclusive audio clip from McFadden and Spiner's conversation, which is sure to bring out plenty of giggles.
In the clip, McFadden (who played Dr. Beverly Crusher in "Star Trek: The Next Generation" and four "Star Trek" movies) tells Spiner (who portrayed the Soong-type android Data) that she "adores" him, and that he's been an amazing godfather to her son, James McFadden-Talbot (whom Spiner calls Jack). When McFadden mentions the priest at her son's christening, she and Spiner both start laughing, with Spiner saying that they have "conflicting stories" about what happened that day. Spiner then hilariously reveals that the "conflicting story" is that he had no idea he was going to be James' godfather.
"You were certain you had asked me," Spiner says. In disbelief, McFadden laughs, "That is so, so space cadet! No, that's so horrible!" Spiner remembers that McFadden "invited all of us to come to the christening," but she remembers inviting Spiner only. Spiner didn't think it was all that serious — "I was literally having a facial that morning," he admits — but ultimately didn't want to hurt McFadden's feelings by not attending. So he did — and he got the shock of a lifetime. 
"I had asked you to be his godfather!" McFadden adds, laughing. "See, this is the dilemma. When the priest was holding the baby, and he said to you, 'Who's the godfather?', and you pointed to me and went, 'He is,' I went, 'Huh?'" Spiner says. "He handed me Jack. Well, the deal was sealed at that moment."
Star Trek fans won't want to miss Gates McFadden InvestiGates: Who Do You Think You Are?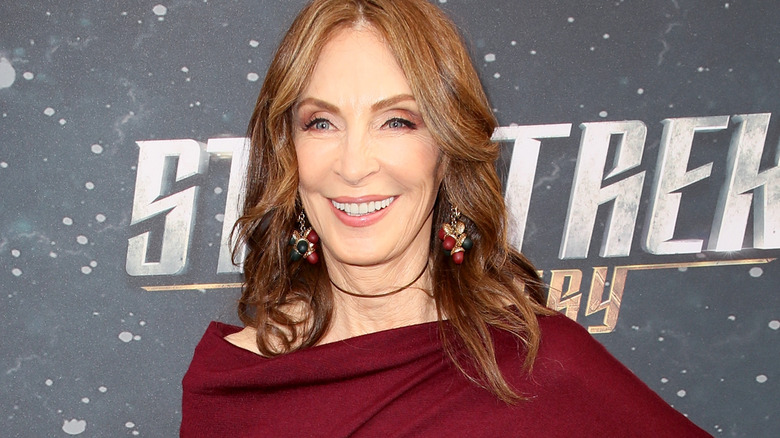 David Livingston/Getty Images
That quick clip is but a mere sampling of the goodness packed into the "Gates McFadden InvestiGates: Who Do You Think You Are?" podcast, which will find McFadden sitting down with her fellow "Star Trek" alums for intimate, one-on-one chats. The podcast kicks off with an episode featuring Jonathan Frakes, who played Commander William Riker in the "Star Trek" universe. Following the premiere are episodes featuring, in no particular order, LeVar Burton (Lieutenant Commander Geordi La Forge), Marina Sirtis (Counselor Deanna Troi), Robert Picardo (the Doctor), Wil Wheaton (Dr. Beverly Crusher's son Wesley), Michael Dorn (the Klingon Worf), Denise Crosby (Security Chief Tasha Yar and Commander Sela), John de Lancie (Q), Michael Westmore (longtime "Star Trek" make-up artist), and Nana Visitor (Kira Nerys).
Basically, if you're a Trekkie, "Gates McFadden InvestiGates: Who Do You Think You Are?" will be your new favorite podcast. "Investigates," produced by the Nacelle Company, is now available on Apple Podcasts, Spotify, and more.