The Detective Baker Storyline Abigail Hawk Would Love To See On Blue Bloods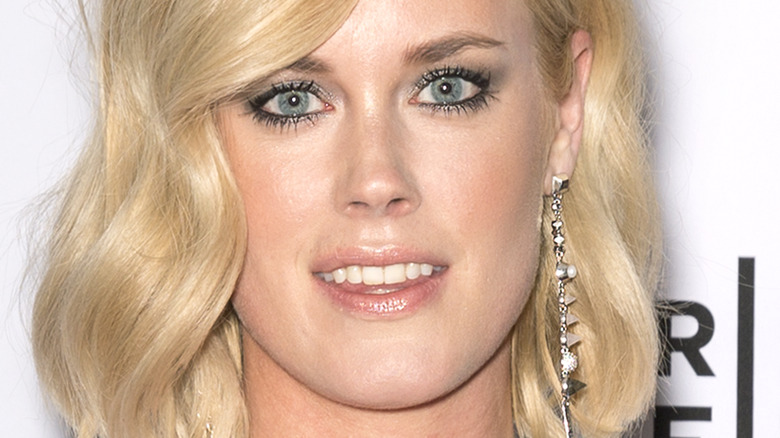 Ovidiu Hrubaru/Shutterstock
With 12 seasons of soulful, cop-centric family drama under its belt, CBS' "Blue Bloods" has officially been on the air for a very long time. And with the 13th season of the beloved procedural drama just getting started, one has to wonder not when, but if "Blue Bloods" will ever end. If that day should come, it'll likely do so with the whole of its primary cast in tow, as longtime stars Tom Selleck, Donnie Wahlberg, Bridget Moynihan, and others are clearly showing no desire to leave the Reagan family fold anytime soon.   
That fact makes the show's lengthy primetime run miraculous in and of itself because, well, shows that cross the decade mark in the network realm rarely do so with their principal cast all but unchanged. Though she's a handful of appearances short of fronting all 255 episodes of "Blue Bloods," and though she saw her character endure a less-than-conspicuous name change, Abigail Hawk is one of those devoted cast members who's been with the show since the beginning. And yes, she's all but certain to be around for the finale as well. The actor has, however, been a bit vocal of late in hoping one particular storyline for her character, Detective Abigail Baker, might be developed a little more in the future.
Hawk would like to see what Det. Baker's home life is like
Abigail Hawk was asked about what sort of storyline she herself would write for her onscreen counterpart during a 2021 interview with Starry Mag. And the actor didn't hesitate to answer that she'd love to see "Blue Bloods" spend a little more time exploring Detective Abigail Baker's life outside of her desk job. Specifically, Hawk wants to see what Baker's home life is really like. "Well, I think I would love to know more what her home life is like – even if it is just in a snapshot," Hawk stated, adding that at this point in the long-running series, Abby has been developed enough to spend a little more time with her recently injured police officer husband and her two children. 
Given that one of the primary focuses of "Blue Bloods" is family, Hawk's desire to learn more about Baker's own home life feels spot on to the point that one has to wonder why the series creatives haven't already developed that storyline further. And of the character's life away from the job, Hawk noted there's surely no shortage of drama to explore. "I have to imagine it has to be so difficult," she said. "She's at [One Police Plaza] at the crack of dawn. She's the last one to leave ... So, what does that do to her home life?"
Specifically, Hawk really wants to see more of her character's marriage, with the actor claiming, "I would just love to know a little bit more about the person she has chosen to have as her life partner." And it's safe to assume longtime "Blue Bloods" fans would enjoy seeing more of that particular relationship as well.