What Has Elias Koteas Been Up To Since Leaving Chicago P.D.?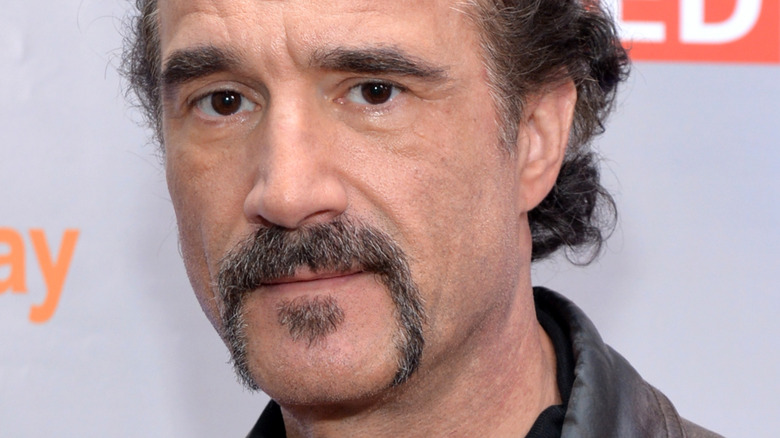 Daniel Boczarski/Getty Images
Elias Koteas portrayed Detective Alvin Olinsky on NBC's hit cop drama "Chicago P.D." for five seasons (via IMDb). Throughout his time on the series, the Canadian-born actor proved a certified favorite among Chi-Hard fans. Olinsky serves as the loyal sidekick of Intel Unit Chief Hank Voight (Jason Beghe), beginning with the "Chicago P.D." premiere episode in 2014. However, the detective first makes his debut in the "One Chicago" franchise in a 2013 episode of "Chicago Fire."
As Vought's close confidant and partner, Olinsky often finds himself called on to support his boss's sometimes "unconventional" investigative techniques, i.e., violent, rule-breaking methods designed to achieve justice at any cost. But Alvin can also occasionally act as a brake on Voight's borderline vigilante approach to policing. As such, fans of the show came to love and respect the character, thus making Olinsky's tragic jailhouse stabbing and his subsequent death one of the series' most heartbreaking moments for longtime viewers. But, as series exec Rick Eid told US Weekly, the decision to end Olinsky's run on the show "just evolved from a storytelling perspective." So, with all of the above being said, how is Koteas filling his time in the aftermath of his character being killed off on "Chicago P.D."?
Koteas has been busy with TV and film roles since his exit from Chicago P.D.
After the scripted demise of his character on "Chicago P.D." at the end of Season 5, Koteas' next TV acting assignment saw him joining Billy Bob Thornton in Season 4 of the legal drama "Goliath" in 2021 (per One Chicago Center). Koteas portrays Tom True, a founding partner in an elite law firm taking on a giant pharma company involved in shady dealings.
Also in 2021, the actor was cast as Charles "Tuna" Billingham in the Paramount+ series "Guilty Party." Playing a serial killer who is the primary villain on the show, Koteas' Billingham is featured in three episodes alongside series' lead Kate Beckinsale. The show failed to grab some critics who felt it simply threw too many plot elements into the mix hoping some would pan out (per The Hollywood Reporter).
And as Deadline reports, Koteas' next project will see him on the big screen alongside Ron Perlman and Harvey Keitel. The upcoming feature film, "The Baker," tells the story of a solitary, ostensibly peaceful man who is drawn out of his reclusive life and forced to take action when his family is threatened.