The Real Reason Young Sheldon Doesn't Have A Laugh Track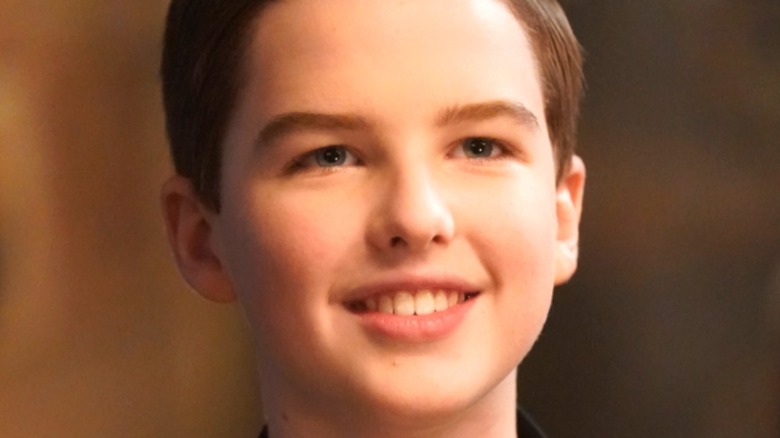 CBS
"Young Sheldon," the CBS prequel spinoff to the popular long-running sitcom "The Big Bang Theory," has been on the air since late 2017 — while its predecessor series was still on the air. Created by Chuck Lorre and Steven Molaro, the series is set in the late '80s and early '90s and centers on Sheldon Cooper (Iain Armitage, taking over the role from Jim Parsons), as he grows up in Medford, Texas. As a child prodigy, he is surrounded by family members who don't quite understand his intellect. Pulling it all together, the series is narrated by Parsons from the perspective of an older Sheldon. 
"Young Sheldon" may share a protagonist with "The Big Bang Theory," but there are quite a few differences between the two shows — namely, one squarely lands in the family sitcom subcategory of the genre, while the other focuses on adult Sheldon's friend group. Thus, different themes are explored in each show.
But there's another key difference between the two shows that is more subtle, which is that "Young Sheldon," unlike "The Big Bang Theory" and many other sitcoms, is lacking a laugh track. According to the series creator, there's a reason for the departure.
Young Sheldon uses a single camera format, unlike The Big Bang Theory
In an interview with Heavy in 2017, co-creator Chuck Lorre explained why "Young Sheldon" doesn't have a laugh track, and it comes down to a technical aspect. Most sitcoms — including Lorre's own previous shows such as "Two and a Half Men" and "Mom," as well as "The Big Bang Theory," — are multi-camera (or "multi-cam") shows, meaning that multiple cameras are filming at all times alongside a live studio audience. This is in opposition to single-camera (or "single-cam") sets, in which only one camera is used, meaning that the series mimics the process of making a film (which is always a single-cam format).
As for why the decision was made to utilize a single-cam format for "Young Sheldon," Lorre explained that it came down to the basis of the show. Loree said, "It's more intimate; the pacing is very different. We knew going in we'd be working with a cast of young children and that seemed more appropriate for them to do their best work. We wanted to give them an opportunity to work in a closed setting where they have the time to develop these characters."
As reported by Heavy, "Young Sheldon" joins the likes of "The Office" and "New Girl" in terms of other sitcoms that have used the single-cam format.
Lorre has said that single-cam shows are much harder to make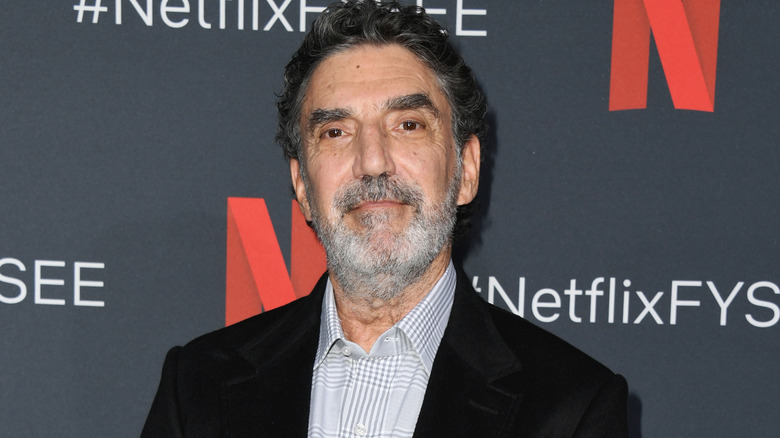 Jon Kopaloff/Getty Images
In September 2017, Lorre discussed the decision to shoot "Young Sheldon" in the single-cam format once more during an interview with IndieWire. During the interview, Lorre reiterated that his decision to use single-cam was due largely to the fact that the series has a young cast, adding that he didn't want to subject them to a live audience. However, he also admitted that, by making that decision, he made his job a whole lot harder.
Lorre explained, "It's so slow. A dinner scene where the family is sitting around the table having dinner, that's maybe four pages long. It takes as long as it takes us to shoot an entire episode of 'The Big Bang Theory' in front of an audience. It's unbelievably, torturously slow."
The creator also explained that the lack of a live audience makes it more difficult to write good comedy, as there is no litmus test in the form of those live audience members to see which jokes actually land. Thus, he's had to adjust his writing style — several television shows into his career. Lorre concluded, "There's no audience around you to tell you if you're right or wrong. It's just, we'll find out."