The 2008 Deadliest Catch Episode That Caused A Storm In More Ways Than One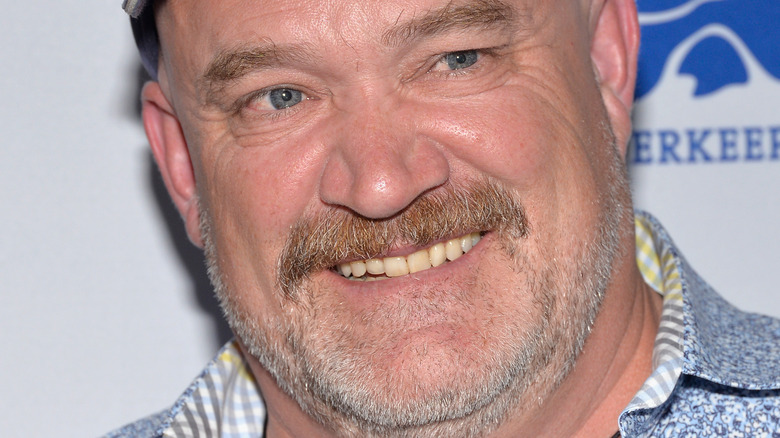 Michael Tullberg/Getty Images
It's no secret that Discovery's "Deadliest Catch" is not, and has never been, your typical reality show. If you took the endless list of unscripted real-life series that have ever been and placed the shows on a scale of life-risking danger, "Deadliest Catch" would be mostly alone on its side of the spectrum. In addition to the captain and deckhands' personal storylines on and off the boat, the show also doubles as a heart-thumping action thriller with real-life consequences.
For more than 20 years, "Deadliest Catch" has caused fans to teeter on the edge of their couches, sometimes mortified by the level of risk these brave fishermen endure on a daily basis. No matter which season you tune in to, you're bound to witness the effects of rogue waves, mechanical failures, horrific weather, and countless other unknown dangerous factors. However, with this still being a TV show, there are plenty of doubters who insist that something this exciting/risky couldn't possibly be 100% real. These same conspiracy theorists point to post-editing manipulation as the reason audiences consistently get the action they crave. 
Believe it or not, occasionally, these Debbie-downers have a solid case. For example, back in 2008, there was one particular dire situation, involving the crab boat known as the Wizard. Of course, it wouldn't be the first time the ship charted dangerous waters. In fact, Wizard Captain Keith Colburn once led the "Deadliest Catch" cast into a typhoon. Notably, however, the specific moment in question was, in fact, manipulated. The question remains: how much of the story stayed in the realm of reality?
Scene splicing is more common than most realize
For the producers of a reality show, the last thing they want is for fans to suddenly question the show's, well, reality. Some plot manipulation can be expected for shows like "The Kardashians" or "Big Brother," but for fans of a show like "Deadliest Catch," just the thought of this can be jarring, if not infuriating. Back in 2008, the reality of "Deadliest Catch" was put into question. And this particular moment turned out to be an editing tactic that's more common than most would expect. 
The moment in question occurred in Season 4, Episode 1 ("Get 'Em Back Safe!") when the Wizard was sideswiped by a rogue wave. The impact caused a sudden leak and the vessel's underbelly to flood. However, based on production notes that the Hollywood Reporter obtained, the footage of a storm that occurred on a different day was edited into these scenes portraying the Wizard's flooding scare. But, for those who want to jump to the conclusion that the show is fake, a perfectly reasonable explanation was given to push that notion aside.
Discovery General Manager and President John Ford explained that because there was no external shot of that wave hitting the Wizard, producers used footage from a different day. These "pick-up shots" are common for story continuity. Ford confirmed, "The thing we didn't have on camera was the actual wave that struck the Wizard." He went on to explain how pick-up shots are common for all unscripted programming, having nothing to do with plot manipulation. "Everything that you see in the show happened," Ford said. "Nothing is made up and nothing needs to be made up."