The Interview With The Vampire Actor Who Voiced Your Entire Childhood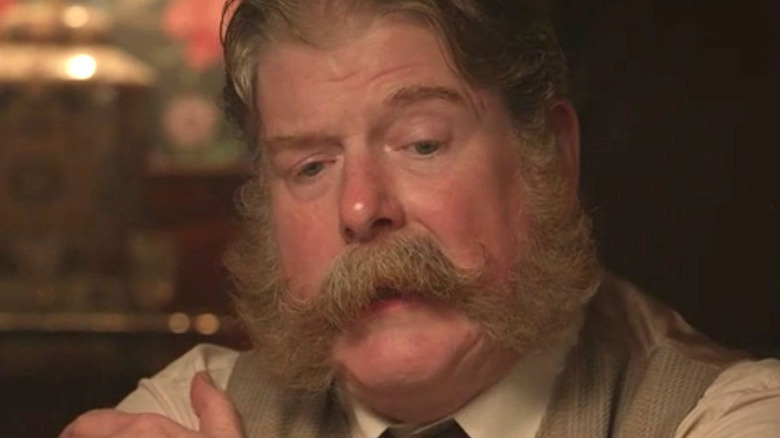 AMC
On October 2, the new "Interview with the Vampire" series premiered on AMC. It was a risky venture, given the source material's devoted following. For her "Vampire Chronicles" series and other works, Anne Rice has been lauded as an influential writer of all things horrific and supernatural. The 1994 adaptation of her novel "Interview with the Vampire" has garnered its own cult following as well. Luckily, the new series has proven to be as lush and alluring as its forebears. AMC even renewed the show for a second season before the series premiered.
AMC's "Interview with the Vampire" is largely faithful to Rice's original novel, but there are some changes. The show shifts from the 18th century setting to 1910 New Orleans, and Louis de Pointe du Lac (Jacob Anderson) is a Creole entrepreneur instead of a white plantation owner. And while Louis, Lestat de Lioncourt (Sam Reid), and Claudia (Bailey Bass) remain the core trio of the series, a few new characters join the fray, one of whom is Alderman Fenwick. With his dated mutton chops and casual yet fierce racism, Fenwick is a boorish politico who runs in similar circles as Louis. What you might not know, however, is that the actor who plays Fenwick is a voice-acting icon.
John DiMaggio voiced Bender on Futurama and Jake the Dog on Adventure Time
As Fenwick in "Interview with the Vampire," John DiMaggio captures the repugnancy of some of 20th century America's seediest characters. It's a far cry from the roles for which DiMaggio is most closely associated, namely his voice-acting performances that many of us grew up listening to.
DiMaggio is perhaps known for playing Bender on "Futurama." The actor has voiced TV's most foul-mouthed robot since 1999, appearing in 125 episodes as well as the movie "Bender's Big Score," video games, and cameos on "The Simpsons." Additionally, between 2010 and 2018, DiMaggio starred in "Adventure Time" as another anthropomorphized best friend: Jake the Dog. After voicing the character for over 260 episodes, DiMaggio was sad to part ways with his canine counterpart (via IMDb). "A lot of me is in Jake, and I'll miss that part, that connection," said DiMaggio (via CNET).
Bender and Jake represent just a sliver of DiMaggio's prolific voice work. He lent his voice to literally hundreds of episodes of animated television, including "Samurai Jack," "Kim Possible," "Teen Titans," "Disenchantment," and countless other projects. He's also known for his video game work, including voicing Marcus Fenix, the protagonist of "Gears of War" (via IMDb). Still, it's nice to see him flex his actorly muscles in live-action roles like the one in "Interview with the Vampire."