Here's How Werewolf By Night Paves The Way For Blade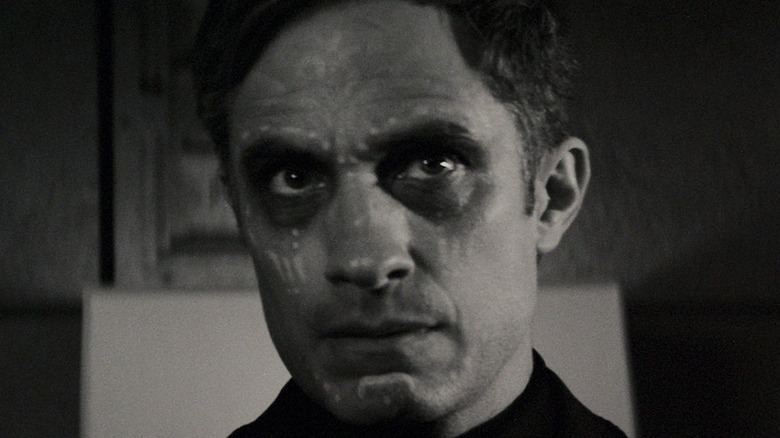 Marvel Studios
Marvel Studios cracked their monster-verse wide open with the frightening holiday treat "Werewolf by Night." The black-and-white splatter fest pays homage to cinema's earliest monsters and even sets the Marvel Cinematic Universe up for more thrilling bloodshed. The terrifying Disney+ original series "Moon Knight" (starring Oscar Issac) was the MCU's first incarnation of this direction, leaving room for more iterations of creature features with Ghost Rider, Deathlok, and Dracula.
Marvel has never been one to shy away from gripping and authentic scares, especially in their earliest films directed by horror visionary Sam Raimi. They even recruited the veteran director again for Wanda's (Elizabeth Olsen) terrifying massacre in "Doctor Strange in the Multiverse of Madness." These elements lay the crucial foundation for Marvel's more horrific adventures and prepare audiences young and old for true nightmare-inducing moments.
Marvel's embrace of this ghastly new genre is trailblazing for the mega-franchise, which has included many more diverse stories in Phase 4. The company's ability to adapt to different styles is a promising sign that the studio is hungry for fresh and exciting tales, and it's an excellent time to speculate where the universe could be headed next (especially with the jaw-dropping casting reveal at the very end of "The Eternals").
The history of Marvel's blood-curdling monsters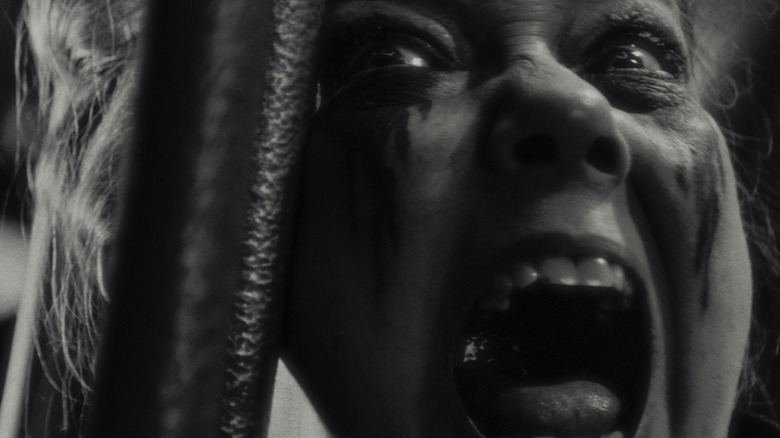 Marvel Studios
Before Marvel was the cinematic juggernaut universe it is today, it briefly dipped its toes into their 1970's comic book monster lore with 2007's "Ghost Rider" starring Nicolas Cage. However, without any significant structure or commitment to the source material, the movie flopped terribly and has an abysmal Rotten Tomatoes score of 27% from critics. Remarkably, "Ghost Rider" spawned a sequel subtitled "Spirit of Vengeance," which was met with even worse reception and a lower score of 18%. 
This understandably left Marvel Studios extremely hesitant to embrace full-blown horror elements or return to the flaming skull biker. As infamous as the film adaptation of "Ghost Rider" may be, some may not know that another iteration of the character also turned up in Marvel's "Agents of SHIELD" television series to set up his own show. Unfortunately, following Disney's acquisition of Fox, his spin-off show was axed, leaving Ghost Rider in the dust. 
This grim return seemingly marked the end of Marvel's cinematic horror run of adapting the 1970's grizzly comic tales. That was until a certain ancient Egyptian god graced Disney+ and promised an exciting return to the genre. "Werewolf by Night" and "Moon Knight" inspire confidence in Marvel's diehard horror fans. The werewolf slasher even introduced the odd-looking Man-Thing, paving the way for other scary characters like Son of Satan — and the stylish vampire slayer Blade.
How does Blade relate to Werewolf by Night?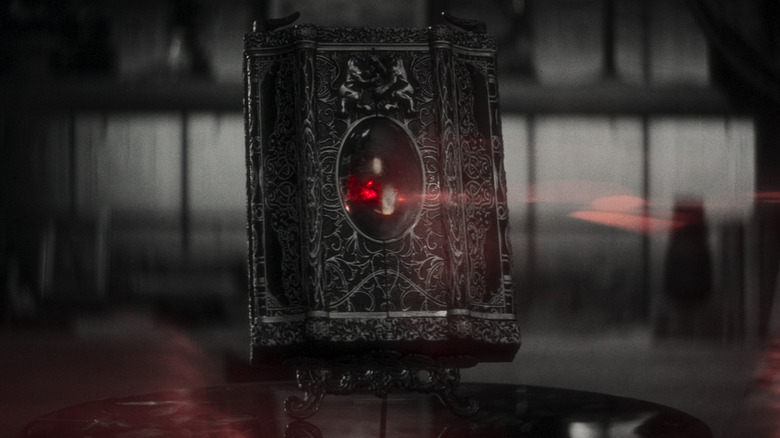 Marvel Studios
Our first encounter with the MCU's new version of Blade came at the end of Chloé Zhao's stunningly directed "The Eternals." In the post-credits scene, Dane Whitman ("Game of Thrones" star Kit Harington) is seen inheriting and picking up his family's precious and deadly sword: the Ebony Blade. This also indicates to comic book fans that Whitman will become the powerful Avengers member Black Knight. When Whitman picks up the sword, we hear an instantly recognizable voice cautioning, "Are you sure you're ready for that, Mr. Whitman?" 
The dark sword bears unspeakable consequences, as Mahershala Ali's Blade forewarns. While the Ebony Blade possesses extraordinary power, it also drives the user mad over time, causing them to commit heinous acts. Blade's warning suggests he may team up with the Black Knight in his upcoming solo film, which could even feature a formidable foe seen in "Werewolf by Night." 
The Bloodstone-wielding Elsa (Laura Donnelly) made a fiery entrance as the unapologetic and fearless descendent. She unflinchingly survived both the Bloodstone hunt and her encounters with Man-Thing and the Werewolf himself, Jack Russell. Her capable display of skill is even more exciting after she obtains the Bloodstone and her powers, becoming one of the MCU's deadliest vampire hunters. While the two may share similar interests, Blade's hybrid vampire status could prove problematic in whichever way the studio decides to take the bloodthirsty slayers when we see them next.