The Forgotten Syfy Flop That Fans Of Marvel's Man-Thing Need To Watch Next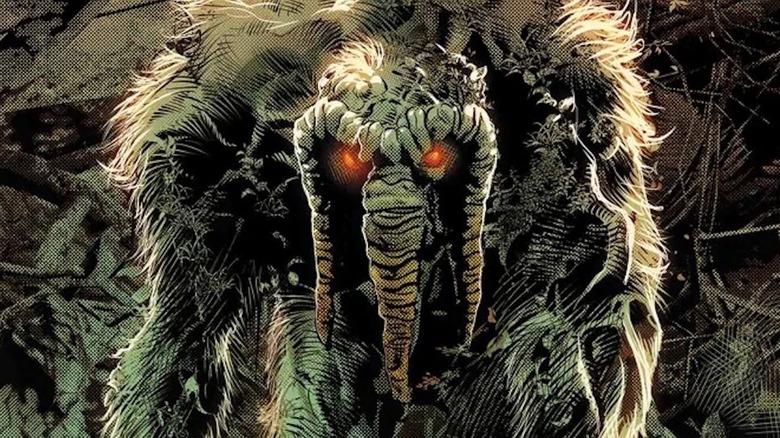 Marvel Comics
Warning: This article contains spoilers for "Werewolf by Night"
"Werewolf by Night" introduced viewers to Elsa Bloodstone (Laura Donnelly) and Jack Russell (Gael García Bernal), who were at the center of the special presentation. The monster hunters came together during Verusa's (Harriet Sansom Harris) challenge, but it was a third character who ended up stealing the show. 
While Jack wanders through the maze, he's pulled into a hedge by a gloomy, monster-like hand. We find out pretty quickly that this mystery creature is friendly (at least to Jack), and Man-Thing officially makes his MCU debut. While it's not mentioned in "Werewolf by Night," Man-Thing is the guardian of the Nexus of All Realities, and it's obvious he and Jack have a friendly past. The two escape the hunt and camp out together at the end of the program, in full color, to the viewer's delight. There is something so intriguing about this new character, and fans couldn't get enough of him online. While this is his first appearance in the MCU, fans can catch more of Man-Thing in the forgotten Syfy film that featured the creature at its center. 
You'll certainly have an opinion after watching Man-Thing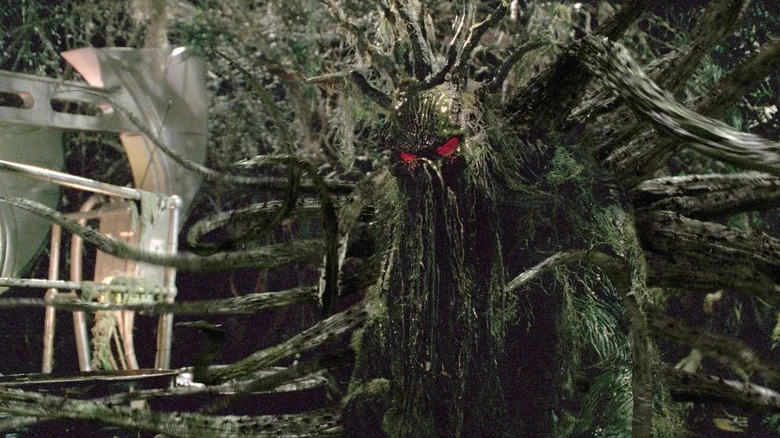 Syfy
"Man-Thing" is the 2005 flop and is actually a product of Marvel Studios in its early days, but the movie skipped its intended theater release to debut on Syfy exclusively (back when it was the Sci-Fi Channel). You might be surprised to turn this film on and see that now-famous Marvel Studios logo and wonder how you missed it, but it's an entirely separate entity from the MCU — thankfully.
The film centers around Ted Sallis, aka Man-Thing, who disappears in a swamp. Eventually, dozens of people start disappearing around the scared Native American land. An investigation ensues, ending in more carnage as Man-Thing guards over the grounds and burns all those who fear him. This movie is not based on Marvel Comics lore too much, but for a 2005 film, Man-Thing actually looks quite impressive. For anyone who enjoyed the character in "Werewolf by Night," "Man-Thing" is undoubtedly worth a watch. Not because it's a great film, but because it's a horrible film that's so bad it's good. Sure, it has a 17% and 14% rating on Rotten Tomatoes from critics and audiences, but why not give it a go?