The Hilariously Relatable Real Reason Christian Bale Agreed To Play Batman In The Dark Knight Trilogy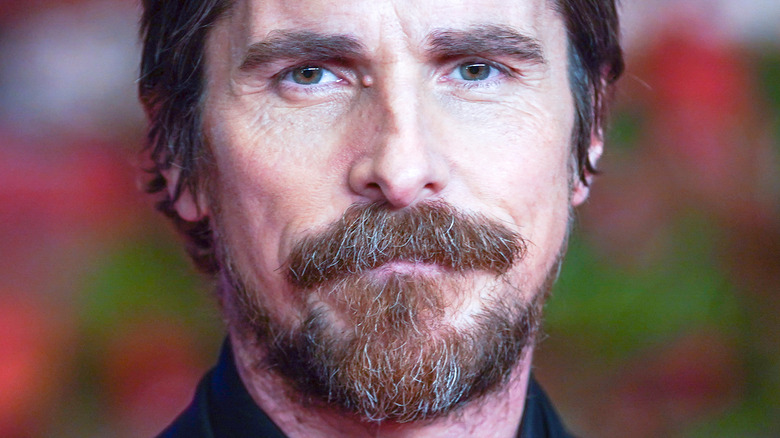 Denis Makarenko/Shutterstock
Christian Bale is widely considered to be one of the best actors to take on the role of Batman. The actor teamed up with Christopher Nolan in 2005 to make "Batman Begins." The origin story kicked off "The Dark Knight" trilogy, grossing over $2 billion at the box office (via The Numbers). Bale and Nolan's vision for Batman was largely unique at the time, with the duo shifting away from the glossy comic book films that dominated the era, instead choosing to go the dark and gritty route, a classification that has since become a pejorative amongst cinephiles. But it's still impossible to ignore the trilogy's legacy, due in large part to "The Dark Knight," which The Hollywood Reporter described as "the first prestige superhero movie." 
While Nolan's sharp writing and direction helped propel the franchise to great heights, one can't ignore the powerhouse performance that shaped the trilogy. Prior to "Batman Begins," Bale was mostly known for his chilling role in "American Psycho." Since his turn as The Dark Knight, Bale has appeared in a wide variety of projects, occasionally appearing in genre fare like "Terminator: Salvation" and "Thor: Love and Thunder."
While playing Batman certainly afforded Bale universal fame, there's a hilariously relatable reason as to why he decided to don the cape and cowl.
Playing Batman paid off Christian Bale's house
Getting the opportunity to play a live-action Batman is a life-changing opportunity for any actor, but it was particularly special for Christian Bale. While discussing his filmography with GQ, Bale opened up about why exactly why he signed on to become The Dark Knight. "[It wasn't about] being stopped in the street. For me it was, uh, I could pay off my house," Bale bluntly revealed with a cheeky thumbs up. "That's a huge relief, you know?" Yes, Christian, we know. The "Empire of the Sun" actor went on to thank his appearance in "Batman Begins" for helping him pay off his mortgage, saying it was a childhood dream of his to be debt-free. Interesting dream for a child to have!
Bale also went on to thank Christopher Nolan for giving him the opportunity to play one of DC's most popular characters, pointing out how they also worked together on "The Prestige" between "Batman Begins" and "The Dark Knight." Beyond being able to pay off his house, Bale was mostly grateful that the role of Batman allowed him to receive more work. "But the fact that that allowed me to make so many other films, you know, for instance [ ... ] post-Batman, it got a little bit easier for directors to suggest to me and financiers to say, 'okay, yeah, we'll take him.'" Bale ultimately retired from the role 2012 with the release of "The Dark Knight Rises," though he hasn't shied away from discussing a possible return.
Following his debut as Batman in 2005, Bale has gone on to receive four Academy Award nominations, nabbing a Best Supporting Actor statue for 2011's "The Fighter."