Here's The One Role Christian Bale Would've Loved To Play For The Rest Of His Career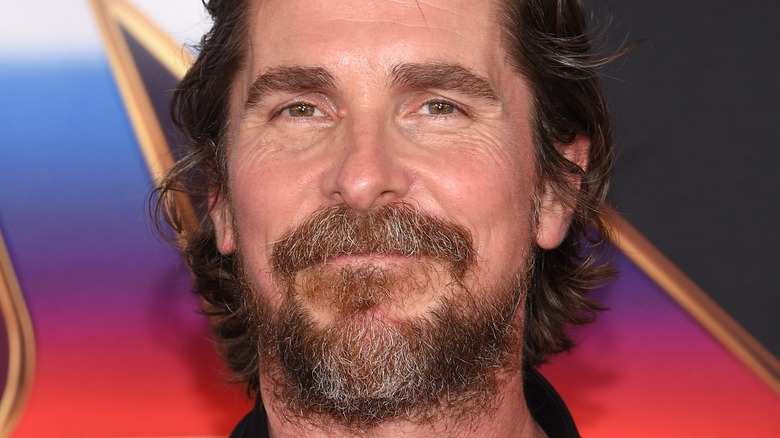 DFree/Shutterstock
There are arguably few names in Hollywood that inspire quite as much Christian Bale. Regarded by many as a true actor's actor, Bale has become renowned for his steadfast, at times even dangerous (per Men's Health) dedication to his craft, though his fiery on-set antics have occasionally overshadowed what he brings to the screen (via Today). That fire may well be the result of the love-hate relationship Bale has always seemed to have with his work — a fact he acknowledged in a recent GQ interview.
To that end, the actor has remained fairly picky about choosing his roles over the years, amassing just over 50 screen credits throughout the course of a celebrated career that now spans almost four decades. Those roles have proven exceedingly varied as well, with Bale turning up in projects that run the gamut from no-budget indies to mammoth studio tentpoles. They've also covered virtually every cinematic genre under the sun, and have to date earned the actor four Academy Award nominations, including one Best Supporting Actor win for 2010's "The Fighter."
There are a couple of legitimately iconic performances in the mix there as well. And it seems Bale would've been content to keep playing one of those iconic roles for the rest of his career.
Bale would've played The Batman forever had the opportunity arise
Christian Bale made that claim in the aforementioned GQ piece while promoting his film "Amsterdam." The interview ended up spanning the whole of Bale's screen career, with the always loquacious actor talking about his life in movies with the usual level of self-deprecating candor.
That was particularly true of his answers when the topic of "The Dark Knight" trilogy came up. Bale, of course, portrayed billionaire Bruce Wayne and his crime-fighting alter ego Batman in Christopher Nolan's beloved, and wildly successful trilogy between 2005 and 2012. And in the eyes of many, his Batflicks continue to rank among the best of the live-action adaptations. Per Bale's comments to GQ, however, he felt a certain disassociation with the films when they were released, claiming, "I always just felt like it was a thing that someone else did, really, in a lot of ways." 
The actor did, however, admit that despite fears of being typecast after the fact, he really enjoyed the ride, and might've been happy to keep playing the role. "Yeah, but I loved it," Bale offered, adding "I loved that because I was like, 'This could be it. I could never be anything but that.' And for a lot of people, I won't." Given how popular Bale's Batman movies remain even more than a decade removed from the trilogy-capping "The Dark Knight Rises," fans clearly would've been okay if Bale had kept playing the part for a few more years. Though Bale might feel the same, he's also likely content to have left his legions of Batfans wanting more.