The Other History Channel Reality Show That Featured Ice Road Trucker's Todd Dewey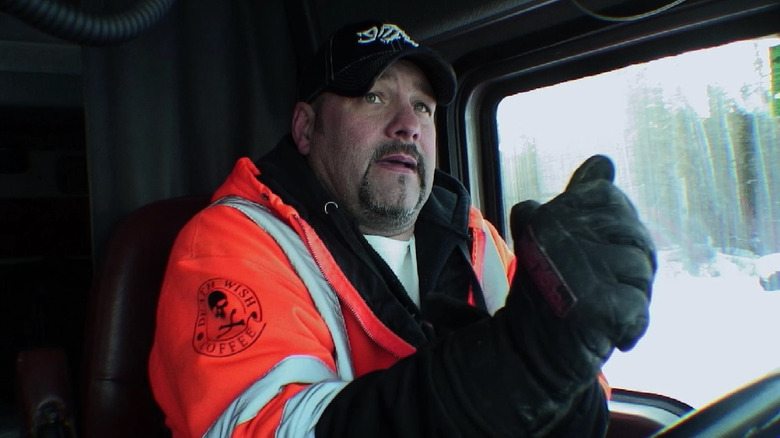 Todd Dewey doesn't actually appear on History's hit reality series "Ice Road Truckers" until Season 7. Yet the "log truck driver," who describes himself as "born into it," is one of the most enthusiastic figures on the show. Dewey even passionately tells the camera during one interview, "It's what I know, and it's what I love doing, so I continue to do it, year after year."
The trucker was apparently "discovered" when he was spotted by show producers while unloading his own cargo on a shipping site (via The Peninsula Daily News). He ended up joining the series for the 2013 season, calling his time taping the show "nerve-[sic] racking" but "quite the experience" (via The Peninsula Daily News). "Ice Road Truckers" hasn't aired any new episodes since 2017, but Dewey evidently has continued working as a trucker (via Netflix/YouTube).
However, before he appeared on "Ice Road Truckers," he had another connection to History's reality shows.
His family was on the show Ax Men
Todd Dewey didn't appear on a season of "Ice Road Truckers" until 2013. However, his extended family did get camera time as part of another History show. According to the Peninsula Daily News, Dewey is a member of the Rygaard family that owns Rygaard Logging, which appeared on the second season of the reality series, "Ax Men."
As shown on "Ax Men,", Dewey is the cousin of former Rygaard Logging owner Gabe Rygaard. But Gabe says that Dewey is "the right guy for the job because he's a good trucker," regardless of his actual family background. In one memorable scene, Dewey struggles with driving logs out to the mill without getting stuck on a soft road, and finally pulls through. 
According to IMDb, Dewey only appears on 2 episodes of "Ax Men," and received more prominent screen time on "Ice Road Truckers." It's clear, however, that Dewey would be driving on hazardous roads with or without a camera trained on him. The trucker knows how vital his job is, telling the "Ax Men" producers, "You can log all you want, but until that wood gets to the mill, nobody's getting paid, nobody."