What The Stranger Things Cast Thinks Their Characters Would Be Like In The 21st Century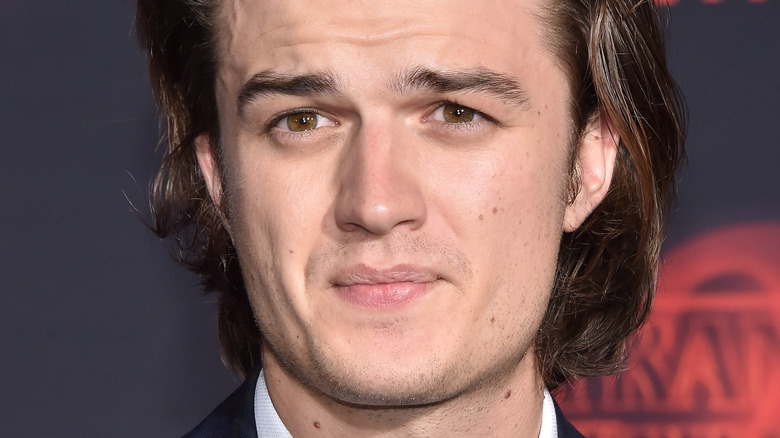 DFree/Shutterstock
The era in which "Stranger Things" takes place is a massive component of the series. Whether or not one grew up in the 1980s, the show brings a sense of nostalgia for mullets and the excitement felt when the first mall opens in town.
When we first meet Mike (Finn Wolfhard), Dustin (Gaten Matarazzo), Lucas (Caleb McLaughlin) and Will (Noah Schnapp), the year is 1983. Cassette tapes are the perfect way to listen to The Clash, "Ghostbusters" is the obvious choice for a Halloween costume, and Dungeons & Dragons is the center of their world. This is despite many believing the game to be an "occult tool" at the time, as reported by the BBC. As for Steve (Joe Keery) and the other teens, they're dealing with the love and heartbreak associated with high school.
By Season 4, everyone's a little older. Mike and friends have advanced to high school while Steve is job hunting in the real world. Yet in many ways, most of them haven't changed a lot. The main four are still very much into D&D (though Lucas is more secretive about it as he pursues basketball). As for Steve, there's still obvious feelings for Nancy (Natalia Dyer), his old high school girlfriend.
If these beloved characters continue to survive Vecna (Jamie Campbell Bower) and the other creatures from the Upside Down, what would they be like in the year 2022? The cast of "Stranger Things" has some ideas.
Joe Keery, Eduardo Franco and more have specific ideas on their characters' futures
Assuming they don't meet their demise at the hands of Vecna, the "Stranger Things" teens would be in their 50s by the year 2022. During an interview with Buzzfeed, the main cast shared predictions on what their characters might be up to in middle age.
Joe Keery, whose on-screen persona of Steve tends to bounce from job to job, sees the former popular guy still living in Indiana and operating a used car dealership. Caleb McLaughlin believes Lucas will become a sergeant. Maya Hawke, who plays Robin, envisions Natalia Dyer's character of Nancy pursuing a professional career in journalism and trying to fix the broken news system. Sadie Sink feels Max and the others will be "really messed up" given the trauma experienced at such a young age.
As for "Stranger Things" newcomer Eduardo Franco (above), who plays the always-high pizza delivery guy Argyle, his future is looking the most entertaining. Franco sees Argyle being either a conspiracy theorist or on the run. When asked by Finn Wolfhard, "From what?," he answered, "I don't know, man. He discovered something that he should not have discovered."
While it would be cool to see the gang all grown up like that final scene in "Harry Potter," it's likely the Duffer Brothers are flashing ahead only a few years, rather than a few decades, for Season 5. Given the fact that Wolfhard and the other Hawkins High students are pushing 20, and Keery at age 30, they felt it necessary jump forward in time. As reported by Forbes, Ross Duffer said, "I'm sure we will do a time jump. Ideally, we'd have shot [Seasons 4 and 5] back to back, but there was just no feasible way to do that."