Nicolas Cage Was Apparently Never Paid For One Of His Most Important Film Roles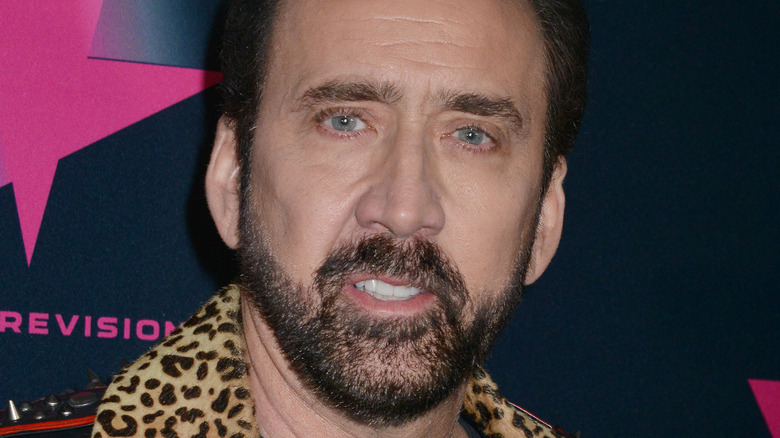 Tsuni-USA/Shutterstock
Nicolas Cage once belonged to the tippy top of in-demand talent in Hollywood. He kicked down the door of Tinseltown with bizarre — and bizarrely entertaining — turns in pictures like "Vampire's Kiss" and "Wild at Heart," but he eventually became the go-to man for summer blockbuster action romps, flexing various accents, mannerisms, and muscles. Cage was so in demand he was getting $20 million paydays for films like "Gone in 60 Seconds," "National Treasure," and "Windtalkers," per People. 
Much has been written on the subject of Cage and money. One could say the stories of his spending come close to matching the legendary status of some of his wild characters. Cage once found himself facing IRS woes after spending a $150 million fortune on purchases like a dinosaur skull and a private island, reported CNBC. 
The thespian, however, is not only in it for the money. In fact, Cage wasn't even paid for one of the most important roles of his early career, the director behind the film revealed. 
Nicolas Cage allegedly wasn't paid for Leaving Las Vegas
Before Nicolas Cage had a string of action hits with "The Rock," "Con Air," and "Face/Off," he appeared in the critically acclaimed "Leaving Las Vegas." The 1995 drama starred Cage as an alcoholic screenwriter on a mission to drink himself to death in Las Vegas. The film won Cage the Best Actor Academy Award and also earned nominations for Elisabeth Shue for Best Actress and Mike Figgis for Best Director and Best Adapted Screenplay, via IMDb. 
According to Figgis, Cage was never paid his $100,000 fee to lead the movie. To make matters worse, Figgis was owed the same fee and also never received it with producers claiming the $4 million picture didn't make it into profit, the director told The Hollywood Reporter's It Happened in Hollywood. Figgis revealed, however, he holds no ill will and neither should Cage.
"Whatever. I mean, my career then took off again, and the next film I did, I got really well paid. And within a year [Cage] was earning $20 million a film, so that was quite good," he said. 
"Leaving Las Vegas" never becoming profitable seems a tad hard to believe considering the movie grossed $32 million in theaters, per Box Office Mojo. Even sans paychecks though, it did launch Cage's career, with "The Rock" coming a year later. Figgis would also follow the film up with "One Night Stand" starring Wesley Snipes just two years later.