The Detail About Bryan Cranston's Pants On Breaking Bad That We Could Have Gone Without Knowing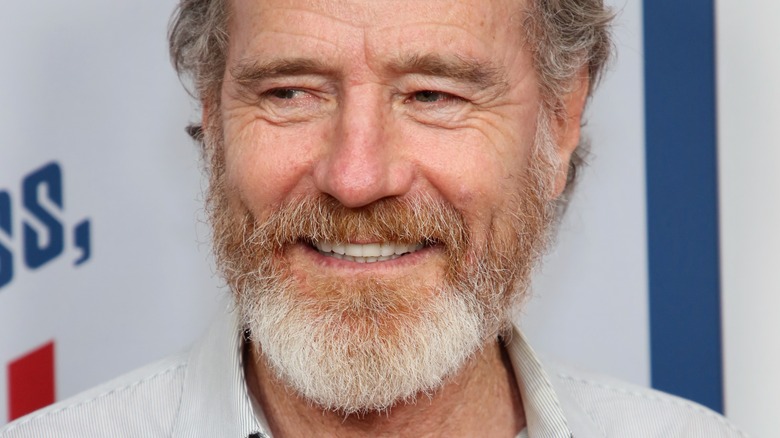 Robin L Marshall/Getty Images
The pilot episode of "Breaking Bad" opens on shots of stark, New Mexico desertscapes. We see cacti and red rocks that evoke a sense of what geologists call "deep time." This land feels untouched, unspoiled by human hands. And then we see a sign of intelligent life. The camera turns its attention to the sky and there, as if cast from the heavens above, a pair of khakis flutter to earth from the cloudless blue expanse. These pants belong to Walter White (Bryan Cranston), who proceeds to drive over them in an RV, wearing nothing but a gas mask and a white pair of boxer briefs.
Walter White's signature tighty-whitey underpants, first shown in all their glory during those initial few seconds of "Breaking Bad," represent his pathetic desperation at that point in his life. Showbiz Cheat Sheet quoted the actor from his book, "A Life in Parts," where he wrote of Walt's underwear, "Every aspect of Walt was an expression of the fact that he'd given up." Additionally, Cranston's character on "Malcolm in the Middle" often wore similar underwear, meaning White's whites are an homage to the role that was his big break — before he broke bad.
The briefs do seem comfortable, if a bit prone to staining. But surely a man of Bryan Cranston's means has some dependable corduroys to slip into when the cameras aren't rolling — right? Well, let's defer to his co-star Aaron Paul who, unfortunately, has already answered that question.
Bryan Cranston doesn't like to wear pants according to Aaron Paul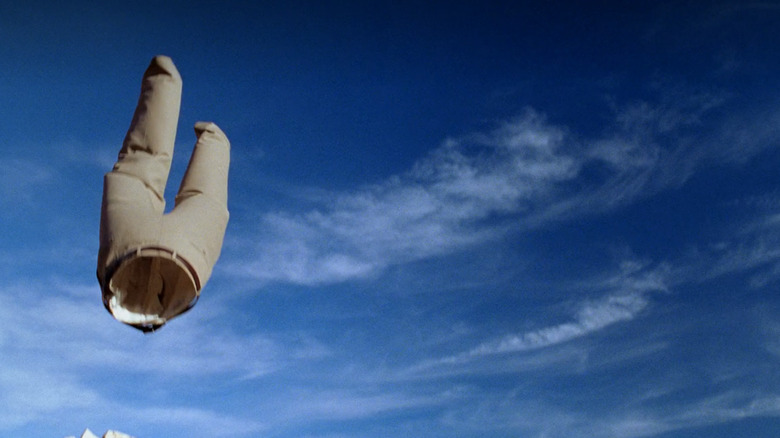 AMC/Netflix
In an "Ask Me Anything" session on Reddit from 2013, Aaron Paul answered a fan question asking whether there were any good stories about Bryan Cranston from on-set. One might be forgiven for dreading anything that follows the sentence, "Well we already talked about the dildo," but that's how Paul began his answer. What comes next is a tale of someone a bit too comfortable in their own skin.
According to Paul, Cranston isn't wearing pants, even in the scenes where his character supposedly is. In any shot framed from the waist up, Cranston is sans pants. As the "Westworld" star related, "What you don't know is that any close-up shot of Bryan on Breaking Bad where you didn't see the lower half of his body, his pants were always off." We dare you not to think about that the next time you binge the series. Try not to picture Cranston's legs, unshackled from their khaki cages, with the cool desert breeze blowing across them just below the frame.
Paul provided no explanation for Cranston's trousers-free sartorial sensibilities. Was it part of his acting method? Does he have sensitive legs unable to endure the friction of fabric against them? Does he simply find it funny? All Paul gives us is his word that the story isn't fabricated (pun very much intended). "True story," the former "BoJack Horseman" star wrote, "I'm not even joking. His pants are always off."