The Real Reason Jason Hawk Left Mountain Men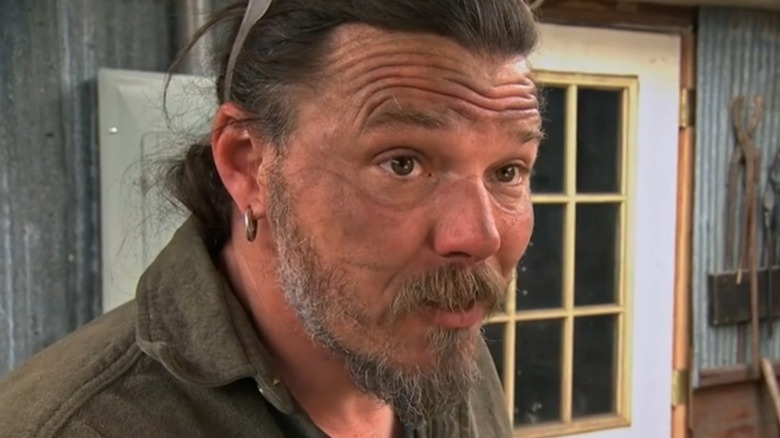 History
"Mountain Men" is a different kind of reality series. Where other shows take their audiences beyond the veil to reveal what the real-life world of dangerous jobs or high-profile businesses are like, History Channel's "Mountain Men" takes viewers off the beaten path to show what it's like to live without any of the modern conveniences that we take for granted.
For 11 seasons, "Mountain Men" has focused on people who live off the grid, offering viewers a snapshot of how much work goes into surviving in the wilderness with little to no aid from society. Though "Mountain Men" sometimes stages things for the sake of entertainment, many fascinating stars have emerged in the series, not the least of which is Jason Hawk. Hawk first appeared in Season 5 of "Mountain Men" and was still a part of the series in Season 9. However, as episodes from the latest season air, Hawk and his family are nowhere to be found.
Jason Hawk received a devastating cancer diagnosis
Sadly, Jason Hawk has been diagnosed with cancer. This life-changing medical affliction has made it seemingly impossible for him to continue to be a part of "Mountain Men" (via Distractify). Hawk and his wife, Mary, organized a GoFundMe to help with the medical bills that followed his diagnosis but were only able to secure just over $36,000 of their proposed goal of $130,000.
"Some of you have watched our family struggle through challenging times in the Ozarks," Mary wrote. "We have always found ways to be self-reliant and provide for our family. My husband's diagnosis of cancer at age 45 has been a humbling experience, creating the realization that we can't do this alone," Mary went on. "We are going to need help with mounting medical bills and our living expenses over this coming year." Despite living off the land and surviving by taking on the occasional job up until now, "Mountain Men" was Hawk's primary income source for his family. Unfortunately, his contract was not renewed after Season 9 (per GoFundMe). 
"Your kindness and gifts have truly touched our hearts and lives. With the help from all of the people in our lives, we are hopeful that Jason has a chance of seeing his children grow up," Mary concluded.