Upload Season 3 Release Date, Cast, Plot, Trailer And More Details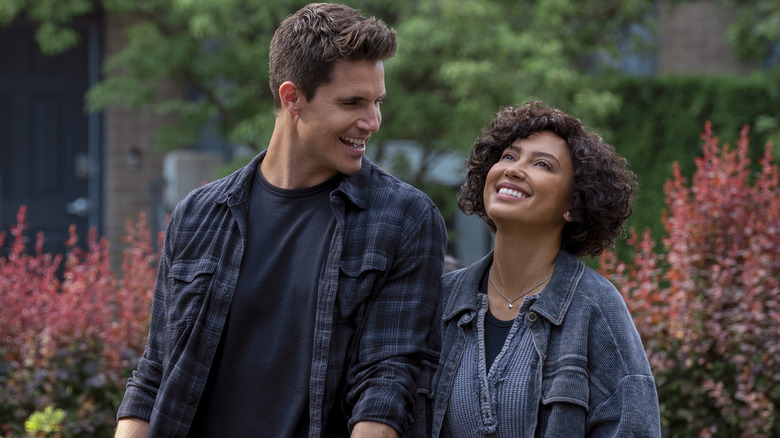 Liane Hentscher/Prime Video
Blending science fiction with comedy, romance, and supernatural themes while taking place at the intersection of utopia and dystopia, "Upload" follows the potential romance between Nathan (Robbie Amell), a dead man whose consciousness was uploaded into a post-death cyber-living facility called Lakeview, and Nora (Andy Allo), the living customer service angel with whom he interacts in hologram form. 
Created by "The Office" developer Greg Daniels, in this slightly dystopian futuristic society, advanced future technology is the norm, with the most sophisticated machinery available to the wealthiest. Those who can afford it can send their very essence to live forever in a luxurious virtual afterlife, in lieu of taking a chance on whether or not an actual afterlife is real or not. Adding to the complications keeping Nathan and Nora apart in the far off year of 2033 — besides his being dead and non-corporeal — is Nathan's possessive pre-death girlfriend, Ingrid (Allegra Edwards), and the big corporation trying to keep the good guys from discovering the evil conspiracy behind Nathan's premature death.
Season 1 of "Upload" debuted in 2020, and became a pandemic lockdown hit for Prime Video, and shortly after its debut, Amazon ordered a second season of the genre-bending series. Now, a third season is on the way, and here's everything that "Upload" producers have uploaded to the world at large.
When will Upload Season 3 be released?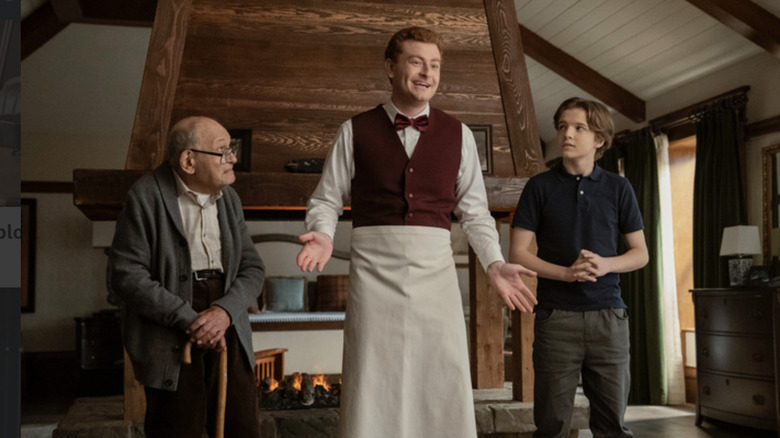 Liane Hentscher/Prime Video
"Upload" Season 2 released on March 11, 2022 with only seven episodes — three shorter than the first season. As Robbie Amell explained to Digital Spy, "Upload" creator and writer Greg Daniels justified this decision by saying the "story should dictate episode count" rather than reverse. "The best story for the season was seven episodes," Amell said.
But many fans disagreed and were disappointed by the truncated second season. However, that completion is coming in the form of Season 3, and it's almost here. After loyal fans have been waiting for over a year, they'll be happy to know that Season 3 of "Upload" will debut on October 20, 2023, with two episodes dropping on Prime Video that day and the rest rolling out on a weekly basis.
Of course, you might be wondering how many episodes we'll be getting in total. Will it be 10 like Season 1? Or will it be seven like Season 2? Well, it looks like we're getting something in between, as Season 3 will consist of eight episodes.
What is the plot of Upload Season 3?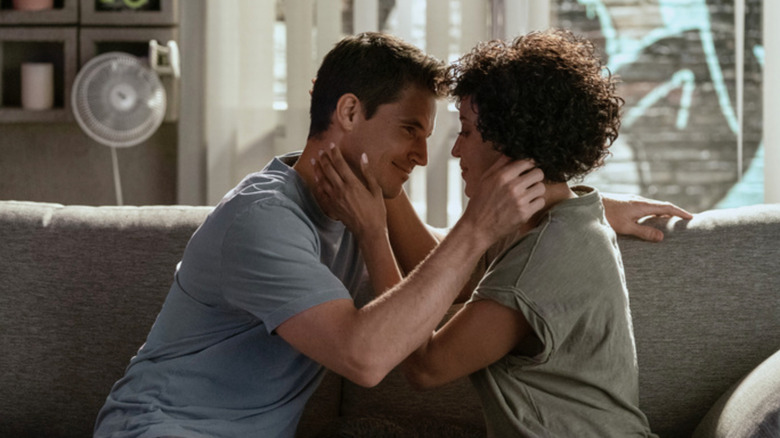 Liane Hentscher/Prime Video
When we last saw Nathan in Season 2, he was trying to unravel why and how he died. However, he found himself distracted by Ingrid's invasive influence and the disappearance of his beloved Nora, who was consumed with caring for her dying father and spending a lot of time at a technology-eschewing commune.
Things got even crazier with the Season 2 cliffhanger, where Ingrid grew a physical body for Nathan and downloaded his consciousness into this new vessel. Of course, his nosebleed at the conclusion of Season 2 indicates a potential system failure. So where are things going from here? Well, as Prime Video's official synopsis explains, we'll "pick back up with Nora and freshly downloaded Nathan as they navigate their relationship, while racing to stop the mysterious conspiracy that threatens to destroy millions of lives. Can they shut down Freeyond and finally have a real life together? Or is it just a matter of time until Nathan's head explodes?"
Of course, that's far from the only drama happening in this show. Per the plot synopsis, while Nora and Nathan are navigating some serious problems, "a backup copy of Nathan has been activated and Ingrid's not about to let this second chance at love slip away." We'll also see former Angel Aleesha climb the Horizen corporate ladder and fall in love, and forever uneasy Lakeview resident Luke will have to get himself a job in "The Grey Zone" to fund his stay in the costly afterlife.
Who is starring in Upload Season 3?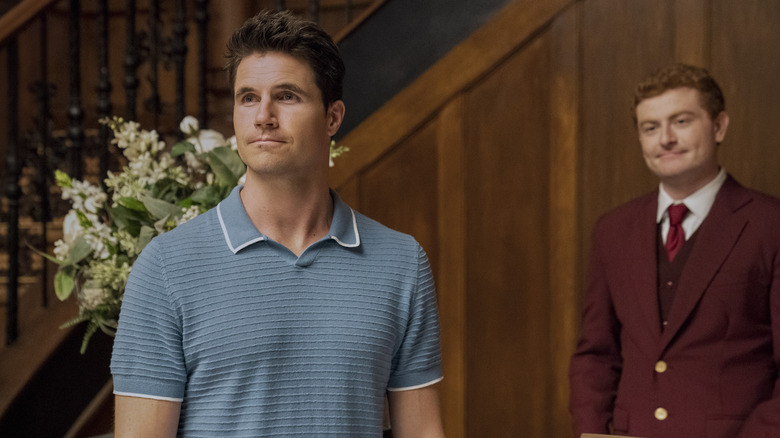 Liane Hentscher/Prime Video
Never fear, "Upload" fans. Your favorite actors are coming back. Robbie Amell will return as the deceased and lovelorn Nathan, and Andy Allo is coming back as Nora, the conflicted customer service representative Angel for virtual afterlife company Horizen. Allegra Edwards is also returning as Ingrid, Nathan's regular-life partner who finds a way into the Lakeview resort for the dead.
You can also expect to see Kevin Bigley as Nathan's worshipful friend Luke, Owen Daniels as the always-present and ever-eager A.I. Guy, and Zainab Johnson as Aleesha, Nora's fellow Angel. Josh Banday will return as customer service rep Ivan, and Andrea Rosen will play Nora's disinterested boss, Lucy. Plus, Barclay Hope will appear as the murderous Oliver Kannerman, and William B. Davis will return as David Choak. As for newcomers, the "Upload" Season 3 cast will be joined by Jeanine Mason ("Roswell, New Mexico") as senior Horizen executive Karina Silva.
Who is the showrunner for Upload Season 3?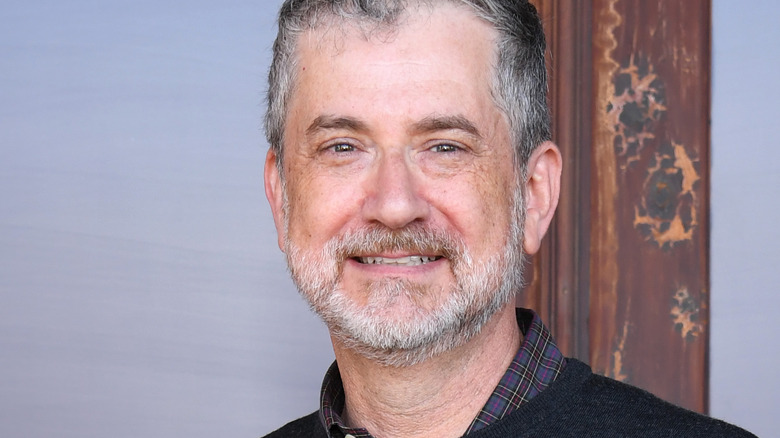 Jon Kopaloff/Getty Images
Greg Daniels is one of the most accomplished and influential television creatives in recent memory, one of the architects of the current style of character-based, slow-building comedy built around both real emotion and rapid-fire jokes. After writing for "Saturday Night Live" for years, he moved on to pen scripts for "The Simpsons" in its mid-1990s heyday before creating "King of the Hill" and then developing the British cringe-comedy "The Office" into its American version. He also co-created the stylistically similar faux-documentary comedy "Parks and Recreation" before reuniting with Steve Carell from "The Office" to come up with the viciously satirical military workplace comedy "Space Force." The latter debuted on Netflix at almost the same time as "Upload" did on rival streaming Prime Video. 
While TV show creators, especially veterans of the industry, frequently wind up as the showrunners on their own projects, it would've been difficult for Daniels to be the boss on two work-intensive shows for rival outlets, so while sharing duties on the now-canceled "Space Force" with Norm Hiscock (per Variety), Daniels served as the showrunner for "Upload." And don't worry — he'll continue to do so for Season 3.
Is there a trailer for Upload Season 3?
Less than a month before its debut on Prime Video in October 2023, "Upload" Season 3 hit the internet in the form of an official trailer. Expanding on themes previously hinted at in its plot synopsis, Season 3 of "Upload" looks to be about fresh starts ... and how those may not always fix problems. Nathan and Nora are finally, blissfully, together, 26 days after the former's consciousness was downloaded into a real-world vessel. But he's back among the living with a purpose: He convinces Nora to help him break into the upload facility of the evil Freeyond corporation to expose their practices, which involves killing unsuspecting clients.
Meanwhile, existence is increasingly confusing in the digital afterlife resort of Lakeview. A new Nathan clone is accidentally reintroduced into the system, and since he doesn't remember various betrayals and a break-up, former partner Ingrid has the chance to begin anew with him. But then Nora, back working customer service at Lakeview, starts to fall in love with the Nathan clone and wonders if that constitutes cheating on newer, living-world Nathan, who's jealous of his cloned self. And speaking of identity issues, Lakeview's all-purpose employee, A.I. Guy, deals with an existential crisis as he simultaneously gains self-awareness.
Where to watch previous seasons of Upload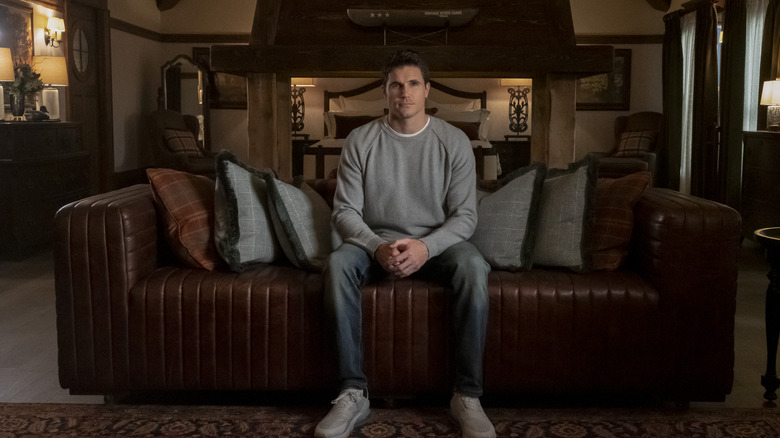 Katie Yu/Prime Video
"Upload" is all about immortality — and speaking of immortality, shows that are ordered, produced by, and distributed by a streaming service generally tend to stick around as proprietary content forever. As long as that's standard operating procedure for Amazon, Season 1 and Season 2 of "Upload" have been uploaded to Amazon's Prime Video subscription streaming service for your viewing enjoyment and will hopefully be available forever.