Mean Girls' Regina George Was Inspired By This Iconic Alec Baldwin Character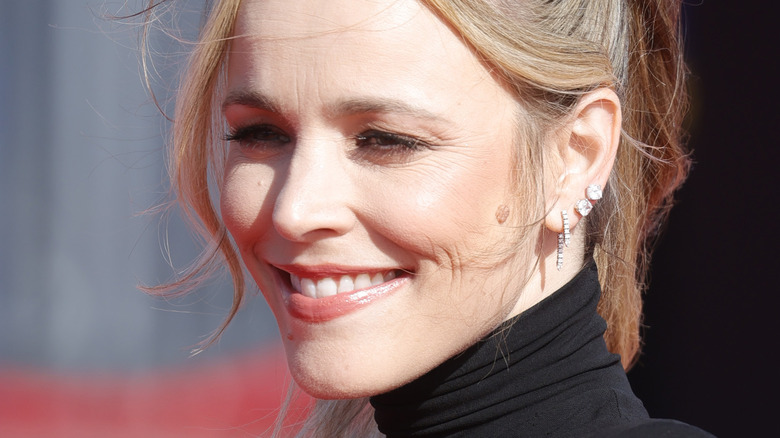 Frazer Harrison/Getty Images
"Mean Girls," the teen comedy starring Lindsay Lohan and Rachel McAdams, was released in 2004 and has only maintained its popularity with viewers of all ages.
Directed by Mark Waters and written by Tina Fey (who made "SNL" history in 1999), the film centers on Cady Heron (Lohan), a formerly homeschooled 16-year-old who has recently moved to a suburb in Illinois after living her whole life in Africa and must adjust to the social environment of a public high school. She initially connects with outsiders Janis Ian (Lizzy Caplan) and Damian Leigh (Daniel Franzese) before popular "plastic" Regina George (McAdams) takes her under her wing. Encouraged by Janis, Cady becomes a plastic — alongside Regina, Gretchen Wieners (Lacey Chabert), and Karen Smith (Amanda Seyfried) — to sabotage the popular clique from the inside. That is until Cady becomes genuinely invested.
While Cady is the story's protagonist, Regina is arguably the most vital aspect of the movie's equation — if the mean girl character doesn't work, then the film won't work. Luckily, McAdams nails the multifaceted nature of Regina George. And, as it turns out, Regina is inspired by another iconic character — one played by Alec Baldwin.
Regina George was inspired by a Glengarry Glen Ross character
In 2014, the New York Times spoke with the cast of "Mean Girls," as well as some key behind-the-scenes members, for an in-depth oral history of the popular teen film. During the discussion, Regina-portrayer Rachel McAdams revealed insight into how she got into character — including some pieces of media used for inspiration.
McAdams said, "At the heart of Regina George was a really angry kid who had no boundaries or guidance. Mark told me to listen to Courtney Love really loud and to watch Alec Baldwin in 'Glengarry Glen Ross.'"
Directed by James Foley, "Glengarry Glen Ross" follows a real estate agency's inner workings over two days when the employees find out that all but two salesmen will be fired within two weeks. Baldwin plays Blake, an egotistical top salesman sent by the firm to motivate the agency's team — which he does by verbally abusing the salesmen in a notable speech. At one point, Blake sneeringly says to Ed Harris's character Dave Moss, "You see this watch? You see this watch? ... That watch cost more than your car. I made $970,000 last year. How much you make? You see, pal, that's who I am. And you're nothing."
Rachel McAdams almost didn't play Regina George
Before Rachel McAdams could think about inspiration for her character, she had to be cast — something that almost didn't happen. Director Mark Waters talked to Vulture in 2014, revealing some set secrets. As it turns out, McAdams first auditioned for Cady — while Lindsay Lohan was trying to land the part of Regina — and Waters deemed her too old (McAdams was 24 at the time).
However, then Lohan was officially cast as Cady, and the role of Regina opened up — and suddenly, McAdams' age was a benefit. He noticed that Lohan was shy around McAdams because she was older and accomplished as an actress. Waters continued, "[McAdams would] come in the room and not talk to Lindsay — she was very focused. Lindsay kind of got nervous around her, and I thought that more than anything, was going to be the deciding factor, the fact that she affected Lindsay in that way."
Not only would fans agree that the casting worked out how it was meant to, but McAdams has also admitted years later how grateful she is to have gotten to play Regina George. In a 2018 interview with the New York Times, McAdams cites "Mean Girls" as giving her career longevity. The actress said, "I remember when I read it, I called my agent right away and said, 'I will play any part in this, please please please' ... I'm always looking for larger-than-life characters."