The Real Reason The History Channel Isn't Airing New American Pickers Episodes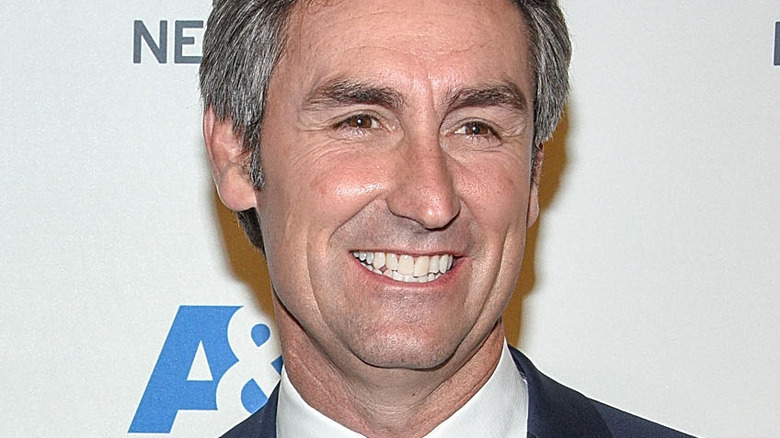 Grant Lamos Iv/Getty Images
"American Pickers" has been in our collective hearts for quite some time. Originally premiering in early 2010, the show has accrued a staggering number of episodes, with the current count well over 300. This highlights just how enduring the series has been in the minds of fans — one doesn't get that many episodes on some fluke or chance of fate. Typically following antique hunters who wander in search of prime and popular items, "American Pickers" has seen all sorts of relics proudly displayed, such as old school bikes, vintage cars, retro posters, and everything in between.
Unfortunately, "American Pickers" hasn't had a smooth ride as of late, which is due to co-host Frank Fritz leaving the show. This has proven to be quite a controversial moment, as most longtime fans enjoyed the banter between Fritz and his co-host Mike Wolfe. Attempting to replace Fritz with Wolfe's very own brother, "American Pickers" has attempted to find its footing once again, which has resulted in middling outcomes. Currently in Season 23, longtime fans may have noticed that the typical time slot of the show has been filled with other series, which has caused a fair amount of confusion, but what is the reason for the absence of "American Pickers?"
American Pickers' ratings have dwindled, and History Channel decided to play more popular television shows
According to The U.S. Sun, this is the second week there hasn't been a new episode of "American Pickers." On top of that, the show also took the week off during Labor Day week. In last week's typical "American Pickers" spot, The History Channel instead chose to play a part of the three-section television series "The Cars That Made America." Previously, the September 17 episode only drew in around 762,000 viewers, which is the lowest rated episode since "American Pickers" came back from their mid-season break. Needless to say, it seems as if Frank Fritz's departure isn't something that is easily recoverable, at least in the minds of die-hard "American Pickers" fans.
The next new episode will be on October 9 and is titled "Movie Making Magic." However, it is definitely concerning that History Channel is taking liberties with the show in terms of delaying when the new episodes come out. Considering that the show has been hemorrhaging viewership since Fritz was unceremoniously fired from the show, this new information is certainly casting a pall light on the future of the series. Will Mike Wolfe relent in his decision and bring back Fritz, or will the show continue to struggle in Fritz's absence and eventually be canceled when people stop watching? Either way, "American Pickers" certainly has a lot of work to do, and we aren't just talking about exceptional antique finds.