Here's Where You Can Visit The Byers' Home From Netflix's Stranger Things In Real Life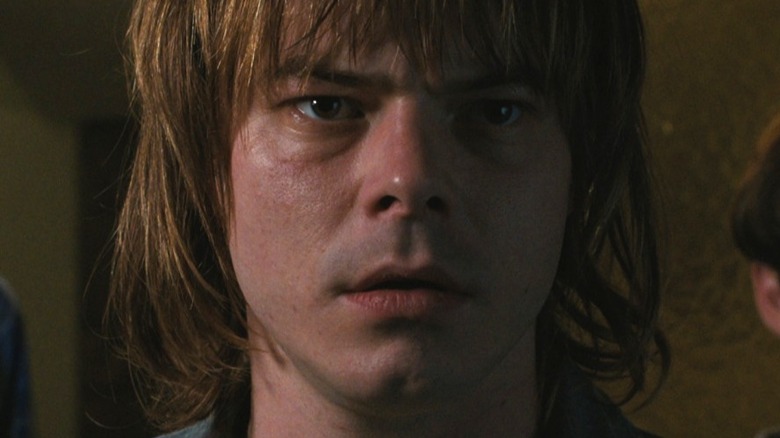 Netflix
Over the course of its first four seasons, Netflix's "Stranger Things" has delivered as many intriguing characters, thrilling sites, and unexpected twists as any TV show currently on the air. Perhaps more than most other series, locations have come to play a vital role in the "Stranger Things" narrative, with secret labs, posh malls, alternate dimensions, and all manner of spaces in-between featuring prominently in the action (via Afar). So too have the main characters' own homes, with each not only representing their station in the fictional town of Hawkins, Indiana but also frequently serving as a refuge from the madness going on around them.
Throughout the series' first couple of seasons, a location that proved quite vital was the Byers household, with several pivotal scenes playing out either in the house itself or on the dwelling's surrounding property. The property was, of course, also one of the first places the Upside Down began bleeding through into the real world. As such, the house has become sort of a mecca for some "Stranger Things" diehards who seek to visit the actual locations that stand in for Hawkins. If you're one of them, you should know you can, in fact, visit the Byers' place if you so desire. Here's what you'll need to do to see the house with your own eyes.  
You can visit the old Byers' place in the small town of Fayetteville, Georgia
As reported by NME, if you want an up close and personal look at the Byers' place yourself, you'll need to book a trip to Georgia, which is where "Stranger Things" has filmed some of its scenes over the years. More precisely, you'll want to program 149 Coastline Road in Fayetteville into Google Maps. According to NME, however, you might need to jump a fence to get up the driveway as the owners of the property are apparently a little keener to keep the series' super fans out these days.  
Those super fans might also be interested in knowing that they could've done a little more than just visit the old Byers' place too. In fact, if they were hot to own "Stranger Things" memorabilia, NME noted the home was up for sale via a Zillow listing that leaned heavily into the "Stranger Things" ties. The Byers house was purchasable beyond the reasonable price of $300,000 — for that price, you could've gotten a significant slice of "Stranger Things" history and a cozy little three-bedroom space that rests on a six-acre plot of land. However, it is now under contract.
Judging from the pictures in that listing, the house clearly needs a little work, and it looks like the current owners still haven't fixed that crooked bit of roofing. Thankfully, it appears the grass has at least been mowed, and Joyce Byers' (Winona Ryder) busted-up, old Pinto is nowhere to be seen.