Blue Bloods' Vanessa Ray Has A Hilarious Reputation For Doing This On Set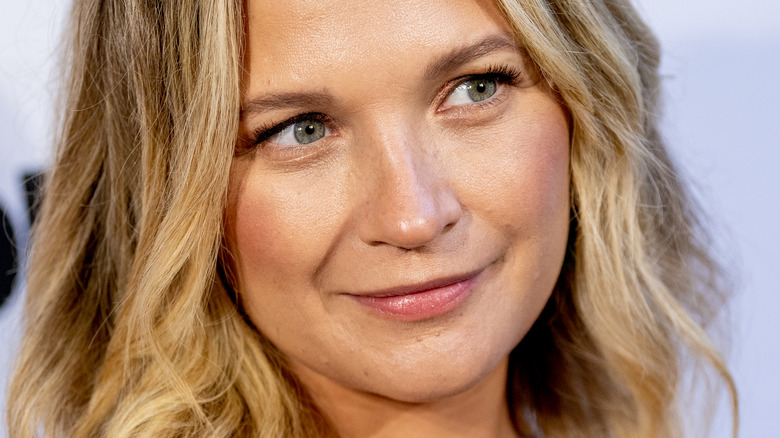 Roy Rochlin/Getty Images
"Blue Bloods" proudly wears its dual themes of family and service on its sleeve. Anchored by Police Commissioner and patriarch Frank Reagan (Tom Selleck), the family is made up of three generations of law enforcement, including former commissioner Henry (Len Cariou), Detective Danny (Donnie Wahlberg), Sergeant Jamie (Will Estes), and Assistant District Attorney Erin, the family's preeminent legal mind.
In Season 9, the Reagan clan got a little bigger when Jamie married Officer Eddie Janko (Vanessa Ray). When the officers first met in Season 4, they attempted to squash their chemistry in the name of professionalism. For Ray, their similar career paths have proven to be a strength. "I love that they see the world differently and challenge each other to be better, do better, and go farther," the actress told Nerds of Color. "I also love that they are these two no-nonsense cops that both have this extremely gentle side that they almost exclusively show each other."
As much as Janko may be a no-nonsense cop, Ray brings plenty of smiles to "Blue Bloods." Here's how she got her hilarious on-set reputation.
Ray always cracks up during family dinner scenes
According to Vanessa Ray, the family dinner scenes on "Blue Bloods" are at the heart of the show's appeal, and perhaps the favorite scenes for most viewers (via Nerds of Color). Despite the importance of the Reagan family dinner scenes, they can be taxing for the actors, who spend between five and eight hours filming (and pushing food around their plates).
The long shoots can leave the actors feeling a little slap-happy, especially Ray, who admitted to succumbing to giggles while filming the lengthy scenes. "I don't want to name names," said Ray (via TV Insider), "but historically there is a certain end of the table that gets the church giggles around Hour 2 of filming the dinner scenes...I may or may not be on that end of the table (I'm absolutely on that end of the table)."
Ray may not have named her colleagues, but Will Estes gave fans reason to believe that he may, too, be responsible for ruining takes. To be fair, though, he didn't exclude himself from being one of the laughers at the aforementioned less-serious end of the table. "Vanessa and I laugh all day long together," he said. "We've gotten in trouble for it. Vanessa can even jest right up until "action!" And I have to beg mercy for a few moments to compose myself before we roll. I imagine from the outside looking in it could seem like we are goofing off, but we're both highly focused on our performances."